IFLA 2016: Reaching for the Possible
Betha Gutsche
/
25 August 2016
It was halfway through my second day at the 2016 IFLA Conference that I realized how many times I had heard the word "possible." Presenters on a variety of topics evoked what is possible in their visions and examples of library futures, and mapped potential paths toward turning possibility into reality.
Participatory Projects in Libraries
Possibility came up first when Shannon Crawford Barniskis outlined her four core principles for creating space for makerspaces in libraries in a session on participatory projects that connect collaborative communities. The first principle of exposure involves open shelves, clear bins for containing kits and materials, evidence of failed as well as successful projects, and tools and projects left out on work surfaces―all these things giving the user a view of what is possible. The other three principles accentuate possibility. Flexibility allows users to shape the space to their changing needs and ideas. Expansiveness is the room to do things in a space that invites collaboration and social exchange, all with a variety of tools and materials. The fourth principle—control—is about letting go and handing more control over to the users. "The people in your space is the most valuable tool."
In that same session, Wen-Yau Cathy Lin, Tamkang University, Taiwan, shared a poignant story of what is possible in her context. She explored the emerging role of libraries in Taiwan in response to big social issues that have spurred unprecedented citizen-initiated protests. The Sunflower Movement, in which citizens occupied the national legislative chamber to protest a major trade agreement with the People's Republic of China, was a bold assertion of the democratic voice of the people. This striving for what is possible by citizens begs for librarians to provide resources that can help those citizens understand controversial issues. This is an emerging and not always comfortable role for Taiwan's librarians.
Responding to Challenges of the IFLA Trend Report
The IFLA Trend Report outlines five top level trends that will play a key role in shaping our future information ecosystem. This session assembled a noteworthy panel that focused on key aspects of those trends.
Mark Surman, Executive Director of Mozilla Foundation, evoked the dark prospect of an internet increasingly being shaped by empires through the consolidation of power over the global information environment in fewer hands. That takeover assumes power, not only over access to information, but also over the imagination of what is possible for the future. We need to take back power over possibility by making the health of the internet a mainstream issue. One path toward reasserting distributed power is by updating copyright laws to correct the disconnect between current copyright restrictions and how we now live our digital lives.
Surman illustrated the point with a slide of a tourist taking a selfie in front of the Eiffel Tower at night. It's an illegal selfie due to the copyright on the lighting of the Eiffel Tower. Both Surman and Fred von Lohman, Copyright Legal Director for Google, stressed that librarians are leaders in this arena. They can be facilitating community conversations to raise awareness and working with policy makers to craft reasonable copyright updates. Librarians can help keep global community control over shaping the ideas of what is possible.
Backed by a refreshing set of images of babies reading (or chewing on) books, Jack Cushman, Harvard Library Innovation Lab, asked us all to aspire to the curiosity of babies, to "taste" new and unfamiliar technologies with a joy and wonder about what is possible. Cushman posed three general rules:
1.      If it's not broken, break it.
2.      If it's complicated, make it simple.
3.      If it's boring, make it weird.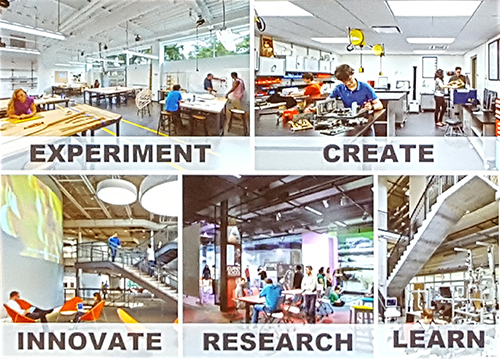 Maura Marx, IMLS Deputy Director of Library Services, wrapped up the 3.25-hour (no breaks) session with a call to librarians to push back on the systems of ignorance, to "find our inner activist." She cited a number of projects through which libraries and cultural heritage institutions are pushing what's possible into reality. Documenting the Now was born out of the protests in Ferguson, Missouri, over the Michael Brown shooting. The project uses an open source tool to collect Twitter messages and capture the rapid and immediate cascade of social media news. Mukurtu is a new content management system that is built with sensitivity for the cultural heritage of indigenous communities; it includes a variety of cultural protocols that honor different cultural norms of relevance, trust and privacy. Art + Feminism stages a recurring Wikipedia edit-a-thon that is righting the imbalance of a body of knowledge written mostly by white, Western males.
The activist aura of the session reverberated in the audience comments. Nick Poole, Chartered Institute of Library and Information Professionals (CILIP), stood up to say, "Librarians have an ethical responsibility not just to spectate social responsibility but to activate and do something about it." Librarians need to cast off the image of passivity, even neutrality. They need to own their role and contributions, and to broadcast it to the community. Someone suggested a meme: "I'm a librarian and I'm changing [something]."
What Comes after the "Third Place"? Visionary Libraries
After ten years in the making, with "massive" input from their community, the Aarhus (Denmark) Public Library is now real and alive, crowned with the community-selected name Dokk1. Marie Østergård shared how it all came together through the "last responsible minute" principle. It is an approach that allows possibility to emerge over time through iteration. The approach is all about keeping the possibilities open until the last minute when something needs to gel, to take solid form; and Østergård readily admits that it is an ongoing juggling act and that it is difficult. What emerged out of the ductile process is a space for people, not books. "The library is a space where we create meaning together."
The Ryerson University Library in Toronto may have followed a less emergent process. However, its Snohetta architects sought to design a collection of environments that would stimulate a variety of activities for patrons, all with open-ended room for the possible. The Beach Floor is an un-programmed, disruptive space that invites students to occupy it in a variety of ways. The Garden Floor suggests a nutrient-rich environment with classrooms, student services and quiet study areas. The Sun Floor has more classrooms, both closed and open, that radiate warmth in the color scheme. The Sky Floor tops the building with serenity for quiet study and contemplation. "Users don't just use the library; they inhabit it."
Public Access in Libraries
The United Nations (UN) 2030 Agenda for Sustainable Development identifies ICTs (Information and Communication Technology) and the internet as "horizontal enablers" for development. Across the world, more than a million libraries provide the critical path to access for their communities, yet there is much room for growth. UN development goal #9 seeks to provide universal and affordable access to ICT in developing countries for 1.5 billion new users by 2020, with libraries as the number one point of access.
The Global Connect Initiative, run out of the U.S. State Department, is engaging countries around the world in efforts to build infrastructure and get people connected. Access and connection are seen as a basic human right in the 21st century, opening up possibilities for millions of global citizens. As anchor institutions for enabling those rights, libraries need to be at the policy table. They are key advocates for keeping the internet as a public good rather than a private space, something that cannot be taken for granted in any country.
Libraries and those who work in them are in a position to activate possibility on many fronts, taking a firm stance to push what is possible into what is real and actionable for libraries and communities around the world.
"There are times when we have to put on our capes—there are people to protect." — Polly Thistlethwaite, Librarian at CUNY Graduate Center
Photos: Top: Gerald Leitner, incoming Secretary General of IFLA, speaks at the IFLA 2016 opening. Bottom: A scene from the IFLA 2016 closing ceremony. Photos courtesy IFLA (CC BY-SA 2.0). See more from the event on their Flickr page.