How to "Tech" with Teens: Give Them a Space and a Voice
Megan Knapp
/
13 August 2013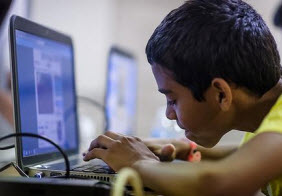 In the "Where Teens and Technology Meet" Webinar, Angela Brade, Chief Operating Officer, Support Services, shares ideas and practices that have made the Howard County Library's HiTech Digital Media Lab a model for engaging teens in science, technology, engineering, and math (STEM) skill development.
Imagine teens working together at the library to develop apps and video games; or designing a digital fashion portfolio; or authoring an iBook for their peers on how to stop bullying. At HiTech, you don't have to imagine, teens are doing all of these things and more, hanging out and geeking out together and learning valuable skills they will carry with them long after lessons end.
As they set goals and plans in place for the program, Howard County Library asked themselves what they wanted youths to "feel, do and learn" in HiTech. They reviewed the Youmedia approach in Chicago as an example of a successful program, and incorported new media principles of HOMAGO (hanging out, messing around, and geeking out) for engaging their audience. Perhaps most important of all, they went straight to the source: inviting a forum of 55 teens interested in a variety of educational opportunities to talk about what they wanted from the program. Through roundtable discussions, surveys and other channels, the library gathered forum feedback and revisited their original goals, adjusting and aligning plans accordingly.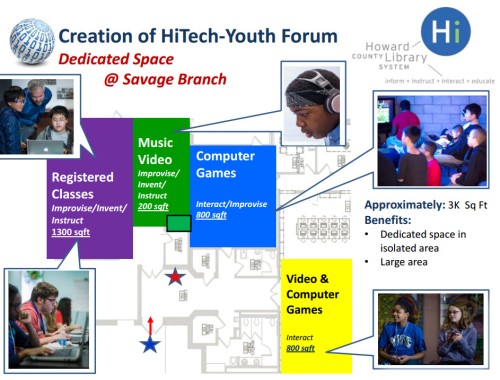 What they have discovered through an ongoing, iterative process (forums are conducted every 6 months) is that the physical design of a space for HiTech doesn't matter so much as what is available within its walls, including:
Flexibility in terms of course content and ideas. When the library recognizes the need for change, they address it; they are open to new ideas. For example, when they noticed that fewer girls were participating in HiTech, they asked the community why this might be and what topics might bring in a larger female audience. Based again on teen feedback, a "Technology of Fashion" course was introduced, resulting in greater engagement for a number of girls, a final portfolio project, and new Adobe Illustrator skills learned.


Passion that makes work play. To create "Escape! From Detention," a game currently available through the iTunes Store, HiTech teens first had to learn the logic behind game design, and the full design process, from wireframes to completing a test form. In a hands-on environment, teens are exploring the topics that interest them, and learning critical skills they can apply in many aspects of their lives.


Unique staff and teachers to help guide coursework. Though it is useful for instructors to have prior experience working with a teen audience, Ms. Brade highlights relevant skillset and passion as the two most important qualifications for leading HiTech sessions. The library has found excellent instructors within their own staff, and also in partners from the wider STEM community (for example, local High School teachers, or university students).


HiTech HOMAGO that produces results. Though the program does not offer school credit, teens who complete courses receive certificates stating the material covered and hours spent on coursework. This information and related skills can be noted in college and job applications, and some companies have even begun approaching HiTech participants for possible internship opportunities.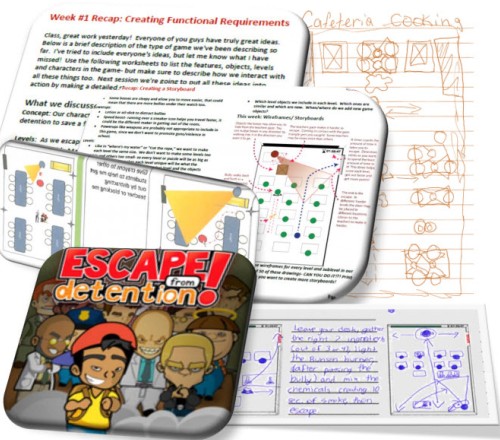 Questions came up during the webinar around online privacy and safety for teens, as well as budget for the program. Ms. Brade explained that the grant for HiTech was $100,000, from 2012 to 2013. She also talked about procedures in place for teen safety, both on and offline. One practice is to use only first names on projects, to protect the identities of team members, especially with online products. Another is simply taking an open and direct approach with the community: for example, expressing that when materials and equipment are left out for all, stealing an item is stealing from oneself.
As a result, the program has seen very little theft, material loss, or behavioral problems. The HiTech community is based on mutual respect and keeps itself in order. This follows a broader HiTech lesson: when teens are given the tools and support they ask for, they produce inspired results.
HiTech is funded in part through a federal grant from the John D. and Catherine T. MacArthur Foundation and IMLS. Sponsors include Friends of Howard County Library, and Frank and Yolanda Bruno. Howard County Library System was named 2013 Library of the Year by Gale and Library Journal, and also a 2013 Top Innovator by Urban Libraries Council.
To learn more about Howard County Library's HiTech program, and related offerings, visit the webinar page.