Helping Veterans Meet Their Employment Needs
Department of Labor, Employment and Training Administration
/
02 August 2013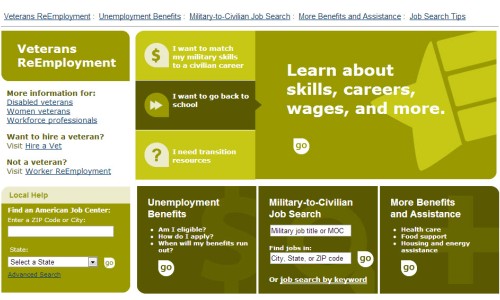 As part of an ongoing collaboration with the U.S. Department of Labor Employment and Training Administration (DOL/ETA) and the Institute of Museum and Library Services (IMLS), WebJunction is pleased to update you on a free web resource to help veterans and transitioning military members with their employment, training, and other workforce needs.
DOL/ETA's CareerOneStop Veterans ReEmployment website (http://www.careeronestop.org/ReEmployment/veterans) provides a one-stop resource for veterans to access help and information regarding unemployment, job search, training, benefits, and more.
A great way for veterans to get started finding a job is to use the "Local Help" feature to find and contact their local American Job Center, where they can meet with a Veterans Employment Representative. These staff members—often called LVERs or vet reps—can assist veterans with a range of employment and training needs including job leads, resume writing, interview skills and more. Using the "Local Help" function on the homepage of the Veterans ReEmployment website, veterans can find office locations and maps, as well as phone and email contact information for veteran representatives.
Also on the Veterans ReEmployment homepage, veterans can search for local jobs that match their military experience. The process is quite easy: Enter a military job title or code and a ZIP code to view a list of local job openings that may use skills, training, or experiences similar those the veteran gained during their service. Along with these job listings, veterans will find job search tips on topics such as networking, training, resumes, cover letters, and others.
Many veterans may not know if they are eligible for Unemployment Compensation for Ex-servicemembers, or for their state's Unemployment Insurance program. A quick search in the "Unemployment Benefits" section of the website enables veterans to locate their state offices, and find answers to questions such as:

Am I eligible for unemployment benefits?
What should I bring with me when I apply for benefits?
What are my options when my benefits run out?

In addition, the Veterans ReEmployment website has information on other benefits and assistance a veteran may be eligible for, including health care, housing, finances, food, energy, and tax filing.
In the coming months we'll be featuring other new electronic tools made available via the Department of Labor including many of those listed in this overview resource made available on WebJunction. And stay tuned for details on a November webinar, featuring DOL/ETA staff as well as libraries that are supporting local workforce development efforts.
And be sure to access the many resources made available in WebJunction's Workforce Services section.