Helping Businesses Meet Employment Needs
Department of Labor, Employment and Training Administration
/
18 June 2013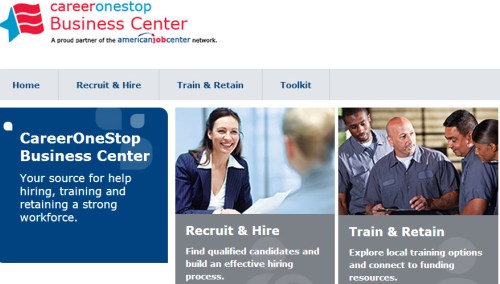 Since 2010, the U.S. Department of Labor Employment and Training Administration (DOL/ETA) and the Institute of Museum and Library Services (IMLS) have been working together to support workforce development efforts through library and the public workforce system partnerships. And IMLS funded WebJunction's Project Compass, a grant initiative to provide resources for libraries to meet the workforce recovery needs of their community. WebJunction is pleased to continue collaborating with IMLS and DOL/ETA towards these efforts and is pleased to update you on new resources available that can be used to support businesses in your community.
Finding the right employees is important for helping businesses grow. For many new and small businesses, this process can be daunting. The Department of Labor (DOL) is making this process easier through the 'Business Center' (http://www.careeronestop.org/business) located at CareerOneStop.Org.
This site provides direct access to DOL online resources for employers looking to recruit, train and retain skilled workers. Employers can find information on writing effective job descriptions and how to properly interview candidates, find local skills training programs, salary information, and state by state resources available for hiring workers among many other useful tools. The new Business Center page compliments the existing resources on CareerOneStop that offer information to help job seekers find education and training providers and conduct a job search.
In a March 25th News Release, Jane Oates Assistant Secretary of Labor for Employment and Training stated:
"These resources will help educate employers about our nation's work force development system and put the resources they need to find and hire qualified workers right at their fingertips."
The site also includes tips about how to recruit qualified candidates through local American Job Centers and provides employment projections. Additionally, the site offers access to local training and educational institutions, a catalog of occupational certifications, a tool to help employers translate the military training and skills of returning service members into specific civilian occupations and an 'Available Workforce Tool' that enables employers to build a profile of the workforce in a local, state, or national area and includes data on employment, wages, unemployment rates, and demographics.
In the coming months we'll be featuring other new electronic tools made available via the Department of Labor including many of those listed in this overview resource made available on WebJunction. And stay tuned for details on a November webinar, featuring DOL/ETA staff as well as libraries who are supporting local workforce development efforts.

And be sure to access the many resources made available in WebJunction's Workforce Services section.