Geek the Force: Recruiting and Using Volunteers for Library Advocacy
Sara DeVries
/
23 May 2014
Geek the Library is a community awareness campaign that helps libraries promote their value to the public and bring attention to funding issues. Currently, the Geek the Library program has over 1,600 participating libraries in the United States, with library campaigns in Europe and the Netherlands. The U.S. campaign is sponsored by OCLC, a nonprofit library cooperative that has provided services to help libraries deliver more to their users for four decades, and funded by a grant from the Bill & Melinda Gates Foundation. Geek the Library will accept library enrollments through June 30, 2014. You can enroll today and launch later but your campaign must be complete before June 2015. Participating libraries receive personal support throughout their campaign, plus access to training opportunities. Sara DeVries from Herrick District Library in Michigan has led the Geek the Library campaign for her community. She presented a webinar in August 2014 to share more on her great work recruiting, training and maintaining volunteers. Sara is a marketing professional and library lover with a passion for helping others tell their stories. She serves as the Marketing and Public Relations Manager for Herrick District Library in Holland, Michigan.
Recruiting and Using a Volunteer Geek Force
Like many libraries, Michigan's Herrick District Library found itself with a leaner staff facing more responsibilities in recent years. HDL staff members remained excited and optimistic about their work, and continued to dream mightily, but the library was experiencing the impact of being stretched thin. HDL liked the Geek the Library concept, but wondered how to capitalize on the program's full potential when the library did not have enough personnel hours available in the budget to send staff out of the building for campaign events.
After much brainstorming, with a few minor tweaks to budget and responsibilities, DeVries envisioned a way to make the program work using volunteers. Once the management team approved of the plan for staffing the campaign, DeVries involved the entire staff in identifying the necessary volunteers. At a special internal pre-launch party staff members considered questions like:
Who are the influencers in our community, and who knows those influencers?


Who loves HDL and also has the skills to share that love with our community?


What do you personally geek, and how could the library connect to that passion through your own community involvement?
Staff and board members recommended people who fit the answers to those questions, and those people were then invited to a "Sneak Peek" meeting where the campaign was unveiled. Participants in the Sneak Peek meeting provided answers to the same questions in order to identify additional potential volunteers. They were also asked to consider being involved in one or more of the following areas:
Campaign "celebrities," or high profile community members willing to serve as campaign ambassadors by having their photograph used in campaign marketing materials.


Geek "connectors" who helped make connections between the library and key organizations interested in hosting a Geek the Library opportunity of some type (ranging from a special Geek brew at a local microbrewery to a presentation at an annual business breakfast).


"Staff geeks" willing to match the Geek the Library campaign to their own areas of involvement in the community (ranging from a relay race team decked out in Geek the Library attire to Geek the Library information tables at school events).


"Geeks of the Week" willing to post their campaign photograph as their social media profile or cover photo during an assigned week of the campaign, along with posting key campaign talking points.


"Geek coordinators" willing to help plan and staff community events after receiving library training.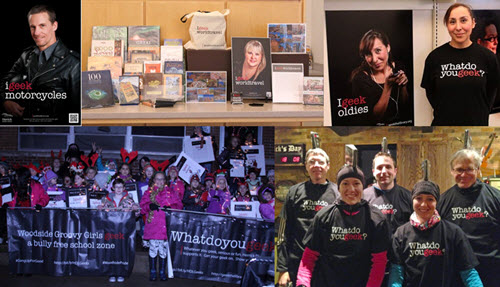 DeVries then addressed the question of how to train volunteers so that they could represent HDL in a professional manner, answering as many questions from the public as possible while also recommending good fit library products and services for the individuals volunteers met at their events. With the help of the management team, DeVries created an online training session addressing multiple topics. She also created kits for each Geek the Library event including a printout of the training slides, handouts with library information, business cards of library staff members, and a clipboard on which to record questions and patron contact information so that library staff could connect with patrons about their questions on the following business day.
All Geek the Library volunteers were informed about the campaign as it unfolded with regular emails and opportunities for input. Each received a thank you card, small thank you gift, and recognition in the library's annual report. Volunteers were then connected to longer-term library opportunities that would extend beyond the campaign. DeVries hopes the trained and informed volunteers who staffed the Geek the Library campaign may become volunteers who help in the citizen's campaign during an upcoming millage renewal.
Geek the Library volunteers reported that they felt confident representing the library and thought their role was significant in the success of the campaign. Staff members were impressed by their interaction with volunteers who were professional and dedicated. HDL now has a model to apply in future situations where the library has big dreams but lacks the staffing required to pursue them.