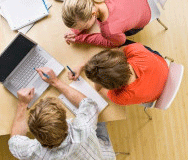 In true back-to-school fashion, September brings a wealth of learning opportunities for library staff, trustees and friends. From fundraising to partnerships, and from teamwork to teens, this list is sure to bring you new insights and inspiration. This list of 87 webinars, covering 20 topic areas, was collected by the Wyoming State Library. It's updated monthly on the Free Training page, where you can also view the offerings by topic.

For additional training, check out the WebJunction Catalog, free and open to library staff and volunteers everywhere.
Read on for 87 free webinars being offered for library staff and non-profits in the month of September.
September 1

Beyond Out-of-the-Box: Digital Climbers at Muncie Public Library (Indiana State Library)
Rebecca Parker and Stuart Cotton will discuss their Digital Climbers STEAM learning program, and how they gave up on traditional STEAM programming in favor of a multi-layered, sustainable system of STEAM challenges and projects for children. Attendees will learn about the benefits of unscheduled, personalized learning programs for kids, how the program has evolved and improved over time, and how your library can benefit from programming like this.
September 5

PubMed for Librarians: Introduction to PubMed (National Network of Libraries of Medicine)
Attend this class to learn about the difference between PubMed and MEDLINE, how to run a basic PubMed search, assess your search results, analyze search details, customize PubMed with My NCBI, search for a known citation; plus, brief introductions to MeSH, automatic term mapping, search tags and subheadings.
September 6
Graphic Design for Libraries Series: Introduction to Canva (Indiana State Library)
Want to create dynamic promotional materials with less stress and less time? Canva, an online graphic design tool, may be your best option. During this session you will learn how to create attractive materials with this relatively simple online tool. You will also learn about Canva for Nonprofits, a free premium version for nonprofits with team sizes of 10 members or less.
NCompass Live: The New Public Library Director's Guidebook (Nebraska Library Commission)
A new library director has to handle a lot of new things. The Public Library Director's Guidebook is a compilation of information that should help to answer questions about who's who and what's what. Sharon Osenga, Co-Director of the Central Plains Library System; Anneka Ramirez, Director of the Three Rivers Library System; and Holli Duggan, Continuing Education Coordinator at the Nebraska Library Commission, will show off this new resource for new and not-so-new public library directors.
Setting Goals for Leading a Nonprofit (Nonprofit Hub)
Research shows that nonprofit leaders struggle with time management both personally and for the organization. In this session, nonprofit leadership coach Marc A. Pitman will walk you through a process for identifying the right goals. And how to get them accomplished. Without killing you in the process.
Guided Play and Early Brain Development in Early Education Settings: Dr. Kathy Hirsh-Pasek on Sparking Positive Outcomes in All Domains (Early Childhood Investigations)
Using a backdrop of compelling research, Dr. Hirsh-Pasek will share strategies early educators can use to support curricular goals by presenting a learning goal, and scaffolding the environment while allowing children to maintain a large degree of control over their learning. This approach allows educators to use the best of direct instruction and free play.
Convert Supporters on #GivingTuesday with Powerful Landing Pages (Firespring)
With #GivingTuesday just around the corner, now is the perfect time to make sure you have the tools to run a successful campaign. In this session, we will share real-world examples of landing pages that every nonprofit should have and what we have learned from studying the best practices of hundreds of nonprofits.
 "Imagine Your Perfect Source": Strategies for Cultivating Expert Researchers (edWeb)
If you are a librarian teaching information literacy, or a classroom teacher who asks students to locate their own sources, join us to investigate a skill that supports lifelong learning and can help students do better quality research in academic or work settings, or to be savvier consumers in daily life. This event is geared towards librarians and educators working in grade 6 and up, but grades 3–5 professionals who ask students to find information independently will also benefit from this live, interactive session.
September 7
The Year Before Your Capital Campaign (Bloomerang)
Following on from a highly-regarded AFP Conference session, this webinar you'll learn how to start planning for a Capital Campaign one year before your feasibility study. Learn what critical items to get started on early to position your capital campaign for success!
3 Steps to Improved Employee Engagement: Supporting Work-Life Balance in Your Organization (Training Industry)
Join us for this complimentary Training industry webinar sponsored by Oola Corporate Training. Your hosts, world-renowned work-life balance experts and best-selling authors Dr. Dave Braun and Dr. Troy Amdahl, will discuss how to implement work-life balance at your company.
Leadership Skills for the Future of Work (Coursera)
The world of work is rapidly changing due to technology, globalization, and a new generation of workers. In this changing landscape, the ability to identify and develop capable leaders will be key to business success. However, companies are struggling to see what lies ahead and to help potential leaders develop the skills they will need. In this webinar, we will discuss: What are soft skills, and which ones are in demand for future leaders; Where can L&D leaders find corporate learning programs for leadership development; How to measure the ROI of soft skills training.
Nonprofit 911: How to Grow Your Donor Base through Donor Relations & Cultivating Prospects (Network for Good)
Join us and learn about building donor relations that have a solid foundation, that keep donors engaged, that create interest, and ultimately, that result in donor retention. Get a look at donor relations through the eyes of your donor and explore how to search for, identify, and cultivate ideal prospects in ways that will grow your donor base.
Bozarthzone! Turning Stress into Power (InSync Training)
Managing stress effectively has less to do with managing external events – things you can't control – and more to do with better managing yourself. This session focuses on strategies for taking charge of your own responses to stress and turning them to more productive reactions and behaviors.
6 Essentials for Teams that Work (Effectiveness Institute)
Learn what it takes to build your high performance team. The strongest and most effective teams tap into and activate the strengths of every team member and build an environment rich with trust and respect. This allows for open communication and cohesiveness, which enables a team to rise to its full potential and overcome any obstacle to achieve desired results. Learn how you can build a breakthrough team by participating in our one-hour webinar.
CopyTalk must go on! (ALA District Dispatch)
Our speaker is Eric Harbeson, music copyright expert as well as a long-time member of the copyright education subcommittee. He will present the ins and outs of music and copyright (obviously). As you know, dealing with music and copyright questions is more difficult than cataloging a sound recording. And there's copyright legislation—The CLASSICS Act—to discuss.
Community Engagement: 2 Approaches - Aspen Institute & Harwood Institute (Arizona State Library, Archives & Public Records)
Join Maureen Sullivan, former ALA President and internationally-recognized library consultant and leadership trainer, for this informative look into 2 influential approaches to library community engagement via the Aspen Institute and the Harwood Institute.
Read, Discuss, Meet and Act: The Power of Words (Programming Librarian)
Join Michael Hoerger, communications and marketing manager at Monroe County Public Library, for a discussion on how the series came to be and an overview of the Read, Discuss, Meet, and Act model. Michael will share how working with local partners made the event successful and more impactful for the community, while building a firm foundation for community engaged partnerships and future programs.
Top Ten Tips for Managing Reference Today (Booklist)
Presenter Kay Cassell, author of Managing Reference Today: New Models and Best Practices, moves beyond the reference desk and presents proven tips for making the best use of staff time and posits a framework for developing a reference strategy tailored to an individual library's users and resources.
Sharing eBooks Across Schools & Districts: How Educators Make It Work (School Library Journal)
Join us for this engaging session with library specialists Joshua Pease and Lori Slingerland from the Connect Information Technology Center. Pease and Slingerland will provide valuable insight into how Connect delivers eBooks and audiobooks to its member schools and districts across Northeast Ohio through a cost-effective shared digital collection.
September 8
Technology & Trends presents "Google Drive for Instruction: Leveling Up with Add-Ons" (North Carolina Library Association)
Those who use Google Drive for instruction already know how powerful it is for sharing and collaborating with students and faculty. This webinar will go beyond the basics to show you two amazing add-ons for Google Sheets that will take your use of Drive to the next level. You'll hear how one librarian uses the Doctopus add-on to wrangle his student's assignments and course documents, and how he uses the autoCrat add-on to automate administrative tasks and solicit workshop feedback. This session will be most useful to those with some experience with Google Drive, and will be especially useful to those at G Suite for Education campuses.
September 9
Getting the Most Out of Google Forms (Simple K12)
If you have never used Google Forms, you are missing out on a tool that can save you time, engage your students, and inform your instruction. If you have used Google Forms, you know how useful they can be for collecting and analyzing data, giving quizzes, doing formative assessments, conducting surveys, and so much more! Join Tia Simmons for an informative overview of Google Forms.
Get on Track and Stay There with Google Calendar! (Simple K12)
Do you sometimes find it difficult to keep track of everything on your busy schedule? Or perhaps you'd like an easy way to invite others to meetings or events. If so, then an easy-to-use online calendar may be just what you need! Join Jayme Linton as she shows you how to get your life organized with Google Calendar. Google Calendar allows you to manage multiple calendars as well as share them with others. You'll learn about a variety of basic and advanced features of Google Calendar.
September 12
TED and Libraries: Ideas worth sharing at places designed for sharing (Indiana State Library)
This webinar will explore opportunities for libraries related to the world of TED - including, but not limited to, staging a TEDx event and hosting an ongoing TED Ed Club. The presenters will discuss their ongoing partnership, full of successes and failures, while inspiring librarians to bring these two worlds together at their own libraries.
Zines to the Front: Building a Library Collection for the People, by the People (Washington State Library)
Agatha Burstein and Kelsey Smith from the Timberland Regional Library system will provide an overview of zines, zine culture, and zine collections in libraries. Topics will include drafting a zine collection proposal for your library, zine acquisitions and cataloging, zine advisory, and using zines in library programming and outreach. Resources for further exploration of this topic will also be made available.
Writing and Designing Engaging Emails (Blackbaud)
Email campaigns should be the primary strategy for communicating with your visitors, members, and donors. To appropriately engage audience, you need segmented lists, engaging content and dedicated communication strategies. In this Digi-Know webinar, we will discuss ways to improve your email marketing efforts to keep supporters involved, inspired, and ready to take action!
Database of the Month: Mango Languages (Wyoming State Library)
Join Chris Van Burgh for a look at Mango Languages.  It now has 72 languages, 21 ESL courses, 35 specialty courses and an updated interface. (It is also time to get ready for Talk Like a Pirate Day--Sept. 19th)
Resources: Aerospace Power, Military History, Geopolitics, and Professional Military Education (Federal Depository Library Program)
This presentation will demonstrate how to access curricular materials, professional journals such as Air & Space Power Journal, Strategic Studies Quarterly, student research papers, and publications from Air University Press, Air Force military doctrine resources, faculty background and credentials, and historical resources from the Air Force Historical Research Agency.
Turn the GivingTuesday global movement into local impact  (Blackbaud)
In 2016 GivingTuesday was celebrated in 98 countries around the world. As the movement grows globally, countries and communities are localizing and launching initiatives to encourage giving, volunteering and acts of kindness. Join Lys Hugessen and Woodrow Rosenbaum from the GivingTuesday Canada organizing team to learn more about the movement and how you can incorporate GivingTuesday into your end of year and annual fundraising campaigns. They'll share campaign examples, best practices, tips for social engagement and more.
Opioid Crisis Town Hall: Library Needs and Responses (WebJunction and Public Library Association)
Join us for a virtual town hall, where representatives from libraries and other community organizations will describe their local efforts and who they're collaborating with. We also want to hear from you: We'll ask audience participants to describe the informational, structural, financial and emotional support that library staff and community members need to withstand and address this alarming epidemic. The insights gleaned from this town hall will be shared to inform plans for future efforts.
Beyond Book Readings: Building Science Literacy with Hands-On Activities (School Library Journal)
Pairing science and nature-themed books with hands-on science and outdoor activities can provide educators with fun and easy ways to engage curious learners in school-day enrichment activities, in afterschool programs, and in family/school programs. This webinar will introduce librarians to freely available lessons as well as multimedia resources related to birds and nature that are designed to help build learners' Science, Technology, Engineering, Art, and Math (STEAM) skills and content knowledge.
September 13
Building Your Support Network: A Woman's Guide for Success (American Management Association)
In this 60-minute webcast, Danielle Harlan, PhD, Founder and CEO of the Center for Advancing Leadership and Human Potential, will draw upon lessons from her book, The New Alpha: Join the Rising Movement of Influencers and Changemakers Who Are Redefining Leadership, to show you how to build your own circle of support—including who you should look for, how you can connect them in, and how they can help you.
Mindful Leadership (GovLoop)
Join us to learn how to bring mindful presence to your interactions, the importance of building trust within yourself and colleagues, as well as how to cultivate an overall sense of meaningfulness at work.
DorobekInsider Live-The Realities of Cybersecurity (GovLoop)
There is no denying that the government has always been incredibly concerned about security. However, as the government continues to modernize, the way agencies are thinking about digital security is evolving, too. Join us, Christopher Dorobek and his panel of experts as they discuss the biggest government cybersecurity challenges and highlight a few of the innovators in the field of security.
Making Banned Books Week Work in Your Community (Public Library Association)
This annual event brings together communities in support of the freedom to read and to express ideas, even those considered unorthodox or unpopular. Some libraries have been celebrating BBW for decades and feel like they are "preaching to the choir," while others have steered clear of stirring up controversy. This free webinar from PLA and the ALA Office for Intellectual Freedom (OIF) will shine a light on these and other barriers to successful participation in BBW and will focus on solutions to keep your library's involvement fresh, relevant, and meaningful to your community.
Introduction to Corporate Giving (GrantSpace)
Corporate grantmakers are different from traditional foundations in many ways. This class provides a basic overview of: The different types of corporate giving; What motivates corporations to give; How to find potential corporate partners.
Trauma-Informed Early Education Classroom Design: Designing Child and Family-Friendly Spaces for Recovery from Trauma (Early Childhood Investigations)
This webinar, part of the Trauma Solutions in Early Childhood Series, will be presented by trauma expert, Ileen Henderson. Ileen will describe the impact of trauma on young children, its effect on learning and child development and the importance of creating a space within your classroom, organization, office or lobby that supports children who have been impacted by trauma.
Lending Wi-Fi Hotspots in Urban and Rural Communities (Texas State Library and Archives Commission)
This webinar will discuss various aspects of mobile hotspot lending programs at libraries in metro and rural areas, including some of the practical issues as well as what access may mean to targeted communities. The team behind this webinar has researched New York's large mobile hotspot program and is in the middle of research on 24 rural libraries also loaning these devices.
12 Nonprofit Thank You Mistakes to Avoid with Claire Axelrad (Firespring)
After you've sent out your appeal is too late to start thinking about what your thank you letter or email will say. Everything must be well thought-out in advance. You must be ready to go with different templates and strategies for different target audiences well before you've asked for your first donation. This webinar will help you think through your thank you process, put procedures in writing and get others on board.
Intellectual Freedom is Not Just About Censorship! (edWeb)
What happens when a resource in a K-12 library is challenged? We don't always think of Internet filtering as censorship, but it can be. How do emerging student privacy laws impact intellectual freedom? How can UNESCO's Five Laws of Media and Information Literacy support responsible use? How can professional organizations such as the American Library Association (ALA) and the American Association of School Librarians support educators? How can intellectual freedom promote library and librarian advocacy? In this edWebinar, Michelle Luhtala, Library Department Chair at New Canaan (CT) High School, and Kristin Pekoll, Assistant Director at the ALA's Office for Intellectual Freedom, will answer these questions and many more. All librarians are invited to attend this live, interactive session.
September 14
Libraries Transform: Health Literacy Toolkit (ALA and National Network of Libraries of Medicine)
October is Health Literacy Month. The American Library Association (ALA) and the National Network of Libraries of Medicine have created a Health Literacy Month toolkit for the Libraries Transform campaign. Join Amanda J. Wilson (NNLM) and Jeff Julian (ALA) as they discuss NNLM's mission to support health literacy efforts in libraries and explain how to use the key messages, data, and marketing materials to promote health literacy at your library
Measuring the Impact of Digital Literacy Services with Project Outcome & DigitalLearn.org (Public Library Association)
PLA has two free tools that can help you provide and measure digital literacy services. DigitalLearn.org provides tutorials on essential basic technologies designed for use in library patron training, and also offers the ability to create a custom site branded for your library. Project Outcome provides simple survey tools to measure the outcomes of digital literacy programs and services. This free webinar will show you how to use both of these tools together to augment your digital literacy training and measure the impact your digital literacy services have in the community.
Fall for New Nonfiction (School Library Journal)
Entice the inquisitive minds of your nonfiction fans with informative and engaging titles! This must-see webinar highlights a variety of fascinating subjects that will appeal to students and patrons of all ages.
IT Innovation and How to Get There (GovLoop)
Join us as we explore how application platforms-as-a-service can help increase central IT productivity and its business alignment, while also harnessing the power of citizen development in a governed and secure way – aka create IT innovation.
Authentic Storytelling with Greenpeace: A 10 Step Process (TechSoup)
Learn how to create stories of progress and renewal, impact and change. The process of creating stories is as important as the process of presenting that story. Creating a story is an ethical process. It comes from a nonprofit's heart, mind and passion --- from the body. There are also steps that a nonprofit can take to refine their story. Join Greenpeace's storytelling expert, Tsering Lama as she guides us through Greenpeace's 10 Steps Process for Developing a Narrative.
An Orientation to Congress.gov (Federal Depository Library Program)
In this webinar, Law Library of Congress librarians provide a basic overview of Congress.gov, the official website for U.S. Federal legislative information. While the focus of the webinar is on showing how to perform searches in Congress.gov, particularly with regard to searching legislation and Congressional member information attached to legislation, the new features of Congress.gov are also highlighted.
Why eBooks? Best Practices from School Librarians (Booklist)
Library media specialist, Lorrie Roussin, and middle-school librarian, Alicia Blowers, will share how they successfully implemented eBook programs into their schools.
Getting Started with Employee Onboarding (American Alliance of Museums)
Join museum human resources (HR) professionals and other colleagues as we discuss the basics of employee onboarding, including defining and crafting an onboarding process; developing activities to include at various points in your onboarding program; and creating an onboarding toolkit you can customize for your institution.
September 18
Getting to Yes (Utah State Library)
This workshop is intended to help staff break free from saying "No" to patrons as a general rule, and to get to the "Yes" in every transaction. We'll explore our mental models of customers, our jobs and the mission of the library. We'll practice seeing things from the patron's perspective and then use the group's creativity and experience to create a better customer experience and hopefully better job satisfaction for all. Pre-workshop: please keep a log for one week of the times you or other staff say "No" to customers.
 "Making Readers:" How the Maker Movement Can Impact Literacy (Idaho Commission for Libraries)
Join ICfL as they discuss how the Maker Movement connects with literacy. NO REGISTRATION NEEDED.
I'm a Librarian, Not a Doctor! Providing Health Information to Public Library Customers  (National Network of Libraries of Medicine)
Medical questions are among the most dreaded at any public library service desk: How do I ask for more information without prying (and, how do I avoid getting way too much information)? What's my best place to start? What databases and books do I need in my library, and how do I use them? How do I know a website contains reliable information? What if I just can't find the answer? Discover the reference desk basics for answering your customers' medical questions, where (and how) to draw the line, and when and where to refer your patients... oops... customers.
September 19
Bring Frankenstein to Life! (Indiana State Library)
When it comes to asking the hard questions at the heart of scientific investigation, perhaps no book has ever topped Mary Shelley's Frankenstein. This remarkable novel, which turns 200 in 2018, is the center of One State/One Story, an ambitious statewide read presented by Indiana Humanities and the Indiana State Library. Join us for a one-hour webinar to learn about ways to get your library or school involved with this fun and stimulating statewide project. We'll present a detailed overview of what resources, including funds, books and more, will be available, and walk you through how to apply to take part. We'll also share creative ideas for how to build community and school programs around this amazing book.
Works in Progress Webinar: Diversity, Inclusion, and Social Justice Work in the MIT Libraries' Collections Directorate (OCLC)
Academic librarians are increasingly embracing diversity, inclusion, and social justice as values essential to our profession. This webinar will explore how MIT Libraries have implemented the recommendations of its Diversity, Inclusion, and Social Justice Task Force, with a focus on the work of the Scholarly Communication and Collections Strategy department.
PubMed for Librarians: Using Evidence-Based Search Features (National Network of Libraries of Medicine)
The class will explore Medical Subject Headings (MeSH) used for indexing study design and how they work in PubMed, introduce 3 PubMed products that facilitate evidence based searching, and demonstrate how to customize My NCBI Filters to quickly locate specific publication types.
What's Cooking for Fall 2017 (Booklist)
Join Booklist for this free, hour-long webinar and hear about all the appetizing new titles from Ingram (American Diabetes Association & Agate), Penguin Random House, Sterling Publishing, and Workman Publishing Company.
Make Virtual Classroom Learning Relevant-Scenario Based Learning in the Virtual Classroom (InSync Training)
Adult learning principles state that adults learn best when content is relevant. So why do most virtual classroom lessons rely on lectures and slides? One of the most effective ways to ensure learning sticks is by getting learners involved, and scenario-based learning design does just that. Join us to discover ideas for producing appropriate scenarios that resonate with your learners in the virtual classroom.
Networking for Disaster Management in the Performing Arts (Lyrasis)
Emergency response and preparedness for performing arts organizations can be a difficult task for individual organizations. This free 90-minute webinar will demonstrate how working with multiple organizations in a network for disaster management can be accomplished. The history of networking for improved emergency preparedness in the cultural heritage, arts, and government sectors will be examined, with an exploration of existing networks.
Celebrate Afterschool Partnerships with the Annual "Lights on Afterschool!"  (After School Alliance)
Libraries and afterschool programs make great partners. Every October, the afterschool field celebrates the important role these programs have in the lives of children, families, and communities. This year, on Oct. 26, we want to make the celebration bigger and better than ever. Library-afterschool partnerships are an official theme of this year's event—and we want to highlight the many ways libraries and afterschool programs are pairing up to provide engaging learning opportunities and critical supports to children and families across the country. Join us for this webinar to learn more about Lights On Afterschool, and how your library can participate.
September 20
Social Media 101 for #GivingTuesday (Firespring)
This session includes practical tips and tools for promoting your #GivingTuesday campaign via social media. We cover the basics of using social media for your organization and give you handy tips for the "big 3": Facebook, Twitter and LinkedIn. You may be surprised to learn that Facebook is less important than you've been told and LinkedIn may be more important.
Modern Manners for Today's Business World (American Management Association)
Today, the path to success is a combination of your business know-how and your social skills. The good news is that manners and business etiquette are easy to learn and apply. In a nutshell, you'll learn ways to navigate the social conventions of your work environment with poise and confidence. Follow these lessons and you can earn a good reputation that could lead to bigger and better things in your career and personal life.
How to Engage Your Community with Code Clubs (SirsiDynix)
Learning to code is now a crucial skill. Understanding code can open new career pathways and opportunities. What better place to learn that skill than in your library? Join Tara Carpenter, Library Services Manager, as she shares her library's story about organizing code clubs for all ages in her community. Learn tips and tricks on how you can also get code clubs up and running in your library.
Introduction to Finding Grants (GrantSpace)
You will learn the 10 most important things you need to know about finding grants including: Who funds nonprofits and what are their motivations; What do funders really want to know about the organizations they are interested in funding; How do you identify potential funders and make the first approach.
Getting Started: Making Your Grant Requests Sparkle (TechSoup)
Are you new to grant writing? This free 90-minute webinar for TechSoup's audience will help you prepare the basic documents needed to write compelling letters of inquiry and grant proposals. Participants come away with a clear picture of exactly what documents they should have on hand and how to polish and present these documents in order to submit successful grants requests. Why not make your first grant proposals not only a joy to write, but also make them stand out from other submissions?
Millennials on the Move: Preparing Emerging Leaders for Frontline Management (Training Magazine Network)
Organizations that have not developed retention plans for their millennial workforce are already experiencing the cost of churn as these workers leave their first jobs. Seeking continuous learning, as well as the opportunity to lead meaningful projects that make an impact in the world, millennials go where their skills are valued and developed. It can cost $25,000+ to replace a millennial employee, but the retention solution is right in front of any forward-thinking organization: develop the skills of your emerging leaders now and prepare them for increasing responsibility in their first management roles.
Health Reference and You: ALA Guidelines, Best Practices, and Training Resources (National Network of Libraries of Medicine)
This webinar will present the guidelines, highlight some of these practices, and introduce a new "Quick Start" guide connecting the guidelines to suggested reference behaviors. These will help you improve the quality of your health and medical reference service and can be used for training staff. Reference scenarios will be presented in order to apply these strategies to real life situations, and attendees will be encouraged to identify a new approach they have learned that they will use with patrons moving forward.
September 21
Tech Savvy in the School Library (Wyoming State Library)
Join Paige Bredenkamp, School Library Consultant at Wyoming State Library, as she goes through a list of software, apps, and hardware useful in the school library.
How Can We Achieve Program Sustainability? (Charity Village)
New research into the area of program sustainability has shown that there are concrete steps you can take to increase the longevity of your programs. Although many organizations diligently develop a strategic plan, few seem to draft a formal sustainability plan. In this engaging webinar you will learn what factors can increase the sustainability odds of your program and the benefits of developing a formal sustainability plan.
Networking: A Survival Guide for Introverts (North Dakota State Library)
Networking… Does that word make you cringe or feel overwhelmed and exhausted? People who are introverted can have a really hard time when it comes to networking at conferences and other events that require them to be around and talk with other people. This webinar will include strategies on how to make the most out of networking, while also ensuring you don't get burned out in the process.
Building A Grants Strategy (TechSoup)
This webinar will take participants through the process of establishing a grants calendar for the next 12 to 18 months. Fast-paced, and filled with action steps, Cynthia Adams, CEO of GrantStation, will discuss how to design and adopt a Grant Decision Matrix before beginning the process of building a specific grants strategy for each project. All participants will also receive a set of worksheets that they can use to create their own approach to building an overall grantseeking strategy for their organization. This presentation is geared towards beginning and intermediate grantwriters. Advanced grantwriters may also find it useful as a refresher course.
September 22
Risk Assessment for Performing Arts Organizations (Lyrasis)
Natural disasters, local emergencies, and other disruptive events can have devastating effects on all sizes of performing arts organizations. This webinar will focus on mitigating risks at institutions, to prevent disasters from happening and to reduce the impact of unavoidable disasters. The session will clarify the need for risk assessment as a part of an organization's disaster preparedness strategy, provide basic information on risk assessment tools and practices, and address how risk assessment can benefit performing arts organizations.
September 25
Everybody Has a Story: Creating Cultural and Historic Preservation Programs with Impact (Programming Librarian)
Join us for a presentation on cultural and historical resources to help students of all ages learn about the efforts of cultural and historic preservation. The webinar will focus on a yearlong program in which aspects of culture such as language, dance, music, arts and crafts, and food traditions were taught to third-grade students. These students also studied the history of their town through guest speakers, primary sources and a guided tour.
September 26
Services to those with Special Needs (Indiana State Library)
Join us as staff from About Special Kids offers tips and suggestions for interacting with patrons who have special needs.  About Special Kids is Indiana's Parent to Parent organization that works throughout the state to give support, answer questions and provide information and resources to families of children with special needs.
The New Volunteer Manager's Toolkit (VolunteerMatch)
New to volunteer management? Looking for a refresher on the basics? This webinar will walk you through the three primary Rs - recruitment, retention and recognition. We'll discuss the most popular program components such as interviews, orientations, volunteer handbooks, and more. And, we'll talk about the importance of managing risk for your program and your organization. All attendees will also receive a sample packet with examples of program documents and program assessment checklists to help you evaluate your existing program.
Census Bureau's Foreign Trade Website; Foreign Trade Data for Librarians, No. 7 (Federal Depository Library Program)
Participants will learn about the Census Bureau's "FT900 U.S. International Trade in Goods and Services" monthly report, trade by state for commodity and country, trade by partner country, trade by countries and products, the "Foreign Trade Regulations" that supplement and update those in the CFR, and more.
The Name of the Game: Playing Tabletop Games to Build 21st Century Skills (WebJunction)
As hubs of lifelong learning, public libraries are always seeking new strategies to cultivate 21st century skills in their community members. The deeper we move into this century, the more critical it becomes for people to hone skills like communication, collaboration, critical thinking, global awareness and creativity. Your patrons can strengthen these skill sets while also having fun in a social setting — through playing tabletop games at the library. Learn about the wide array of games available and the specific skill sets each one promotes. Hear how public librarians are using games and get new ideas for programming and game-related projects that you can do at your library. Your younger patrons will be ahead of the 21st century game in no time.
September 27
FranklinCovey's 5 Choices to Extraordinary Productivity™ (American Management Association)
Attend this webcast to learn about FranklinCovey's seminar The 5 Choices to Extraordinary Productivity. The seminar combines current neuroscience research with proven productivity principles to help you better manage your decisions, attention, and energy.
Social Media and Volunteer Engagement (VolunteerMatch)
This webinar will offer an introduction to including social media in your volunteer recruitment and retention plans. You'll see examples of Twitter, Facebook and YouTube pages, as well as blogs that other nonprofits have successfully used to draw attention to their organizations and volunteer opportunities. You'll also learn about the social media tools available as part of your VolunteerMatch account that can help you promote your volunteer opportunity on other social networking sites.
Creative Crowdfundraising (Blackbaud)
As DIY fundraising and crowdfundraising continue to grow in popularity, we're discovering what makes for successful campaigns and why. In this Digital Life Hacks webinar, DIY fundraising expert Tammy Radencic will discuss why crowdfundraising works, how to use DIY campaigns to acquire new donors, and how to make the most of your supporters' efforts.
A Framework for Maker Education (Demco)
Adding rich, hands-on maker projects into your school can seem like a daunting task if you are not accustomed to this style of teaching — but it doesn't have to be. In this webinar, award-winning educator Mark Schreiber will walk you through a step-by-step process to add making into your library and classroom. He will unpack Demco's maker framework and give you easy pointers on how to integrate maker projects throughout your curriculum and school.
Supporting Young Children and Families Impacted by Immigration Policies (Early Childhood Investigations)
Harsh immigration policies undermine the safety, health, and overall development of young children in immigrant families, the vast majority of whom are U.S. citizens. New and proposed immigration policies—including increased immigration enforcement actions–have threatened the well-being of millions of children, threatening to separate them from their parents and to cut them off from critical health and nutrition assistance. This power webinar, presented by Wendy Cervantes, Dr. Michael McNeil and Hannah Matthews will discuss how the recent executive orders and other immigration policy proposals impact young children in immigrant families and what early childhood providers can do to help support their students and families who may be at risk.
Getting Started with Working across Generations (American Alliance of Museums)
Join this lively conversation as we explore the various generations in the workforce today (traditionalists, baby boomers, genX, millennials, and gen2020), what characterizes them, what myths and truths are associated with each, and how we might address issues and concerns as we all learn to get along—and succeed—at work.
Autism Basics: A primer for librarians & literacy providers (Illinois State Library)
An informational webinar about serving individuals on the autism spectrum. This session will cover topics including what is autism, why it is important for librarians and literacy providers to know about autism and how to create an inclusive learning environment. An opportunity for questions will be provided at the end of the session.
September 28
Is It Really Dead? How to rescue programs for hard-to-reach communities (Colorado State Library)
In this session we will share a simple method for how to get down to the root of the problem of why a program isn't successful, develop a plan to address the roots of the problem, and evaluate if it should be cut or rescued. We will include case studies from the presenter, and we also invite you to share your thoughts, questions and real life examples from your libraries.
Successful Volunteer Interview Strategies (VolunteerMatch)
This webinar introduces a variety of question types used in volunteer interviews and offers strategies for honing your interview skills. Materials will be provided to help you implement this process in your organization, as well as a training syllabus so you can learn how to recruit and train a volunteer staff to assist with prospective volunteer interviews.
Buy-In Not Opt-Out: Creating a culture for staff driven metrics (Colorado State Library and RIPL)
Is staff in your Library reluctant to participate in the measurement of institutional performance? Do they seem confused by the logic model and struggle to apply it to their work? Would you like Senior Staff to make data driven decisions? Learn a method for engaging staff at all organizational levels in program evaluation; Improve staff analytical skills and help the entire organization, including your Board of Trustees, focus on institutional strategy; Be introduced to a performance measuring system that works. REGISTRATION NOT REQUIRED.
School & Public Library Partnerships: The Scoop from a School Librarian (Indiana State Library)
Join us a Robyn Young, Avon High School Librarian and ILF Past-President 2017, shares the scoop on what school librarians do as well as the challenges they face.  She'll offer suggestions for public librarians approaching school media specialists with partnership ideas, discuss the types of partnerships schools are most receptive to, and share information about successful public library partnerships in which she has participated.
From Management to Engagement: Skilled Volunteers in Public Libraries (Texas State Library and Archives Commission)
Thanks to a 3-year Laura Bush 21st Century Librarian grant from the Institute of Museum and Library Services (IMLS), the Texas State Library and Archives Commission has partnered with the state libraries of Idaho, Arizona and California to provide training and resources to assist public libraries in recruitment, management and retention of skilled volunteers. As part of the project, TSLAC invites library staff to join Carla Lehn, Get Involved Collaborative Consultant and Trainer, for this informative webinar as she discusses the need to move from traditional volunteer "management" to volunteer "engagement". By the end of this webinar, participants will also know how to plan for and find skilled volunteers to expand library capacity as well as know where to find more resources on this subject.
Common Core Open Educational Resources and Websites & Google Classroom (School Library Journal)
OER has become a central model for the development and dissemination of free online content. The digital libraries of OER has increased significantly, providing schools and teachers with standards-based materials for developing CCSS curriculum. A variety of Common Core OER websites will be demonstrated to attendees and how they can be applied in Google Classroom. They will learn how to search, filter, and assign exercises and formative assessments to students in Google Classroom.
September 29
From the Bottom Up: We Overlooked the Misdemeanor (And so Can You!) (Indiana State Library)
Learn how the Nappanee Public Library is meeting a need in their community by providing a quality, non-judgmental Community service Volunteer Program. With firm guidelines and expectations in place, a mutually beneficial relationship begins.  With data and support, NPL can prove its value to your library and community.