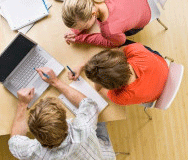 With October's arrival, the usual acceleration of time sets in. Before you and your team get too caught up in end-of-year and holiday rush, set aside some time for online learning! There's no time like the present, and you'll be looking at goals for the new year before you know it! This list of 86 webinars and 2 online conferences, covering 20 topic areas, was collected by the Wyoming State Library. It's updated monthly on the Free Training page, where you can also view the offerings by topic.

For additional training, check out the WebJunction Catalog, free and open to library staff and volunteers everywhere.
Online Conferences this month:
October 2
#NFGTips: How to Create Defining Moments for Your Donors (Network for Good)
How do you create memorable, meaningful moments for your donors? In this 30-minute webinar based on his new book The Power of Moments, Dan Heath will reveal the four elements of defining moments.
October 3
How to Launch a FABULOUS #GivingTuesday Campaign with Less Work and More Impact (Julia Campbell)
During this FREE 60-minute Master Class, you'll learn: The reasons that so many #GivingTuesday campaigns fall flat, and solutions to ensure that you don't make the same mistakes; The 3 essential steps to take to ensure that you launch a campaign that will slay your goals and energize your supporters;  How to narrow your focus and reach the right supporters with the right message and the right time; The proven method that my clients have used to secure buy-in from staff and supervisors who may be skeptical about online fundraising and giving days;  A clear process to prioritize your ideas and turn them into actionable tasks.
Author Rick Riordan from the Library of Congress (Library of Congress)
The Library of Congress invites you and your students to join in a virtual program that features best-selling author—and former classroom teacher—Rick Riordan.  He will be talking with students about his new book, "Magnus Chase and the Gods of Asgard, Book 3: The Ship of the Dead."
Reader's Advisory: Nonfiction, Stranger than Fiction (Texas State Library and Archives Commission)
Have you ever been flummoxed when confronted with a patron who requests non-fiction? The Reader's Advisory experts at the Texas State Library and Archives Commission's Talking Book Program are here to help! John Berkeland and Laura Jean Norris will provide Reader's Advisory tips for assisting nonfiction loving patrons by offering ways of breaking down non-fiction into sub-genres, posing helpful questions to ask patrons, suggesting fiction read-a-likes, and providing additional resources.
HathiTrust and Shared Print
Shared Print Program Officer Lizanne Payne will describe the current status and future plans of HathiTrust. This webinar will be of interest to those tracking and participating in shared print efforts, as well as those interested in learning about the activities of the HathiTrust.
Sensory Story Time: Programming for Children with Autism, Sensory Processing Disorder and Other Special Needs (Washington State Library)
While libraries strive to be welcoming places for all, children with special needs may not always thrive in traditional story times where crowds, bright lights, and sudden noises can overstimulate and overwhelm. Parents of children with special needs can often feel conspicuous and unwelcome in a library setting.
Engaging the Volunteer of the Future (VolunteerMatch)
The age of one-size fits all volunteer engagement is coming to an end. This webinar will start with a review of some of the things that we know about what volunteers are looking for in an opportunity. It will then help you use this information to start designing volunteer opportunities and determining who is the "right" volunteer for your program. You'll also learn how "word of mouth" plays such a large role in attracting volunteers to your organization and how social media makes this even more important.
A Conversation with Three Debut YA Authors (School Library Journal)
Be the first to hear about the exciting YA debuts from authors S.K. Ali, Janelle Milanes, and Margaret Rogerson. They will share their experiences of writing for teens and discuss the journey of having a book published for the first time. Join teen librarian Dawn Abron as she moderates this lively conversation.
From Puttering to Prototype in Makerspaces: Using Design Thinking with Elementary and Middle-School Students (Booklist)
Design thinking can be used with a wide variety of tools and media, including sewing, cardboard construction, coding, video game design, engineering, and more. In this webinar, we'll examine the design-thinking process and share some strategies, supports, and starter ideas to get you going.
State Procurement Case Studies: Digital Instructional Materials Acquisition (edWeb)
This edWebinar will present the release of SETDA's newest resource, State Procurement Case Studies: Digital Instructional Materials Acquisition. This publication highlights state level procurement case studies, sharing how states have effectively established and implemented policies for the procurement of high quality instructional materials and devices. State leaders from Indiana and West Virginia will highlight details of their states' procurement and adoption processes. Participants will have the opportunity to participate in an interactive discussion session. This presentation will be especially useful for administrators, policy makers, curriculum directors, IT staff, teachers, and librarians.
Tips & Tricks for Stretching Your eBook Budget (American Association of School Librarians)
Maximizing your investment in digital content is an important goal for today's school librarian. Join us for a free webinar to learn tips and tricks for stretching your eBook budget to reach the most readers with the most titles.
October 4
Training: The Driving Force of Strategic Alignment (Training Industry)
Dr. Sam Shriver, executive vice president of The Center for Leadership Studies, will lead a discussion with David Brennan, recently retired chief executive officer of AstraZeneca, highlighting practical steps training professionals can take to fortify the connection between strategic imperatives and ongoing performance.
Creative Partnerships: Cooking Matters Classes for Childcare Providers (Colorado Virtual Library)
This webinar will focus on the classes Cooking Matters offers for Child Care Providers (both professional and informal), and will discuss what's involved in offering a class, what the possibilities for partnership are, and consider ways that librarians' unique areas of expertise can support and expand on the information provided during class.
Constitution Day to Black History Month: Interactive Docs Displays to Engage Students (Federal Depository Library Program)
This webinar promotes the use of interactive government documents displays in the university library to catch the attention of students. Participants will learn strategies to engage students, parents of incoming students, community members and faculty.
Beyond the SEA: Instructional Design: Beyond the Basics (National Network of Libraries of Medicine)
In this webinar, we will explore advanced instructional design skills and settings, including in-depth goal analysis, analyzing learners and contexts for the best learning outcomes, designing instruction for online learning, and addressing learner motivation and performance problems.
Getting Started on Photographic Documentation of Collections (American Alliance of Museums)
This webinar will cover different methods behind photographic documentation, and provide tips for implementing them–whether you are photographing an object for cataloging or condition reports, or looking for ways to digitize your collection.
Social Skills and Autism: Using Books in Creative Ways to Reach and Teach in Early Education (Early Childhood Investigations)
The webinar will focus on teaching the communication, interaction, and self-regulation skills that lead to friendship and participation in social settings. Weiss and Meiners will review empirically validated procedures, and discuss how they can be combined to effect change in young children with autism. The presenters will target common, yet difficult to teach, skills and share the secrets of using books and stories with young children to improve their communication skills
Networking for Disaster Management in the Performing Arts (Lyrasis)
This free 90-minute webinar will demonstrate how working with multiple organizations in a network for disaster management can be accomplished. The history of networking for improved emergency preparedness in the cultural heritage, arts, and government sectors will be examined, with an exploration of existing networks. Case studies of the Pennsylvania Cultural Resilience Network and CultureAID in New York City will be presented to help guide you on how to start your own, or join an existing, cooperative disaster network.
Health Insurance from a Financial Perspective (Solid Finances)
Health insurance, like other forms of insurance, helps protect you from high costs and financial risk. Knowing how to choose the health insurance plan for your health needs and financial situation can be confusing. In this session we will explore considerations that go into choosing the best plan to meet your needs.
Introduction to Proposal Writing (GrantSpace)
Get an overview of how to write a standard project proposal to a foundation.  It will include:The basic elements of a proposal; The "do's" and "don'ts" of writing and submitting a proposal; How to follow up whether the answer is yes or no.
Defying Definitions: Top Graphic Novels for Fall (Library Journal/ School Library Journal)
From sf/fantasy and coming of age (The Tea Dragon Society) to shonen/shojo manga (My Hero Academia), superhero twists of fate (Terminals), an accidental adventure (Cosmic Commandos), and YA memoir (Lighter Than My Shadow), the hottest titles for fall offer a mashup of genres and characters from all walks of life. Join Library Journal Assistant Managing Editor Annalisa Pešek and leading publishers as they discuss the latest must-have graphic novels.
#GivingTuesday Before, During and After—Your 9-Week Success Plan! (Firespring)
With less than two months left before the biggest giving day of the year, we're all systems go for #GivingTuesday on 11/28. If your current #GivingTuesday plan is to email a link to your "Donate Now" page and hope for the best, you still have time to implement a powerful strategy. Dana Ostomel, founder of Deposit a Gift and one of the nation's leading authorities on crowdfunding, will take you step-by-step through creating your 9-week communications plan and implementing your best giving day ever.
October 5
Training Staff When You Don't Have Time to Train Staff (Colorado Virtual Library)
This presentation will offer simplified methods for supervisors and managers to train staff with varying learning styles, and ways to empower staff to take charge of their own training.
Integration Platform as a Service (O'Reilly)
In this webcast we'll cover: What is an iPaaS? Why would I need one? What are common misconceptions when thinking about iPaaS?
CopyTalk – Understanding Rights Reversion (ALA Washington Office)
Authors who have a rights reversion provision in their contractual agreements with publishers can regain their rights of copyright. By doing so, authors can bring their out-of-print books back in print, deposit them in open access repositories, or otherwise make their works available to the public. This CopyTalk will cover why, when, and how to pursue a reversion of rights, review practical tools and resources, and show how librarians can educate authors about their options to regain rights from publishers and make their works newly available.
Bozarthzone! Rockin' the Virtual Classroom (InSync Training)
Virtual classroom technology (ILinc, Adobe Connect, WebEx, Elluminate, etc.) provides a wonderful live, real-time bridge between the traditional classroom and the learner. But it isn't "just like" the traditional classroom, and in the wrong hands can be deadly dull. In this session we'll learn to read virtual "body language," look at ways to increase interactivity and engagement, utilize games and activities, and create visuals that support learning.
Using Leadership Communication to Triumph Over Change and Complexity (Training Industry)
As organizations grow more complex and find themselves in a perpetual state of change, many experience higher levels of turnover and lower levels of productivity as employees grow increasingly confused and fearful about the future. To combat this problem, leaders must become super-communicators with the ability to inform, inspire and engage their people consistently and compassionately across all channels.
October 6

Three Steps to Thriving in Chaos (Effectiveness Institute)
The turbulence of current events increases stress, drains energy and reduces productivity. In this webinar you'll learn three essential steps for not only surviving but thriving in the chaos. As a result of participating in this session you will: Identify the three phases of change and how to manage them effectively; Discover how behavior style impacts the change process; Apply three tools to increase your ability to thrive.
October 10
5 Ways Managers Unknowingly Damage Company Culture (Training Magazine Network)
In this webinar, some of the topics to be discussed include: The benefits of improving your company culture and why is it critical with a millennial workforce; The importance of empathy, feedback and an employee-centric approach to management; How can managers quickly coach and develop their team members when there aren't enough hours in the day; How culture can be measured and how can you manage to it; The impact of culture and retention on your bottom line.
Transforming academic library spaces to support modern-day learners (OCLC)
This webinar examines the organization of library space and its relevance to users.
The Gaining Popularity and Use of Digital Magazines in Academic Libraries (Library Journal/School Library Journal)
This webinar will focus on how digital magazines/journals are gaining popularity with students and educators for use inside and outside the library. There will be case studies that demonstrate how academic institutions, including ARL libraries, are using digital magazines/journals, what they considered when looking for a digital magazine/journal service, approaches to implementation, and tactics used to drive usage of their digital replica investment.
Strategic Planning 101 (Utah State Library)
Learn the basics of research, organization, and evaluation and how to keep the strategic planning process simple and effective, even if your library is small, rural and/or under financed.
October 11
Personal Branding for Women Leaders (American Management Association)
Every single day, you are presented with opportunities to shape the way people view you, and the question is: Are you taking advantage of them? In this webcast, Dorie Clark – a consultant, former presidential campaign spokesperson, and author of Reinventing You – will discuss the unique personal branding issues faced by women, and how female executives can cultivate their reputation as leaders.
NFG Masterclass: The Secret to a Record-Breaking #GivingTuesday (Network for Good)
During this webinar, Jamie will share how she motivated online ambassadors, targeted fundraising appeals, and used strategic social marketing to build support for Baltimore's nonprofits on #GivingTuesday.
Turning Dreams into Projects and Projects into Successes (GovLoop)
Life happens. Motherhood/fatherhood happens. Tax filing status happens. Illness happens. It turns out that many government employees also have a life outside of government. Join us to learn how to prioritize what matters most and make sure you are fulfilling your career dreams at the same time.
Introduction to Fundraising Planning (GrantSpace)
This introductory class will provide you the basic steps for developing a fundraising plan, including tips on: Making your case for support; Diversifying your organization's fundraising base; Creating a plan of action; Start thinking about your organization's fundraising strategies!
Libraries Transforming Communities: Reflective Structured Dialogue Method with Essential Partners (2 of 3) (Programming Librarian)
Join Essential Partners to learn how their Reflective Structured Dialogue method can help academic libraries resolve conflicts, restore trust, gain understanding and move toward collaborative action on campus and beyond.
Challenging Behavior: Directors and Teachers Working with Families and Other Experts (Early Childhood Investigations)
In this powerful webinar by social-emotional learning expert, Barbara Kaiser, you will learn: prepare for difficult discussions; conduct an effective meeting with families; help families recognize when additional help may be needed.
Medicare Basics (Solid Finances)
Many people don't give Medicare a second thought until they approach 65 and find themselves in the middle of a big decision about their future. It's important to understand requirements, eligibility and benefits when considering your future health care coverage.  Demystify the world of Medicare with this webinar offered by a Senior Health Insurance Assistance Program (SHIP) counselor. Those turning 65 in the next six months or over 65 and thinking about retirement are encouraged to attend, although all ages are welcome, especially those who help aging parents with insurance and financial matters.
Worth a Thousand Words: Books for the Youngest Readers (School Library Journal)
Join moderator Maria Alegre and a panel of children's books publishers as they discuss upcoming picture and board books to entice future lifelong readers. Pancakes and yawns, gardens and cats, and the familiar childhood navigation through family, fears and exploration – this webcast offers big titles for the littlest minds to explore.
Library 2.017: MAKERSPACES (Library 2.0)
We invite all library professionals, employers, LIS students, and educators to provide input and participate this mini-conference.
There has been a lot of talk about makerspaces in libraries over the past four years. If you are unsure what makerspaces are, think of them as creative locations for tinkering, collaborating, problem solving, and creating in a library or educational space. No matter how many maker learning spaces you may visit, you will quickly notice no two are the same. Each librarian and makerspace delivers their own brand of service to their individual community. Attendees will investigate how librarians with makerspaces can create new partnerships and collaborative efforts in and with their communities. Offering further services and methods to meet patron needs.
Coding + STEAM: Getting Students Future Ready (edWeb)
In this can't-miss edWebinar, you'll hear from Jon Samuelson, Innovation Strategist at Beaverton School District, Beaverton, OR, who is actively combining coding with STEAM learning objectives. Get tips and tricks on integrating coding and STEAM plus lots of ideas that you can try in your classroom, makerspace, or school.
October 12

7 Online Fundraising Strategies That Will Raise More This Year-End (Nonprofit Hub)
This webinar will show you how to attract and retain more online donors during the chaotic month of December.
Gov Makes CX a Priority (GovLoop)
Join us as we hear from government and industry experts about the importance of improving CX in government and how to make the business case for customer experience investments at your agency.
DAP Learning Series – Visualizing Analytics Data Part 2 (DigitalGov)
In this online event, we'll discuss how to use tools that are designed to import data and visualize it without report exports.
Bilingual Storytimes: Reaching Through the Language Barrier (WebJunction)
As our library clientele becomes more diverse, so must our programming. The good news is that you already have the skills and access to the resources you need to research, plan, and deliver targeted programming in languages other than English. In this webinar, we'll focus on how to adapt your current storytimes for Spanish/English storytimes. You can use this same process to deliver storytimes in any language.
October 14
Free Mobile Learning Training Online Event (Simple K12)<
Most students love to text message - maybe too much. While many teachers see this as a distraction, why not use this familiar and appealing tool to engage your students? Join Jerry Swiatek as he discusses why text messaging can be a powerful tool for instruction and how you can use it in your classroom. He will also share classroom examples and various resources that can be used with text messaging.
October 17
Using Newspapers in Your Family History Research (Indiana State Library)
In this program, we will explore how to use newspapers more effectively to research family history.  Using newspaper columns, obituaries, death notices, and articles, you can better piece together family ties during times when other types of records did not exist. Newspaper digitization is a new technology that we will discuss, as well.
Decolonizing Descriptions: Finding, Naming and Changing the Relationship between Indigenous People, Libraries and Archives (OCLC Research)
This webinar will examine how two different organizations – the Association for Manitoba Archives and the University of Alberta Libraries – began the processes of examining subject headings and classification schemes as they relate to Indigenous people.
Nonprofit Website Trends (IdealWare)
What do you need to know so that your next redesign isn't outdated as soon as it goes live? Join us for a discussion with a panel of website developers who have years of experience working with nonprofits to create useful and interesting websites.
Database of the Month: Health Resources in GoWYLD.net (Wyoming State Library)
October is Health Literacy Month.  In this webinar we will look at the many resources under Health & Medicine, as well as, Nursing & Allied Health. The new interface for Health & Wellness Resource Center will part of this exploration of sources in GoWYLD.net. We will also check out a few places for materials and programming ideas.
Expanding Access to Digital Resources by Sharing (Booklist)
With funds always tight, you may assume a digital reading platform is out of reach for your school or district. Think again. Join Booklist and Overdrive for this eye-opening webinar where you'll hear how the Southwest Educational Development Center (UT) delivers eBooks and audiobooks to schools across six districts with an affordable shared collection.
4 Ways to Energize Virtual Learners: Breaking the Virtual Ice (InSync Training)
Engage your learners immediately and set the expectation that they are critical to the virtual classroom experience. Participate in icebreakers, discuss design and delivery techniques for creating engaging icebreakers and discover how to build instant long-lasting rapport with your audience.
October 18
Leading with Emotional Intelligence (American Management Association)
This webcast offers you a powerful introduction to the highly popular hands-on AMA seminar, Leading with Emotional Intelligence. To give a real sense of EI in practice, we'll take a deep look at how EI drives and facilitates your ability to lead collaboration.  You'll also learn about the F.L.I.P. Modes of Conversation as a "must have" tool for collaboration and relationship enhancement.
How to Empower Your Patrons with Financial Literacy Programming (SirsiDynix)
Ever thought about incorporating financial literacy into programming at your library? Join Liesl Seborg from Salt Lake County Library Services as she shows how to replicate her success in your library. Come listen to what Salt Lake County is doing and how they help their community learn the pluses and minuses of managing money!
Strategic Directions: Strategic Thinking: Five Years Ahead (NISO)
This webinar will be driven by discussion of five significant trends (as identified by the global community of libraries) and the long-term ramifications. How are emerging technologies re-shaping existing legal protections and what does that mean for users and providers of digital content in a networked world? Can we rely on online education technologies to produce a more highly educated workforce? Will the networks of information and communication technologies enable collaboration as anticipated? How much personal data ought a provider to expect in exchange for content access? How far does the right of privacy extend? Information and communication technologies (ICT) are having an impact on human interactions and transactions. How will those transactions look in 2022?
Measuring Success: How to Strategically Assess Your Program (VolunteerMatch)
Your volunteer engagement program can be measured by more than just the hours a volunteer gives your organization. What other kinds of information should you keep track of, and how do you know if you're doing a good job with your volunteer engagement program? This webinar will help you think through both the quantitative and qualitative information you can use to evaluate your program.
More Than an Editing Party: Why and How You Should Organize a Wikipedia Edit-a-Thon (Georgia Library Association)
In this session, four University of North Carolina librarians will discuss their experiences and the broader role of librarians in the Wiki world. The presenters will focus especially on the edit-a-thon program at UNC-Chapel Hill, discussing event outcomes, addressing the benefits and challenges of hosting an edit-a-thon, and sharing tips, advice, and step-by-step resources for librarians considering their own involvement in Wikipedia.
Slash Your Spending (Solid Finances)
Looking to cut expenses from your household budget? Are there areas you know you need to spend less? Do you need some tips on other ways to save money? This session will provide information on cutting.
New Books for Storytime (Infopeople)
This webinar will focus on new picture books that will engage the storytime audience, including books that invite audience participation, books the promote the five  parent practices (talking, singing, writing, playing, and reading), books based on songs and nursery rhymes, books that promote preliteracy skills and kindergarten readiness, and websites useful to storytime planning.
Leveraging PubMed Commons for Medical Librarians (National Network of Libraries of Medicine)
Authors whose publications are indexed in PubMed are invited to comment on other authors' work and participate in open information exchange. Even in its early state, PubMed Commons is impacting the medical library community by providing useful information that reaches beyond traditional metrics and aids in identifying quality, credible medical information. This webinar will update you on what types of conversations are happening on PubMed Commons and provide tips to help you search for PubMed Commons comments in PubMed. Consider this webinar as a "state of the Commons" address.
Midday at the Oasis: How Librarians and Information Professionals can make a difference in combating Predatory Publishers (National Network of Libraries of Medicine)
In this webinar, the speakers, Dr. Mark Langdorf, Editor-In-Chief, Western Journal of Emergency Medicine: Integrating Emergency Care with Population Health and Linda Murphy, Health Science Librarian, will discuss the growing concerns of OA (open access) publishing and what actions librarians and information professionals can take in combating predatory publishers.
News Literacy as a Vehicle for Reading Skills Instruction (edWeb)
Six in ten Americans get their news from social media, and according to UNESCO's Five Laws of Media and Information Literacy, that is not a bad thing so long as news consumers are equipped to read intelligently: with skepticism and empathy. In this edWebinar, Michelle Luhtala, Library Department Chair at New Canaan (CT) High School, will share close reading exercises and activities for learners in grades 6-12.
Kick-Starting Author Involvement with Your School (American Association of School Librarians)
Authors of books for teens are "hot." Their visits to schools inspire reading – and questions! Your library is The Place to build book excitement because your students want to know everything about their favorite writers. Four YA authors – Susan Dennard, Danielle Paige, Mindee Arnett, and Natalie Richards – and school librarian Dorcas Hand (Houston, TX) – will present proven ways to connect your students, teachers, and school to writers who will excite them, encourage them and inspire them.
October 19
Dealing with Challenging Parents and Families: Managing Aggression (Simple K12)
Join Tamara Hill, a licensed and trauma certified child and adolescent therapist, as she discusses aggressive and challenging families and suggests ways in which schools and teachers can effectively manage and deal with them.
Librarians and APIs 101: overview and use cases (Library Connect)
The webinar presenters will provide an overview of APIs (application programming interfaces - see definition below) and a broad look at various use cases within the library from updating library systems to conducting research or facilitating access for other researchers. The webinar is meant for librarians who do not currently have a strong technical background, but who want to familiarize themselves with the technology and its applications.
Going Fully Mobile in Your Library: Eliminate the Desk and Improve Service (Demco)
During this webinar, you'll learn how Cincinnati overcame the numerous challenges to make going fully mobile a reality, how it positively impacted service and how you can do the same.
Using Project Outcome Data to Improve & Support Library Programming (Public Library Association)
Learn how to use Project Outcome data for programming decisions and improvements, funding requests, measuring against strategic priorities, and advocating for the impact your programs and services have on the community. Participants will hear real library examples and have the opportunity to ask questions.
Building a Results-Based Board (GrantSpace)
Learn how to move your board from the reporting and activity mode of operation to a results-based approach that is informed and inspired by purpose. We'll explore the characteristics and practices of a results-based board in relationship to the organization, and the board's own effectiveness.
60 Tools in 60-ish Minutes (School Library Journal/ISTE)
Ready for maximum takeaway? This fast-paced event is jammed pack with ideas to engage students. Panelists will tip you on the best applications in VR creation, digital storytelling, making, and more!
SHOCKING REPORT: Fake News Webinar Affects Millions and You Too! (North Dakota State Library)
Can you identify fake news? Are you able to help others discern between fiction and fact? Join us to sharpen your information literacy skills! This webinar will cover the rise and history of fake news, ways to identify and categorize it, and the methods to prevent it.
October 24
Visualize Your Library's Story Part I: Presentation Tools (Texas State Library and Archives Commission)
In this two-part webinar series, Kyla Hunt, Library Management Consultant for the Texas State Library, will provide an overview of presentation and infographic tools to assist you in telling your library story. Part I will focus on creating engaging presentations to visually display your library's story and data to stakeholders. Tools covered will include Prezi and Piktochart, as well as online tools to optimize images used.
Making Training Stick: An Interactive Webinar for Supervisors (Infopeople)
In this interactive and informative webinar, Terry, Andrew and Brenda will introduce supervisors to "transfer of training" in order to help them understand various tools and strategies to support their staff in using more of their learning on the job. They'll also explain the critical differences that supervisors make in the success and/or failure of employee training in any organization.
What's the Big Deal About Big Data (InSync Training)
This session probes the buzz about Big Data and predictive analytics in the HR space, and provides guidance to help you be more effective in hiring, developing, and retaining high performers. Not all personality inventories are created equal! Learn how to recognize which ones you can trust and which can actually compare candidates and predict their likely success in your organization's critical job roles.
Pulse-Pounding Mysteries for Fall (Booklist)
Leaves are turning yellow, orange, and . . . blood red. Heat up your autumn with the most exciting new and forthcoming crime fiction from sponsors Books on Tape/Listening Library, Dundurn, Macmillan, HMH, and Soho.
School & Public Library Partnerships: Easy Ideas and Best Practices (Indiana State Library)
Hancock County Public Library Children's Librarian Bambi Pea acts as a liaison between HCPL and the district's schools.  In this webinar, she'll share successful ideas for school collaborations and visits, offer advice on how to initiate and maintain relationships with teachers and administrators, and provide insight into making it work from a public library's perspective.
Getting Started with Social Media for Your Library (WebJunction & TechSoup)
Social media has the potential to increase community engagement with new and existing library patrons. Join us to learn how libraries can effectively use social media tools, even with limited staff and time. Learn how to identify the appropriate social media platforms to market library services and events, and how to integrate best social media practices in your library's marketing plan. We'll help you build a foundation for your social media strategy and provide practical ideas and tactics for immediate use in your library.
October 25
Wix Wizardry: Free Websites in a Flash (Indiana State Library)
Attendees will learn what Wix.com has to offer as a free, drag-and-drop website building tool.  They will become familiar with the basics of using the Wix Editor to customize templates and add elements like images, text, pages, menus, and apps.
NCompass Live: Google Forms for Your Library (Nebraska Library Commission)
Learn how to use Google Forms for surveys or polls, program registrations, planning a meeting time and more. You can even collaborate on a form with others. The best part? It's free and easy to use!
The Donor Stewardship System: How to Maximize Donor Retention, Earn Referrals, and Upgrade Your Donors Year after Year (Firespring)
Join Joe Garecht, the founder of Garecht Fundraising Associates and The Non-Profit Fundraising Digest, to learn how to build a scalable donor stewardship system for your organization.
Understanding Investing and Avoiding Fraud: Resources from the SEC (Federal Depository Library Program)
This webinar will cover investing basics, tips to avoid fraud, and the SEC's educational resources. It will also include a brief overview of the SEC.
Empowering Readers with Tech Tools (edWeb)
During this edWebinar, you will hear from Katherine Bush, 10-year veteran and fourth grade teacher in Maury County Public Schools as she shares how she adapted existing reading practices and gave them a modern "makeover" leveraging technology to engage all students. Katherine's presentation will provide many valuable tips for you to use with your own students, including: Examples of reading tech tools she uses in her classroom; How she has integrated these tools into her lesson plans; How she aligned the tools to standards while driving student achievement.
AASL Best Apps for Teaching & Learning 2017 (American Association of School Librarians)
Three members of the 2017 AASL Best Apps committee are giving an overview tour of the apps recognized as the 2017 Best Apps for Teaching and Learning.
October 26
Visualize Your Library's Story Part II: Infographic Tools (Texas State Library and Archives Commission)
In this two part webinar series, Kyla Hunt, Library Management Consultant for the Texas State Library, will be provide an overview of presentation and infographic tools to assist you in telling your library story. Part II will focus on creating infographics illustrating your library's value to the community, featuring examples from the library community. Tools covered will include Piktochart, Canva, and Tableau.
October 27
Creating a Comprehensive and Engaging Volunteer Training Program (VolunteerMatch)
This webinar will start with the basics and help you understand how to determine what information you should be sharing with your volunteers, and how that can be used to create a curriculum. We'll then discuss how to present this information in a variety of ways using different delivery methods that appeal to adult learners. Assessing what your volunteers have learned, and creating ongoing training and professional development training for your volunteers will also be covered.
Winter is Coming: Stocking Your Series Nonfiction Shelves (Booklist)
Report season is upon us, and lucky for you Amicus, The Creative Company, Lerner, Mason Crest, and Teacher Created Materials are here to help you survive it. In this free, hour-long webinar, they will present their new Fall 2017 releases, which may include tips on weathering a zombie apocalypse or makerspace mania.
October 31

Bringing Artificial Intelligence to the Enterprise (O'Reilly)
Join this O'Reilly webcast for a discussion of the current state of AI within large enterprises, and a look at the trends that will shape their future architectures.
How to Find and Access U.S. and International Standards Information: Tips and Tricks (Federal Depository Library Program)
Need to locate U.S. or international standards in a timely manner? Confused by the world of the standards? This webinar will present resources and tools to identify and retrieve information related to U.S. and international standards. Both the content of the tools and specific search techniques will be covered.