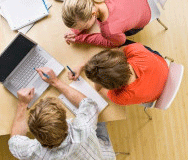 As the summer shifts into high gear, make some time to learn something new, or brush up on an area of interest. Find a learning buddy or two to view a webinar with you, and enhance your learning with a local discussion. This list of 57 webinars, covering 20 topic areas, was collected by the Wyoming State Library. It's updated monthly on the Free Training page, where you can also view the offerings by topic.

For additional training, check out the WebJunction Catalog, free and open to library staff and volunteers everywhere.
Read on for 57 free webinars being offered for library staff and non-profits in the month of July.
July 5
PubMed, PubMed Central, MEDLINE, MedlinePlus...(Nebraska Library Commission)
They're not the same? What's the difference? How would I use them? If these are questions you have, join Annette Parde-Maass, from the National Network of Libraries of Medicine, as she gives a brief overview of these free databases from the National Library of Medicine, showcases some useful features, and takes your questions about these robust sites.
Introduction to Corporate Giving (GrantSpace)
Is your organization ready to seek corporate support? Corporate grantmakers are different from traditional foundations in many ways. This class provides a basic overview of: The different types of corporate giving; What motivates corporations to give; How to find potential corporate partners.
July 6
Accurately Measuring Item Downloads from Institutional Repositories (OCLC)
Researchers from Montana State University, OCLC Research, the University of New Mexico and the Association of Research Libraries have developed a new web service that accurately measures item downloads from institutional repositories (IR). The web service called RAMP (Repository Analytics and Metrics Portal) represents a dramatic improvement in web analytics. The researchers have demonstrated that page-tagging analytics methods, such as Google Analytics, typically undercount item downloads from IR because they are not designed to measure non-HTML file downloads, while log file analytics typically over-count due to enormous robot traffic.
July 7
Learn the Best Ways to Use Tools, Apps, & Extensions in the Classroom (SimpleK12)
Invest in a half day to get you up to date on the best way to use technology in the classroom - from Chrome extensions to other tools and apps.
July 10
American Community Survey Technical Webinar on Race, Tribal, Hispanic and Ancestry Group Statistics (U.S. Census)
This webinar will show you how to access data for American Indian and Alaska Native tribes, as well as for hundreds of detailed race, Hispanic origin, tribal and ancestry populations. You'll learn to do this in American FactFinder, at multiple levels of geography, including census tracts. The data tables will allow for an in-depth look at populations beyond those covered in the annual 1-year and 5-year American Community Survey products.
2017 Solar Eclipse: The Montana Space Grant Consortium (Montana State Library)
Montana will be in the path to view a great portion of the solar eclipse on August 21st and Montana is ready with plans to observe the spectacle and to learn more about our world and about the space our planet spins through. The Montana Space Grant Consortium is part of a coordinated effort across the United States to launch 57 high altitude balloons during the eclipse and to stream images from the edge of space live at streameclipse.live. Learn more about the program, Montana's specific activities within the program, and plan to host screenings from your library on eclipse day.
July 11
Zines to the Front: Building a Library Collection for the People, by the People (Washington State Library)
Join Agatha Burstein and Kelsey Smith from the Timberland Regional Library system who will provide an overview of zines, zine culture, and zine collections in libraries. Topics will include drafting a zine collection proposal for your library, zine acquisitions and cataloging, ziners advisory, and using zines in library programming and outreach. Resources for further exploration of this topic will also be made available.
Measuring America: An Overview on Hispanic Origin Statistics (U.S. Census)
In this webinar, participants will learn to search and navigate the Census website to locate Hispanic origin data. We will cover how the Census Bureau defines Hispanic origin, how we collect this data, review visual examples, and learn how to access the data using our data tools.
Successfully Implementing Volunteer Program Changes (VolunteerMatch)
What should you do when it's time to change the policies and procedures that govern or guide the volunteers that work with your organization? How can you create a culture of inclusion and get buy-in for those new policies? This training will give you the tools to approach program changes in a strategic way. We will also cover what to do if volunteers either can't or won't adopt the policies, how to manage that situation, and what to do if ultimately you need to ask a volunteer to leave.
Eureka! Where Workforce and Business Initiatives Connect with Lifelong Learning (TechSoup)
Spaces like the Eureka Loft extend far beyond the basics of workforce training and offer courses in marketing, digital media production, business development, interviewing techniques and one-on-one mentoring. Learn about Scottsdale Public Library's Eureka Loft from Nife Adeyemi, Digital Media Specialist and librarian Allan McWilliams. They'll share success stories and some valuable lessons learned as they grew Eureka's program offerings. The digital media lab in Eureka Loft, geared towards entrepreneurs and small business owners, offers free space for those who need to shoot videos, record podcasts or create marketing materials for their business or brands. The Eureka Loft is a collaborative environment in Scottsdale's Civic Center Library.
Building Business Connections in Your Community (Federal Depository Library Program)
This webinar will walk you through all of the steps that are integral to taking your connections to the next level through embedded networking and structured library services.
A Collective Impact on Literacy: The Power of Partnership (edWeb)
Ignite a passion for literacy in your school, district and community and watch the impact that it will have to further life-long learning. Attendees will learn: What a community approach to literacy looks like; How this approach to literacy can become the catalyst for coordination of services; How to set learning goals for a community approach to literacy; How to create objectives for articulating a community-wide action plan. Anyone interested in learning how to engage a community of learners is invited to join this live, interactive session, including all K-12 educators, librarians, and administrators.
Virtual Conference: The Power of Storytelling (Network for Good)
Join us for our virtual conference and hear from three experts who will teach you: How to define nonprofit storytelling; How to craft your nonprofit's best "elevator pitch"; How to leverage these stories in online and traditional channels; How to raise more money with your nonprofit's stories.
July 12
From Collections to Commons: How we turned stacks to student spaces at UNL (Nebraska Library Commission)
The University of Nebraska-Lincoln Libraries found itself on a fast track to create a 21,000 square foot learning commons in the spring of 2014. Preparations included moving 400,000 volumes off the floor, working with architects, construction managers and furniture vendors to plan the space and select a vendor to provide a coffee shop/bakery. The Adele Coryell Hall Learning Commons opened as scheduled in January of 2016. Our presentation will cover the planning and construction phases as well as management of the space since the opening.
5 Steps to Creating an Influencer-Driven Campaign (Nonprofit Hub)
Influencers hold power. When people share ideas on social media and people respond, that's influence. When influence is organized, that's an influencer-driven campaign. Learn why leveraging the social power of your network is a game changer and the 5 steps to incorporating social influencers into your next campaign.
Women and the Gig Economy: Secrets to Succeeding in the New World of Work (American Management Association)
In an economy marked by the volatility and uncertainty of corporate layoffs, downsizings, and outsourcing, traditional full-time employment is declining. Increasingly in its place are short-term assignments, contract and consulting work, and freelance assignments – a new way of working called "The Gig Economy. "In this eye-opening program, Diane Mulcahy narrows the lens even further and focuses on how women, more than ever before, can leverage this new way of work in order to more favorably (and more easily!) juggle the multiple roles and hats they have always worn.
Conducting a Risk Audit for Volunteer Engagement (VolunteerMatch)
A well conducted risk assessment will help you strengthen your role descriptions as well as identify training topics for your volunteer team. The ability to demonstrate what you have done to mitigate risks is a vital step in this process. In this webinar we'll review the Ten Steps of Screening, created by Volunteer Canada. We will also review a practical tool to help walk you through the process of conducting a volunteer risk audit so that it can be easily replicated within your agency.
Moving from Talk to Action on Diversity and Inclusion (Wild Apricot)
Does your organization have a compelling statement on diversity and inclusion that doesn't seem to be reflected in your day to day operations? Don't worry - lots of organizations face the same challenges. Join Sherry Marts and Elizabeth Engel, authors of the recently released whitepaper Include Is a Verb, for a webinar July 12 to learn how to move your organization from talk to action when it comes to authentic diversity and inclusion (D+I).
Introduction to Fundraising Planning (GrantSpace)
This introductory class will provide you the basic steps for developing a fundraising plan, including tips on: Making your case for support; diversifying your organization's fundraising base; Creating a plan of action. Start thinking about your organization's fundraising strategies!
Online Tools that Help Nonprofits Learn, Listen & Engage (Firespring)
Every day you learn about a new mobile app or piece of software that will "change your life." There's so much coming at you, it sometimes feels like you're drinking through a firehose. In this session, we will help you make technology your friend. In his most revealing session, Jay takes you behind the curtain to show, in real-time, which tools he uses to manage his online presence and why.
July 13
How to END Your Dreaded Annual Performance Appraisal Process…in 7 Minutes! (Training Magazine Network)
Let's face it, managers AND employees alike hate your current once a year annual process. Einstein says that the definition of insanity is doing the same thing over and over again and expect different results.  Learn why you need to kill your current process, and replace it with a be BOLD new alternative - one that you can get started in 7 minutes!
How to Navigate the Charitable Giving Landscape (TechSoup)
Which types of causes are people donating more or less to, when are people more likely to give, what factors impact their giving and how are people donating?  Most often, nonprofits that need this data the most face a critical information gap that prevents them from being better at doing good.
Three Steps to Thriving in Chaos (Effectiveness Institute)
The turbulence of current events increases stress, drains energy and reduces productivity. In this webinar you'll learn three essential steps for not only surviving but thriving in the chaos. As a result of participating in this session you will: Identify the three phases of change and how to manage them effectively; Discover how behavior style impacts the change process; Apply three tools to increase your ability to thrive.
The Community Resiliency Model: Becoming Trauma-Informed and Resiliency-Focused and Informed (Infopeople)
As part of the 2016-2017 California State Library (CSL) Mental Health Initiative, library staff, teens, and youth advocates are invited to learn more about the Community Resiliency Model (CRM). CRM's goal is to help to create "trauma-informed" and "resiliency-focused" communities that share a common understanding of the impact of trauma and chronic stress on the nervous system and how resiliency can be restored or increased using this skills-based approach.
July 18
Changing Models of Customer Service (Utah State Library)
Customer service in libraries is transforming, from fixed hours with a physical location to 24 hour virtual services, from waiting in line at a service desk to having the library employee find the lost customer in the stacks, from being a repository for books to a distribution center for information in all types of format, and from being a place where entertainment and education is about reading to a site that hosts events and offers hands-on learning. Learn about trends that are impacting even the smallest libraries in more traditional communities.
Make your Data Over the Counter (O'Reilly)
When a user looks at data that you provide them, does it deliver information clearly and meaningfully? Join this webcast with guest speaker, Jenny Grant Rankin, Ph.D. who developed the research behind over-the-counter data. Thanks to her research, we now know that unless your reports and dashboards adhere to a set of guidelines, your users may not trust or understand the data they are presented with.
Government Information Research Basics (Federal Depository Library Program)
This webinar is designed to provide an introductory overview on the scope of Government information, locating Government information, and identify resources for understanding Government information.
Enticing Book Club Picks (Booklist)
Be prepared with exciting book club recommendations. Join us for a lively presentation of appealing and diverse selections by representatives from William Morrow, Workman Adult, Norton and Penguin Random House. This free, one-hour webinar will be hosted by Donna Seaman, Editor, Adult Books, Booklist.
Draw on the Power of Creativity (Education Week)
Creativity is a valued 21st century skill. It's a catalyst for problem-solving and cultivating a growth mindset. How can instructional innovators use creativity to transform school culture and improve learning? This session will examine recent case studies and evaluations of arts-integration programs to showcase practical ways to infuse creativity into instruction. From approaching math as a visible language to using art in nonfiction text reflection, participants will learn new approaches, with an emphasis on professional learning as the launching pad for change.
Walking the Walk: Engage Volunteers in your Volunteer Engagement Program (VolunteerMatch)
Learn how to effectively delegate volunteer engagement and management work to volunteers so you have the opportunity to "think bigger." We'll discuss evaluating your program for volunteer engagement, determining how best to deploy volunteers, creating a communication plan, screening and training volunteers to be an important part of your volunteer recruiting, retention and recognition plans.
Check Out an Experience! (Colorado State Library)
We all know that libraries are about more than books, indeed, we offer our communities a wealth of experiences when they walk through our doors. But how can we provide experiences that extend beyond the library walls? Join us as staff from the Longmont Public Library, the Wilkinson Public Library, and the Colorado State Library share information about the unusual items their libraries circulate. Bring your own thoughts and ideas to share as we brainstorm the why's and how's of circulating experiences.
4 Ways to Energize Virtual Learners-Breaking the Virtual Ice (InSync)
Engage your learners immediately and set the expectation that they are critical to the virtual classroom experience. Participate in icebreakers, discuss design and delivery techniques for creating engaging icebreakers and discover how to build instant long-lasting rapport with your audience.
July 19
Finding Your Focus: Tips for Early Career Success (Nebraska Library Commission)
Based on a decade of experience in both public and academic libraries, NLA President-Elect Andrew Cano will offer advice to LIS students and early career librarians on achieving early career success. This advice will be concentrated on developing an individual focus and creating a projected plan for a career in the library field.
Breezing Along with the RML: Mapping Your Customer's Journey in the Library (National Network of Libraries of Medicine)
A customer journey map provides a way to chart patrons' experiences in using both physical and virtual library spaces. It helps tell the story of a person's experience with your library from the first contact through the process of using services and resources. Journey mapping can be a great tool for any size library to recognize the needs and emotions of users, locate their "pain points" in interacting with your services, and identify potential solutions. In this webinar you will be given an overview of the topic, a brief guide to creating your own customer journey map, and additional resources to help you get started.
Playing by the Rules: Creating an Effective Volunteer Handbook (VolunteerMatch)
A good Volunteer Handbook can also help you better identify and deal with challenging volunteers. Whether you're just starting to create a Handbook or if you're looking for best practices on information to include, this webinar will evaluate the Handbook you have and help you create a stronger framework for your volunteer engagement program.
E-rate Update: July 2017 (edWeb)
Each month, John Harrington, the CEO of Funds for Learning, provides a timely update on the latest news, analysis, and professional guidance to help best position your school or library to fully leverage E-rate discounts. The E-rate funding process, requirements, and regulations are very complex and ever changing.
Healthy Aging at Your Library: Connecting Older Adults to Health Information (National Network of Libraries of Medicine)
This "train the trainer" class is designed to help librarians assist their older adult patrons find health information. Discover techniques for teaching older adults to use computers and to find health information on the Internet, learn what makes a website senior-friendly; plan library programs on senior health topics; and find out about some recommended health websites for older adults.
Gamifying Library Instruction: Using Technology to Make Learning Engaging (North Carolina Library Association)
This presentation will introduce you to some of these free gamification tools and show you their practical applications for academic libraries, including interactive orientations, tutorials, quizzes, presentations, and training. This information will be particularly useful to reference, instruction, and access services professionals. Participants will leave with a toolkit for gamifying their own library instruction and the inspiration to develop new ways to approach learning.
Effective and Valuable Outreach: Aligning Activities to Goal-Driven Assessment (Georgia Library Association)
In this session, learn how to write SMART (Specific, Measurable, Achievable, Realistic, and Time-Bound) outreach goals that are tied to your institutional mission and how to apply various assessment techniques that will evaluate if your goals are being met. Assessment techniques will address various factors, including amount of time and/or funding required, amount of staffing involved, and type of data produced (qualitative or quantitative). Attendees will also learn about the limitations of each assessment method.
Wikipedia for Libraries: Preview the Possibilities, Discover the Opportunities (WebJunction)
Wikipedia is more than its collection of user-contributed articles; it is a dynamic community with powerful tools that ensure reliability. For public libraries, Wikipedia can be a useful tool to connect patrons with quality information and help them build information literacy skills. In this webinar, learn how you can use Wikipedia to expand access to your collections and creatively engage your communities.
A Rendez-vous with Data (National Network of Libraries of Medicine)
Three librarians will share their experiences developing and providing unique data services in academic medical settings.
July 20
Essential tips for answering patron questions (OCLC)
It's often the simple details that lead to the best results. Make sure the basics are covered for answering reference questions during your everyday patron interactions. Join the QuestionPoint community to discuss best practices for providing superior assistance. We'll hone in on a handful of general tips to help improve every exchange.
Get Ready for the Eclipse! (Wyoming State Library)
Use resources in GoWYLD.net to learn more about the eclipse and find activities, images and video.
Project Outcome Two-Year Updates & Discussion (Public Library Association)
The Public Library Association's (PLA) Project Outcome is a free online toolkit designed to help public libraries understand and share the impact of their programs and services by providing simple surveys and an easy-to-use process for measuring and analyzing outcomes. This webinar will overview the last two years of Project Outcome's development and provide updates on the latest participation numbers, outcome data metrics, library stories, and Task Force work. PLA will also cover planning throughout the rest of the grant period and management of Project Outcome in the future. Participants are encouraged to ask questions and share their experiences.
Bozarthzone! Nuts and Bolts of Social Media (InSync)
This session will cover basics of creating and sustaining community via social media tools. Rather than theory, participants will walk away with an understanding of how to implement and utilize these applications.
Going Digital (Lyrasis)
Join us for a one hour free webinar that briefly introduces the critical components of digital content creation and collection development.
July 25
Government Information on The Great American Eclipse (Federal Depository Library Program)
This webinar will survey the Government information available about the eclipse, including websites, maps, graphic materials, and publications.
A Digital Revolution in Government Customer Experience (GovLoop)
Every day, citizens' expectations of their government's digital services are growing, and it's up to agencies to meet the demand. In order for this digital revolution to succeed, agencies need the right people, processes and technology in place to make customer experience innovations a reality. Join us as we explore the future of government customer experience.
Out of This World! New SF, Fantasy, & Horror Books (Booklist)
Take a tour of the hottest forthcoming SF, Fantasy, & Horror titles in this galaxy! In this free, one-hour webinar, representatives from Talos and Night Shade Books (imprints of Skyhorse Publishing) and Tor Teen present their upcoming fall and winter 2017 titles, perfect for ages 14 - Adult. Guest speaker Dan Kraus will discuss trends in horror. Moderated by Rebecca Vnuk.
Global Learning and Virtual Teams (InSync)
Most of us work in some form of a virtual team these days. Does the old adage of "forming, storming, norming, and performing" still apply in the virtual team, or are new norms emerging? What are the benefits and pitfalls of being a virtual team member and a virtual team leader? What skills does a leader need to be successful? We will discuss how to build and maintain high performing virtual teams.
July 26
How Electronic Arts Created a Brand Voice to Overhaul Their Customer Experience (American Management Association)
In this session, you'll hear how Electronic Arts (EA) created an authentic brand voice, how they are turning the tables on those difficult customer conversations, and how they are re-energizing their team and reshaping their culture in the process. You'll leave this session knowing how to supercharge your employee experience, boost engagement, and give your people the permission, tools, and support to be themselves while representing your brand.
8 Design Tips to Transform Ho-hum PowerPoints into Wow! (Training Magazine Network)
In this fast-paced, interactive webinar, you'll explore how to put the point back into PowerPoint. From high-tech to low-tech ideas, experience different ways to make this tool work for you. Give your slide deck the makeover it deserves so you can present with polish like a pro!
Big Trends in Small and Rural Libraries (SirsiDynix/Association for Rural & Small Libraries)
Operating a library in small and rural community comes with its own set of challenges. Join representatives from the Association for Rural & Small Libraries to learn the latest in trends and big ideas. Ask librarians familiar with the unique challenges of small and rural locations. What's your biggest challenge?
Flipping with Finesse: What Really Works (North Carolina Library Association)
Join an online session with two community college teaching faculty and their campus librarian where they discuss the nuts and bolts of flipping and what really works in the classroom. This session will give instruction librarians a chance to talk with teaching faculty who utilize various flipping tools and active learning techniques to successfully engage students.
Starting Immigration Services at Your Library (Public Library Association)
Are you interested in learning how to incorporate immigration services into the library? PLA and the ALA Office for Diversity, Literacy, and Outreach Services have invited the Immigration Advocates Network (IAN) to share valuable information about their free online tools—immi and Citizenshipworks—which can be used to expand the capacity of your citizenship corner and provide people with self-guided immigration legal assistance. IAN will also discuss the ways libraries are currently using immi and Citizenshipworks in its branches. In addition, two public librarians engaged in working with the immigrant population in their communities will give examples of citizenship workshops and other programs at their libraries aimed towards immigrant patrons.
Measures that Matter Part Three: Moving Toward More Meaningful Measures (WebJunction, COSLA and IMLS)
Circulation, visits, program attendance, patron satisfaction…these are some of the many measures commonly collected by public librarians. But how well do we understand what measures tell the most meaningful stories of today's libraries? During the first two webinars in this series, we discussed the current state of the public library data landscape – what data collection efforts exist at the national level and how they impact what we know about libraries and their patrons. In this third webinar, we will look toward the future, considering what data public librarians should collect to demonstrate their impact. To do this, we will hear from speakers both within and outside of the library field who will provide multiple perspectives on meaningful measures.
July 27
It's a New World—How to Cultivate Your Community Online (Firespring)
One of the biggest challenges facing organizations is changing the culture of giving and engagement, and our futures depend on it. Often we get so caught up in 'the ask' that we forget what motivates people to support us in the first place: relationships. In this webinar, join Dana Ostomel, Firespring's vice president of nonprofit industry development, to discover the secret sauce of cultivating a community primed and ready to support you.
July 28
Care of Books and Scrapbooks (Connecting to Collections Care)
How many smaller institutions have scrapbooks and old books that have been entrusted to their care and that are just shoved in the back of a dark closet because they are problem objects? Books and scrapbooks are similar objects in many ways, but each requires different types of care. In this webinar we will explore these differences and techniques to extend the lives of these deceptively simple objects. We will look at the types of albums and books, handling these objects, housings, shelving, and more. Armed with a sound foundation, you will be able to create a preservation plan for two very common categories of materials.