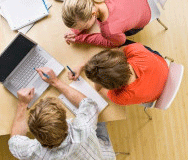 There's no time like the new year for learning! Whether or not you've got a list of resolutions, you're sure to benefit by attending some of the webinars on this month's list. Or perhaps there are topics you'd like your trustees or volunteers to explore. Be sure to share these free learning opportunities with your staff and friends, and encourage them to take on some new skills and understanding in 2017. This list, provided by the Wyoming State Library, comes out every month and is regularly updated on the Free Training page, where you can also view the offerings by topic.

For additional training, check out the WebJunction Catalog, free and open to library staff and volunteers everywhere.
Read on for 55 free webinars being offered for library staff and non-profits in the month of January.
January 4
Begin with Books: An Early Literacy Partnership (Nebraska Library Commission)
Lincoln City Libraries has worked with the City/County Health Department to encourage early literacy among the low-income clients they serve by providing children with free books when they come for their immunization appointments. We also provide books for the clinic waiting room and adult volunteer readers on busy clinic mornings. Find out how to recreate this program in your community, using medical homes to teach young children and their parents about the importance of early literacy. Provider education, literacy handouts and links back to the library will be discussed.
Major Gifts Magic: Learn to Make Powerful 'Moves' and Passionate 'Asks' (4Good)
Asking is scary. As a result, too often nonprofits spend tons of time cultivating, cultivating and cultivating. But they never get to the ask! Or, if they do, they leave money on the table. To assure that you cut to the chase requires a plan and a disciplined approach. In this webinar we'll learn the "magic" formulas: (1) How to powerfully cultivate donors so they're predisposed to say "yes;" (2) When the time is ripe for the ask, and (3) How to do it so you get the most successful outcome possible.
Yoga for the Youngest! Mindfulness and Movement for Shifting Culture and Practice (Early Childhood Investigations)
Movement activities are mainstays of early childhood practice, but teaching children to be "in the moment" may be a new twist for you and everyone in your program. This innovative webinar will help you explore the concept of mindfulness and the practice of yoga. With a few simple practices to you, the children and the staff can begin enjoying the benefits of these peaceful practices. Participants will leave the webinar with engaging and joyful mindfulness experiences that they can apply in their programs right away and leadership approaches for integrating mindfulness into the fabric of early learning centers.
January 5
Section 108 Video Project (ALA Washington)
Eclipsed by robust and rapid adoption of DVDs, the VHS era is now over. But a crisis is welling for libraries. Of the hundreds of thousands of VHS recordings commercially released, a substantial number never were released on DVD or in streaming format. To compound matters, industry experts estimate that various forces converge against VHS (age of tapes, irreparable and irreplaceable equipment, retirement of VHS technicians) ultimately making the format inaccessible by 2027. But, under Section 108 of U.S. Copyright law, libraries have an available remedy to this problem.
5 Tips to Creating an Awesome Individual Development Plan (GovLoop)
Your Individual Development Plan (IDP) can help you develop skills, further your office's mission and achieve your career goals. Despite many agencies requiring them, IDPs are often done quickly and poorly without much thought or follow-through.
January 6
Taking Care of Us: Ergonomic Advice for Library Staff (Programming Librarian)
Join Jenn Carson (librarian, Programming Librarian blogger and creator of YogaintheLibrary.com) as she teaches you how to de-stress at your desk, maintain proper posture, avoid injury and regulate your emotions through breathing and stretching exercises.
Making Difficult Conversations Easy (Effectiveness Institute)
Do you shy away from conflict? In organizations across the world conflict is avoided. Expectations go unmet, values are violated and overall underperformance exists because people do not know how to effectively resolve issues without resorting to the use of power. This one-hour session introduces you to concepts that enable you to begin to "integrate conflict"—to walk into it and effectively handle it—rather than avoid it.
January 9
What is Tech-Savvy Leadership? A Panel Discussion (edWeb)
In an age where classrooms are filled with devices and learning is moving from static texts to ever-changing digital resources, administrators must be nimble and knowledgeable of all these changes. A tech-savvy leader is required to achieve success in 1:1, BYOD and other technology initiatives. Join this panel of digital savvy experts to learn how to transition to tech-savvy leadership. Steven W. Anderson, Amber Teamann and Tony Sinasis will explore challenges, strategies and ideas for leaders looking to change.
January 10
Career Development: Today's Meta-Priority (Training Magazine Network)
Getting career development right should be job #1 for leaders because of its ability to fuel all other priorities, enable the flexibility and agility required to respond to the wild world of work, and support what matters most to the organization. This session offers seven strategies to help leaders at all levels prioritize career development and realize the benefits and results that it offers.
How to do a TEDx presentation (Washington State Library)
Sno-Isle Libraries presented two TEDx events to rave reviews. Join Communications Director Ken Harvey who organized these successful events and will share what is necessary to stage this event.
2017 ALA Carnegie Shortlist Finalists (Booklist)
Booklist Adult Books editor and Carnegie committee chair Donna Seaman presents the 2017 Andrew Carnegie Medal for Excellence in Fiction and Nonfiction. Authors include, for fiction, Michael Chabon (Moonglow), Zadie Smith (Swing Time) and Colson Whitehead (The Underground Railroad); and, for nonfiction, Patricia Bell-Scott (The Firebrand and the First Lady), Matthew Desmond (Evicted) and Patrick Phillip (Blood at the Root).
Bozarthzone! Better Than Bullet Points (InSync)
In this session we'll explore solid ideas for transforming bullet-based content into compelling, engaging, interactive online learning programs. See the possibilities for putting simple PowerPoint-based e-learning to a level on par with programs created with long-learning-curve, higher-end products, custom art and approaches dependent on programming expertise.
Preschool Storytime Basics (Texas State Library and Archives Commission)
This webinar will cover the basics of planning, preparing and presenting engaging storytimes for preschoolers in the library. We will cover surefire books and literature selection as well as songs and fingerplays to captivate a young audience. Learn a few tips to address some storytime challenges like organizing materials, reading aloud to a group and managing difficult situations.
January 11
The Psychology of Success: Why are Some People More Likely to Succeed than Others? (American Management Association)
In a competitive marketplace and entrepreneurial world, even modest improvement can mean the difference between success and failure. New research has revealed some common traits of the super successful. This webcast provides you with insight into these little understood characteristics and offers an in-depth look at practical changes you can make to be more successful at work, home and at play.
How to Implement Things When People Hate Change (SirsiDynix)
Drawing from his experience as a technology consultant and former Head of Library Information Technology, Jason Griffey understands the social complexities surrounding change. In this webinar, Griffey will explore: relationship between innovation and disruption; structures and how they enable or inhibit change; strategies for enhancing "change culture" in your library; tactics for bypassing day-to-day issues.
Nonprofit Boards & Effective Governance (4Good)
The nonprofit governing board has been described as an ineffective group of effective people. Why do nonprofits so broadly fail to use their boards wisely? And how might they do better? This webinar will touch upon a comprehensive range of issues in a way that will be relevant to almost every nonprofit board. We will look at four interrelated areas: membership (including recruitment, development, self-assessment), process (including structure, meetings), capacity and fiduciary concerns.
Science Soup, Part 1 On Major Government Science Databases (Federal Depository Library Program)
This webinar shows you how to find science-based information on topics as diverse as Alzheimer's, the Zika virus or even ideas for a science fair. Help faculty and students find better information and become great researchers. Learn about the world of science revealed through major Government databases. Participants will learn to navigate Science.gov, PubMed and WorldWideScience.org to find resources in English and Spanish.
Using Digital Public Library of America (DPLA) for Research and Learning (Infopeople)
This webinar will introduce participants to the Digital Public Library of America (DPLA) (link is external), a free, non-profit national digital library that provides access to digital primary and secondary sources from libraries, archives and museums across the United States. Presenter Franky Abbot will cover how DPLA works, how institutions can contribute content and how users can employ its resources for a variety of research purposes.
Service Excellence in Challenging Times (WebJunction)
In turbulent times, many Americans turn to their libraries. While this is a true affirmation of the value our country places on its libraries, it increases the responsibility for library staff to meet the public with the best customer service. During times of community turmoil, it is an extra challenge to convey patience, good humor, an accurate knowledge of your collections and services, and a willingness to serve. Learn how to ramp up your skills to maintain a safe, welcoming environment where everyone can visit, work, and play without feeling uncomfortable. Keep calm, confident and capable of guiding your community through difficult times.
January 12
What is Bioinformatics Librarianship? (National Network of Libraries of Medicine)
A growing number of librarians are filling a special niche in the information world: serving those who work with genetic and molecular biology information. In this one-hour webinar, meet eight of your colleagues as they explain their specialized and uniquely valuable roles at their institution.
The Power to Delight: Providing Extraordinary Service (Colorado State Library)
People everywhere (including our patrons) have seemingly unending choices when it comes to deciding where to take their business. Consequently, customer experience can make or break the relationships we have with our communities. In this session we will share concrete tips from non-library service champions, and brainstorm ways to provide extraordinary service in our own organizations.
Outcome Measurement Made Easy with PLA's Project Outcome (Public Library Association)
For the first time, public libraries have access to an aggregated set of outcome measurement data and analysis tools they can use to affect change within their communities and beyond. Since launching in June 2015, Project Outcome has helped libraries make programmatic improvements, streamline strategic planning and decision making, increase advocacy, and gain funding. This webinar provides an overview of the toolkit and examples of how libraries have been able to benefit from using Project Outcome.
Philanthropy Blueprint 2017 (GrantSpace)
Blueprint is the annual industry forecast written by Lucy Bernholz about the ways we use private resources for public benefit. Blueprint provides an annual overview of the current landscape, points to major trends, and directs your attention to horizons where you can expect some important breakthroughs in the coming year.
January 13
School Library Resources Available at Wyoming State Library (Wyoming State Library)
Join Paige Bredenkamp, School Library Consultant at Wyoming State Library, on a tour of the resources, including the new ones, that are freely available to all K-12 librarians and staff in Wyoming. This is a chance to see what the state library has available in terms of professional learning communities, tools for program support, free money for you and your library, and more.
Going Digital (Lyrasis)
Join us for a one-hour free webinar that briefly introduces the critical components of digital content creation and collection development.
January 17
Mastering Storytelling for the Business Conversation (InSync)
The world has changed with the bombardment of digital and mobile inputs. Selling and leading today is about uncovering needs people don't know they have. It is about painting a picture that helps people see what they didn't know was possible, versus simply providing a product or solution.
Maintaining Sanity as a Department of One! (Training Magazine Network)
Ever feel like a rubber band that's ready to pop? Then YOU must be a department of one! The good news is that you CAN do it. Learn strategies and tips to help move you from feeling "over done" to "can be done!"
Creating a Culture of Data Visualization (Harvard Business Review)
Leaders like visuals, but many organizations remain fixated on having data scientists do them all. Instead of creating a broad capability, people are intimidated and visualization is being used on a limited basis by only a select few. This doesn't have to be the case. Visualization can easily be learned and used broadly and effectively.
Morris Award Finalists, 2017: Exclusive Q&A (Booklist)
Join Booklist for this exciting Q&A with four of the 2017 Morris Award finalists: M-E Girard (Girl Mans Up), Sonia Patel (Rani Patel In Full Effect), Jeff Zentner (The Serpent King) and Bonnie-Sue Hitchcock (The Smell of Other People's Houses). This is a free, hour-long webinar moderated by Books for Youth Editor, Dan Kraus.
Science and Math in Storytimes (Texas State Library and Archives Commission)
In this webinar we will explore inexpensive, easy-to-implement science and math experiences using literature, fingerplays, activities and props. These ideas can be used in storytimes, as passive programming in the library or as resources for parents and caregivers to extend the storytime experience for further STEM explorations.
January 18
#1lib1ref: a Citation as a Gateway into Librarianship on Wikipedia (Nebraska Library Commission)
During #1lib1ref (One Librarian, One Reference) librarians each add one reference to Wikipedia. These citations to reliable sources will benefit Wikipedia readers worldwide. Alex Stinson, GLAM-Wiki (Galleries, Libraries, Archives, Museums) Strategist at the Wikimedia Foundation, and Wiki-librarians Phoebe Ayers (Massachusetts Institute of Technology), Merrilee Proffitt (OCLC Research) and Jessamyn West (Vermont librarian and technologist) will discuss what it means as libraries to be involved in Wikipedia and show how you can contribute to #1lib1ref.
Help! I'm an Accidental Government Information Librarian presents ... Introduction to Research Data Management for Librarians (North Carolina Library Association)
Webinar will present an overview of Research Data Management including: data management planning, how data fits into the research lifecycle and scholarly communication, and key resources/strategies for liaison librarians working with faculty and other researchers.
The Power of Questions to Open Doors, Uncover Solutions and Spark Change (American Management Association)
This webcast reveals a new way to think about how you can use questions to be more productive, creative and effective at most everything you do. This webcast will change the way you think about the questions you ask and offer practical ideas for better listening. It will help you realize there's a world of discovery and success—if you know how to ask for it.
Lawyers and Librarians: Breaking Barriers to Employment (Programming Librarian)
In 2014, DC Public Library (DCPL) partnered with Neighborhood Legal Services Program to address the barriers to employment that low-income residents face by bringing volunteer attorneys to walk-in legal clinics located at public libraries. The Breaking Barriers to Employment clinic model combines library support to job seekers, such as resume assistance and computer help from a librarian, with legal information and one-on-one consultation with a lawyer.
Get Inspired to Lead and Lead to Inspire: Techniques That Advance Early Education (Early Childhood Investigations)
This energizing webinar by Susan MacDonald explores how leaders can find new and empowering ways to adapt to the evolving world of early childhood education. Research into the immense, life-long value of high-quality early childhood education has created a wave of reforms designed to increase the quality of education in early childhood programs. This unique session integrates well-researched inspirational and motivational leadership techniques with the current standards for high-quality early care and education.
YouTube U: Leveraging the World's Largest Video Platform for L&D (Training Magazine Network)
Get an overview of everything YouTube by the guy who developed the first YouTube Certified Online training at Google. We'll discuss strategies for common training needs; actually configure a YouTube channel; learn how to capture, edit and augment content entirely within the YouTube platform; and avoid some of the most common L&D mistakes on YouTube.
Personalizing Instruction Through the Library (edWeb)
Students today tend to customize their personal digital environments to suit their own interests, abilities and desires. It is therefore increasingly difficult to engage them in "one size fits all" learning environments. This is just one of many reasons school districts and policymakers strive to address the distinct learning needs, interests, aspirations or cultural backgrounds of individual students—personalized learning. Join Michelle Luhtala as she explores how school librarians can enhance their learning communities' capacity for personalized learning experiences through collaboration, instructional partnership, direct instruction, professional development and leadership.
January 19
PubMed® for Librarians: Introduction to PubMed (National Network of Libraries of Medicine)
This is a synchronous, online session that includes hands-on exercises. Attend this class to learn about the difference between PubMed and MEDLINE, how to run a basic PubMed search, assess your search results, analyze search details, customize PubMed with My NCBI and search for a known citation; plus, brief introductions to MeSH, automatic term mapping, search tags and subheadings.
Finding and Cultivating Local Tech Expertise and Support for Nonprofits and Libraries (TechSoup)
In this free webinar with TechSoup, hear from providers of technology support for nonprofits and public libraries, volunteer organizers of NetSquared and Tech4Good communities, and learn about resources to cultivate and tap into tech expertise in your area!
Burnout or Bounce Back? Building Resilience (Infopeople)
Join change management expert Debra Westwood in this interactive webinar where she will identify the factors that contribute to burnout as well as techniques for avoiding or alleviating those conditions. Attendees will learn skills that can be applied at work and at home, and be able to formulate a plan to put those new tools into action.
January 20
Library Marketing (American Library Association)
Marketing can be a daunting process for many librarians. New technologies offer diverse avenues for promoting library services, and commercial marketing methods have become expected for libraries, too. Where do you start? What's the best way to allocate your staff and financial resources? How do you keep up with a constantly changing social media landscape?
January 24
Bozarthzone! Rockin' the Virtual Classroom (InSync)
Virtual classroom technology (ILinc, Adobe Connect, WebEx, Elluminate, etc.) provides a wonderful live, real-time bridge between the traditional classroom and the learner. But it isn't "just like" the traditional classroom, and in the wrong hands can be deadly dull. In this session we'll learn to read virtual "body language," look at ways to increase interactivity and engagement, utilize games and activities, and create visuals that support learning.
January 25
Mastering the Needs Section of Your Grant Proposal (4Good)
The needs section is the most important section of a grant proposal. If the need for your project is unclear, reviewers will be frustrated and your efforts (at both fundraising and implementation) are likely to fail. This webinar, led by a grant writer with more than 20 years of experience, takes an in-depth look at how to properly explain and document compelling needs.
PubMed® for Librarians: MeSH (National Network of Libraries of Medicine)
Attend this class to learn about the National Library of Medicine's Medical Subject Headings (MeSH) database. We will talk about the four different types of MeSH terms and how searchers can benefit from using MeSH to build a search. We will investigate the structure of the MeSH database and look at the components of a MeSH record.
Science Soup Part Three: Rocket Ships and Stars - Out of this World with NASA (National Aeronautics and Space Administration) (Federal Depository Library Program)
If you find the sun, the moon and the stars fascinating, have users who do, or need information from NASA, then this webinar is for you. Learn about the functions of NASA and the excellent educational resources the agency provides for your users.
How to Boost Student Performance With Active Learning Environments (Demco)
In this session, SAFCO® ergonomist Josh Kerst will share the historical impact of the chair in the classroom on our bodies. You'll find out what steps your school can take to address this concern and learn how you can create an active learning environment to positively impact student performance and well-being in your library, classroom or learning commons.
Music Play: Before You Play Music, You Must Play WITH Music! (edWeb)
In this webinar, early childhood music specialist Devi Borton will explore how to create a child-centered, playful music environment that encourages and values children's own ways of making music, allows each child to take ownership of his or her music learning, and affords each teacher an opportunity to maximize the learning benefits of music play. Devi will also show attendees some great songs that they can use to provide children with a rich musical "playground." This webinar will benefit educators working with toddlers, preschoolers and kindergarteners.
Trauma-Informed Services in the Library: Understanding and Serving our Community (Infopeople)
This webinar will explore the effects of trauma on society and how libraries are directly impacted by the trauma and stress carried by the communities they serve. Finding awareness of the effects of trauma on our community leads to more compassion and allows us to dive into our own problem solving skills more effectively.
January 26
Using GoWYLD.net for History Day 2017 (Wyoming State Library)
We use the 2017 theme, Taking a Stand in History, to explore some of our GoWYLD.net resources. In this webinar we look at ProQuest The Arts, ProQuest Historical Newspapers, the WY Newspapers and a few In Context databases.
Preserving Film Collections for the Future: A Web Application (Connecting to Collections)
Do you have movie films, slides, microfilms and photographic film negatives of various types in your collections and you are not quite sure of the best way to take care of those materials? Are you unsure about whether you have a critical situation on your hands because of nitrate films or negatives? Or, do you know what to do if your collection has deteriorating acetate films? Do you know what or where to find the latest recommendations for preserving your materials? FilmCare.org is designed to help you keep up to date on the latest recommendations and to make it possible for you to make the best preservation choices for your collection.
Toward Tech Savvy Trustees (WebJunction)
Library staff are expected to embrace technology advancements and keep their skills sharp and their libraries relevant. But what about library boards—how tech savvy are your trustees? The more that trustees are dialed into a personal use of technology, the better advocates they will be for the library's technology needs. Learn some fun and practical ways to inspire greater tech savviness in your trustees. You don't need a board of IT specialists, just a board that has a sharper set of digital tools.
January 27
Smart Libraries with Marshall Breeding (American Library Association)
Join Marshall Breeding, the editor of Smart Libraries Newsletter and creator of Library Technology Guides, in our upcoming free webinar. You'll be able to ask Marshall questions related to library technology, library automation and more!
January 31
Research Information Management at Duke University: A Researcher-centered Approach (OCLC)
In this webinar presentation, Duke University Libraries will share how they have led campus initiatives to aggregate and manage campus research information to support open access, help researchers build their reputations, archive Duke scholarship and enable expertise discovery.
7 Deadly Sins of Time Management (Velocity Firm)
Time management is not a sexy or exciting topic, but it is a fundamental skill that enables us to get things done personally and professionally. Walk away from this presentation equipped with new tools for battling those dreaded time vampires that steal precious minutes and hours out of your day.
The Magic of Music in Storytimes (Texas State Library and Archives Commission)
Using music in library programs is not about having the perfect voice or playing an instrument. It is about the magic that sounds and poetry bring to our shared experience. Whether you sing openly or in the privacy of your own shower, join us for fun and ideas. You will be inspired to warble a tune before the webinar is over.