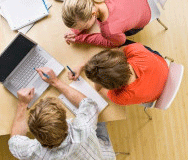 The holiday season is the perfect time to give yourself the gift of learning. Take the time to reflect on the year and explore areas in your work for improvement or innovation. There are numerous facets to explore within this month's list of free webinar opportunities, and we wish you the best as you continue on your journey as a lifelong learner. This list, provided by the Wyoming State Library, comes out every month and is regularly updated on the Free Training page, where you can also view the offerings by topic.

For additional training, check out the WebJunction Catalog, free and open to library staff and volunteers everywhere.
Read on for 54 free webinars being offered for library staff and non-profits in the month of December.
December 1
How to Captivate and Engage Constituents with Your Website (Firespring for Non-profits)
Everything you do as a nonprofit organization leads people back to your website. It is the center of your marketing universe and the home base of your brand. Does your website captivate and engage people or is it merely an online brochure with a few photos and a mission statement? In this session, we will share more than a decade of focus group research.
Measuring America Series: Accessing International Data (U.S. Census Bureau)
This webinar on "Accessing International Data" will help users in their search and navigation of the Census Bureau website, and in locating International data. We will include visual examples, show you actual tools to locate and access the data, and share how these data can be used.
Three Steps to Thriving in Chaos (Effectiveness Institute)
The turbulence of current events increases stress, drains energy and reduces productivity. In this webinar you'll learn three essential steps for not only surviving but thriving in the chaos.
This Is How Our Most Successful Clients Fill Their Events (Wild Apricot)
Have you found that it's getting harder or taking longer to fill up your events? Are you sick of waiting for checks in the mail? Exhausted from processing registration forms? Join us for this free webinar.
E-rate: What's New for 2017? (Nebraska Library Commission)
What does your public library need to know to use this new E-rate portal? In this workshop, Christa (Burns) Porter, Nebraska's State E-rate Coordinator for Public Libraries, will first cover the basics of the E-rate program and then show you how to access and use your account in EPC to submit your Funding Year 2017 E-rate application.
Engaged Planning: Ask What You Can Do For Your Rural Community (WebJunction)
Your community needs the library, and planning for the future of your library begins with understanding the community and their aspirations. Once you understand what your rural community wants and needs, you can assess how the library can help them. In this webinar, understand the important steps of this engaged planning process, including internal assessment, data collection and analysis, trustee involvement, and community conversations. Learn what it means for your library to "turn outward" to secure its place at the heart of your community.
UX Field Research Basics (O'Reilly)
With the speed at which technology is changing, field research offers understanding into how products can impact the lives of your customers. But regardless of whether it's your first or hundredth time, conducting field research is a daunting task. Planning and conducting field research is a juggling act between preparation, interview skills and synthesis.
How to Increase Reading Rates with eBooks and Audiobooks (edWeb)
Join us for a look at the incredible opportunity eBooks and audiobooks offer librarians to evolve their role and become even more valuable members of the school community. We'll hear from Faye Hagerty, director of library services for the North East Independent School District in Texas, who will share her experience increasing reading rates by 200 percent through the district's digital library platform.
December 6
Creating a Mindset for Change (InSync Training)
When it comes to change, most leaders and organizations focus on structures, processes and systems. Few recognize that without an individual and collective "Mindset for Change and Innovation" their best efforts will fail. This session will show what is really getting in the way; how an intentional and clear focus on what you want rather than on what you are trying to avoid turns insight into actions and actions into breakthrough outcomes.
A New Approach to Building Family Engagement Pathways: The 5Rs Framework (Public Library Association)
Are you interested in increasing your outreach to families? Are you wondering how you might elevate family voice in the work that you do? Are you thinking about how to develop stronger community partnerships in support of families? If so, then this webinar will benefit you.
Science Soup, Part Two: Rocks, Rivers and Trees - the USGS and the U.S. Forest Service (Federal Depository Library Program)
Come along for this webinar, and learn about earthquakes and tsunamis in real time, as well as educational resources in English and Spanish ranging from coloring books to data used by academic research scientists.
Inspiring Early Childhood Leadership: Key Strategies to Ignite Passion and Transform Program Quality (edWeb)
This webinar will provide an overview of well-researched, inspirational and motivational leadership strategies for supporting high-quality early education and care. Susan MacDonald will share how leaders can find new and empowering ways to adapt to the evolving world of early childhood education.
Culinary Literacy: A Library Recipe for Cooking Up Literacy and Community (WebJunction)
Opening in 2014, the Free Library of Philadelphia's Culinary Literacy Center offered the country's first commercial-grade kitchen classroom in a library. It is revolutionizing the way Philadelphians think about food, nutrition, and literacy. The Center reaches to every corner of the community. It teaches math and science to kids through measuring and mixing, builds English language skills and nutrition education for non-native speakers, empowers adults with disabilities to cook with confidence, and much more. Hear how this innovative idea was transformed into reality through strategic community partnerships and institutional support. Learn how your library can start teaching community residents everything from butchering a goat to making a vegan stew, boosting literacy and nutritional health for all.
Pop Literacy (School Library Journal)
The Walking Dead, hip-hop, Snapchat and the U.S. presidential race. All resources for learning. We'll explore new literacies in practice to glean how student-led exploration using meaningful topics and engaging tools can make learning pop.
Beyond the Hour of Code: Implementation for All (edWeb)
Schools throughout the world participate in the Computer Science Education Week's #HourofCode, which will take place in 2016 from December 5 to 9. Unfortunately, many schools don't move beyond that hour. As stakeholders in providing the best educational experiences to prepare students for tomorrow, it is imperative that we move "Beyond the Hour of Code" and truly integrate coding into the daily instruction for all.
December 7
Technology Classes at Your Library (Nebraska Library Commission)
In the past three years, the Iowa City Public Library has tripled their patron involvement in technology classes taught by library staff, without increasing staff or budget. Technology is an ever changing landscape and classes are a great way to help patrons become savvier technology users. Learn how to grow interest in your library's technology courses with strategies for assessment, marketing and curriculum development.
Webinar Bootcamp: Proven Steps to Success (Training Magazine Network)
Whether you're new to webinar production, or you're looking to tune-up your game plan, this resource-filled webinar will guide you through focused steps that will help give you the confidence to get your webinars off to a great start.
Overcoming Bias: How Leaders Can Build Authentic Relationships Across Differences (American Management Association)
We all harbor unconscious assumptions about people who are different from us that get in the way of our good intentions and keep us from working together harmoniously and effectively. Join bias experts (and biracial couple) Tiffany Jana and Matthew Freeman for an hour-long webcast where you will learn how to identify your personal points of privilege, make genuine connections with people who aren't like you, and figure out how to break down social barriers across a spectrum of differences (race, religion, sex, ethnicity, sexual orientation and more).
Professional Pathways: Intentional Career and Leadership Development, Starting from Wherever You Are Now (4Good)
Whether you are early in your career or have been a leader for many years, it is important to be intentional about your own professional and leadership development. In this webinar, we will consider the essential foundation for further developing as a professional: becoming more aware of your values, goals, strengths and areas for improvement. We will then consider professional development strategies with examples of steps you can consider taking.
Civil Rights and a Civil Society: A Library-Law Enforcement Partnership (Programming Librarian)
Tune in and learn how Nashville (Tenn.) Public Library has partnered with local law enforcement agencies to develop an innovative public program series that uses history as a gateway to productive, critical conversations on race, policing and human rights.
USGS Library: Geoscience Outreach and Instruction (Federal Depository Library Program)
Come explore the published materials, historical aspects of geoscience research, current access and availability to USGS products, subject classification scheme and other hidden information gems within the USGS Library.
An Indie State of Mind (Library Journal)
The indie book movement has become a vibrant part of America's reading culture, and that's in no small part due to advances in digital self-publishing. With more than 90% of U.S. libraries lending eBooks, libraries have unparalleled power to bring their best local writers to their patrons' attention and beyond. This webinar will illuminate how Library Journal's SELF-e program supports statewide, library-driven writing contests to find the best indie books in your community and make them available to library patrons.
Get Happy and Healthy: How to Avoid Burnout and Have More Impact Through Your Work (Charity How To)
This nonprofit webinar will present a case for nonprofit professionals to engage in self-care and provide steps to shift organizational culture from one of sacrifice and burnout to one where balance, rest and replenishment are part of a strategy for success.
Books Go to War (Library of Congress)
Join Library of Congress reference specialist, Abby Yochelson of the Humanities and Social Sciences Division as she discusses "Books Go to War: Armed Services Editions in World War II" based on the "America Reads" exhibition.
Creating a Makerspace with Meaning: How a 3D Printing Project Can Change Lives at Home and Abroad (Library Journal)
Join librarian Ellen Druda for a live webcast presentation as she shares information about a program she launched at Half Hollow Hills Community Library (NY) that allows teens to create and assemble 3D printed prosthetics in bright and beautiful colors. The usable prosthetics get donated to children overseas through a partnership with a global charity.
December 8
Powerful Stories of Strategic Business Leadership from the World's Top CEOs with Cheryl Bachelder (Harvard Business Review)
Harvard Business Review now invites you to join us for this "How I Did It LIVE" webinar with Cheryl A. Bachelder, Chief Executive Officer, Popeyes Louisiana Kitchen, Inc., who will describe how her team turned the struggling company around, by rebuilding their relationship with their franchises, while creating a national brand-building campaign to reconnect with customers. Harvard Business Review Editor in Chief, Adi Ignatius will lead a discussion about the strategic challenges the company faced and overcame, and the frameworks and ideas that can help other leaders facing crucial decisions.
Research Data Literacy and the Library (Library Connect)
The era of e-science demands new skill sets and competencies of researchers to ensure their work is accessible, discoverable and reusable. Librarians are naturally positioned to assist in this education as part of their liaison and information literacy services. Learn more about how libraries are expanding the scope of information literacy to include open data and related tools, methods and skills.
Virtual Collaboration for Volunteer Managers and Boards of Directors (Charity Village)
This free webinar will show you practical ways to get things done with others, virtually, without sacrificing personal connection and relationship.
Database of the Month: Let Zinio Help You through the Holidays! (Wyoming State Library)
We will explore the Zinio digital magazine collection—how to create an account and login, an overview of the collection, and locating help and tutorials. In Zinio, you will find Crafts, Quilting, Cooking, and Kids! (and so much more!)
Using Project Outcome Data in Grant Applications (Public Library Association)
This is the third in a series of three webinars designed to help library leaders and staff turn their Project Outcome results into action. This webinar builds upon previous sessions about good practices for communicating about data and developing effective messaging; it will focus on how to incorporate Project Outcome survey results into grant applications.
Science Soup, Part Three: Rocket Ships and Stars - Out of this World with NASA (Federal Depository Library Program)
Learn about the functions of NASA and the excellent educational resources the agency provides for your users. As always, the webinar will include some resources in Spanish for those of you who serve a Spanish-speaking community.
Summertime Outreach: Bringing Summer Learning into the Community (Colorado State Library)
Your public library is packed with kids during the summer, and that is excellent! Research shows that those children benefit from your library's many strong enrichment activities, staff expertise and collections that go so far in preventing summer slide. However, there are children in your community that you don't see in your library that need this same enrichment the most over the summer. How can you find and support them, and provide them with the same rich resources? Join us for this lively, interactive session and bring your questions, challenges and ideas.
Bozarthzone! Designing for Learner Success (InSync Training)
This session will help designers and others involved in the design process identify common trouble spots, understand them from the learners' point of view, and take steps to correct them before learners have a chance to fail. L&D professionals wishing to work from a "learner first" point of view will find this session illuminating and applicable.
The Golden Partnership: How to Improve Website Findability with Actionable Analytics and Content Analysis (DigitalGov)
In this training, attendees will learn: why every digital analytics team needs to partner with a digital content analyst; how top-task analyses and content research can improve the quality and volume of traffic; strategies for identifying the issues and terminologies of a target audience; SEO tips for improving findability KPIs; and other cool stuff.
Wireless Environmental Monitoring: Is it Right for You? (Connecting to Collections)
It seems that every year there are new products to monitor temperature, relative humidity and other conditions that affect collections. Wireless, networked, cloud and NFC are terms used on product specification sheets but what do they mean and are the new products really different than just a few years ago? A solid understanding of the terminology which can be translated to new products as they emerge will allow you to determine which monitoring method and product is right for your institution.
With Friends Like These: Pointing Your Friends' Group in the Right Direction (Texas State Library and Archives Commission)
Friends groups can be tremendous assets to the libraries they serve by engaging community, raising money, advocating for the library and lending the library lots of great moral support. But, when Friends groups lose focus on their role (versus that of the director) or when they start being unfriendly it can become a miserable relationship for all involved. Sally Gardner Reed will discuss ways in which to keep working on a positive track together, ways to solve conflicts, and what to do when nothing seems to work.
Winding Down/Gearing Up: 10 Legal Tips to Get 2017 Ready (GrantSpace)
Join Gene Takagi and Michele Berger of NEO Law Group for a list of 10 tips and ideas to get yourself ready for 2017. Gene and Michele will discuss what the board should do before rewarding an executive with a year-end bonus, development of next year's board calendar, the increasing importance of state registrations and other items to consider or complete before year-end.
December 13

The Power of Blogging & Thought Leadership for Nonprofits (Firespring for Non-profits)
In this educational session, you'll learn how to raise awareness and increase engagement by using blogging tools.
Engaging the Volunteer of the Future (VolunteerMatch)
At VolunteerMatch we have a unique view into what volunteers are looking for in an opportunity. The age of one-size-fits-all volunteer engagement is coming to an end. This webinar will start with a review of some of the things that we know about what volunteers are looking for in an opportunity. It will then help you use this information to start designing volunteer opportunities and determining who is the "right" volunteer for your program. You'll also learn how "word of mouth" plays such a large role in attracting volunteers to your organization and how social media makes this even more important.
12 Tech Tools for Your Classroom (Simple K12)
Todd Beard will share 12 tech tools that he uses to build a community of educators, parents and students from every grade level. He will explain the function of each tool and share classroom tips for using tools such as Microsoft Snip, Minecraft, Excel Survey, FluidMath, Nearpod and many more!
Awesome PowerPoint Tricks for Effective Presentations (Training Magazine Network)
PowerPoint is the basis for much of the training material you use, and yet it's text-heavy, dull and boring. See how you can revolutionize your presentations and other training material using visuals, diagrams and animated sequences, with some helpful how-to guides, and a collection of awesome PowerPoint tricks, plus a free PowerPoint toolkit to kick start your efforts for everyone that attends.
December 14
Using Emotional Intelligence for Successful Communication (Training Industry)
Whether we like it or not, our communication skills are on display in every interaction we have, both personally and professionally. Sometimes, we're "on," and we feel like our message is heard the way we intended. Other times, we're "off," and we look back wishing we could hit the do-over button. Have you ever considered your emotional intelligence (EI) as a deciding factor of whether you are a successful or unsuccessful communicator? EI skills such as self-regard, emotional expression, optimism and reality testing—to name a few—are keys to creating powerful interactions with others. Join us for this complimentary Training Industry webinar, sponsored by MHS Assessments.
Libraries Supporting Social Good: Tools and Tips for Outreach to Nonprofits (TechSoup)
This free webinar will offer practical guidance on the best tools, training resources and marketing tactics your library can use engage the social sector in your community. You will also hear examples of how librarians have implemented these tools and tactics in their libraries.
Dorobekinsider Live: Counting Down the Top Gov Innovations in 2016 (GovLoop)
Innovation is alive in government and in our online training on Wednesday, December 14, Christopher Dorobek and a panel of experts will share what made the biggest impact this year. By attending this free online training you will learn: the biggest technology disruptors of 2016—cloud, Internet of Things, human-centered design and more; how government is reacting to the retirement tsunami and changing their recruiting and hiring processes; what's in store for 2017.
Motivate or Medicate: Getting staff to do what you want! (4Good)
Motivating others is like forecasting the weather. You have no idea what may help you prepare or whether you'll soon be struck by lightning. For that reason, we should never try to "motivate," but instead to have a deeper understanding of individual needs and putting the right factors in place. Learn what those factors are, how individuals are different and how we may want to influence people in our lives (or at work) to improve productivity.
Introduction to Project Budgets (GrantSpace)
If preparing a budget for your foundation grant is holding you back, this class will provide you with step-by-step instructions on how to generate a standard project budget for a foundation proposal. We will discuss: the basic components of a project budget including income and expenses; how to estimate the realistic cost of a project; what other financial documents you may also need to submit with your proposal.
December 15

Understanding Soft Risk in Volunteer Engagement (VolunteerMatch)
We all worry about the hard risks that can have an impact on our volunteers and the work they do, but too often we don't think about the soft risk. Soft risks are the attitudes, beliefs and actions that expose our organizations to risks. Those risks may include the actions of staff—both paid and volunteer, interactions on social media, lack of training for leaders and volunteers—leading to risky behavior, and how failing to screen for characteristics or "fit" can open volunteers and the organization up to risk. This webinar is designed to help attendees identify soft risks in their organization and give them the tools to make changes to processes and culture to minimize and address these risks.
Bozarthzone! Where's Your Power? What's Your Point? (InSync Training)
Tired of seeing PowerPoint shows that have neither power nor a point? This session provides strategies for developing memorable slides with punch, not just pretty slides peppered with bullets. Join us as we look at ways to hook our learners, highlight critical information and create learning points that will stick.
Limitless Libraries, Unlimited Potential (Library Journal)
As libraries continue their mission to become community cornerstones, there is a new spirit of cooperation between public and school libraries. Nowhere is this more evident than in Nashville, where Nashville Public Library and Metro Nashville Public Schools have partnered to create the Limitless Libraries cooperative to improve school libraries, resource sharing, and student access to learning materials. The Library Corporation's CARL•X was selected as the shared ILS at the heart of this project. You're invited to join TLC and Library Journal for a special webinar to discuss the Limitless Libraries concept and how it could work for your community.
Measure Your Impact: Getting Started with Outcome-Based Evaluation (Infopeople)
Do you want to learn how to measure the effects your library's programs, resources and services have on your users? Would you like to discover various ways to measure outcomes in your library? Join Linda Hofschire, Director of the Colorado State Library's Library Research Service, in this webinar, where you'll learn practical tips for getting started with outcome-based evaluation.
December 19

How Much Does It Cost to Do Good? Conversations on Nonprofit Overhead, Part 2 (GuideStar)
More than ever before, the people on the front lines of social change are in agreement: we need to evolve the conversation about nonprofit overhead. The good news is that the evolution has already begun. Forward-looking people from across the nonprofit sector have realized the importance of moving beyond overhead ratios. But how do we get to a critical mass? How can we better educate donors that there is a cost to social change?
Leadership and Mentorship for Rural Librarians (Association for Rural and Small Libraries)
Join Idaho Commission for Libraries and Association of Rural and Small Libraries for a conversation about issues faced by libraries in rural areas.
December 20

Use It, Don't Lose It! Technology Donations Before Calendar-Year End (Tech Soup)
If you have money left in your nonprofit or library tech budget this calendar year, learn how to make the most of it through TechSoup's hardware and software donation programs.
December 21
Under the Microscope: Science at the Library (Nebraska Library Commission)
Valley Public Library was awarded one of the Nebraska Library Commission Youth Grants for Excellence for two microscope kits that would be made available for circulation and would be used in programming for youth and families. The presentation will include background information on our science station that led to the idea for the kits. Descriptions of projects and programs that have been successful will be presented along with potential for future programming and outreach.