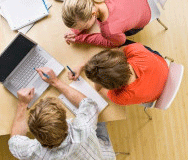 Making time for learning, and finding the right fit for your learning needs can be tough, considering all the opportunities. For the month of August, try taking a look at your calendar to find a day or two with a few open hours to set aside, and then browse the opportunities on the list below for those days. You're sure to find a session or two that align with some of your current workplace challenges or opportunities. This list of over 70 webinars, covering 20 topic areas, was collected by the Wyoming State Library. It's updated monthly on the Free Training page, where you can also view the offerings by topic.

For additional training, check out the WebJunction Catalog, free and open to library staff and volunteers everywhere.
Read on for over 70 free webinars, and one online conference, being offered for library staff and non-profits in the month of August.
August 1
Jumping Ship from Public to Academic: What to Expect During this Journey (Indiana State Library)
While there can be many reasons you might consider switching to academia, join us for this webinar where Courtney Block will talk about her journey. She will discuss the differences and similarities between public and academic libraries, the surprising aspects of academia, the benefits of academic librarianship, and the struggles that she's encountered during this transition.
How Libraries Can Help Students from Disadvantaged Socio-economic Backgrounds (ACRL)
Students from many and varied backgrounds are currently pursuing higher education, including students from economically disadvantaged backgrounds. Students from a disadvantaged socio-economic background face many challenges in completing their degree, including paying for tuition, books, housing, and food. Further, students from lower socio-economic backgrounds often feel like outsiders on campus - regardless of race, gender, or sexual orientation - and issues of class, often unacknowledged and unexplored,  produce rifts in the campus culture that can lead to serious confrontation. How can academic libraries work with students from economically disadvantaged backgrounds? What kinds of services can libraries provide for low income students that help them thrive on campus? This online program will explore various services, programs, and practices academic libraries can offer to students from economically disadvantaged backgrounds-including real-life examples-that help their academic success.
Implementing STEM Programs: to fit your time constraints and comfort levels (Washington State Library)
There is a wealth of information available regarding STEM (Science, Technology, Engineering, and Math) but how does one decide what type of STEM program(s) to implement into the classroom, library, grade level, school or district? This webinar explores possible ways to implement STEM ranging from simple to complex depending on the amount of time and energy you feel that you can allocate to STEM.
How to Bring Successful Adult Programming to Your Library (Sirsi/Dynix & Salt Lake County Public Library)
Do you find successful adult programming hard to establish or sustain? If so, you're not alone. Join our first Power of Libraries Stories Webinar where Azra Bašić of the Salt Lake City Public Library System will talk about her experience running popular adult programs. Azra will share tips and ideas for how you can replicate similar successful adult programming in your own library.
Great Book-Group Reads (Booklist)
The right book can be just the thing to make your book-group discussions come alive. Join us for this free, one-hour webinar where representatives from Sourcebooks, Bloomsbury, and Macmillan will discuss forthcoming and backlist titles that are sure-to-be hits with book groups around the country. This webinar features mostly adult books with a few YA titles as well.
USA Learns – A Free Website to Learn English and Prepare for U.S. Citizenship (California State Library/Infopeople)
Join presenters Andrea Willis and Kathryn Azevedo, as they provide an overview of the free USA Learns website (usalearns.org) and share ideas about how one California library utilizes the site to teach English to adults.
August 2
Connecting Students to Courses, Experts, and Virtual Field Trips (Nebraska Library Commission)
Find out why Nebraska is a leader in connecting students to courses statewide through videoconferencing, serving over 8000 student enrollments per school year. With this infrastructure in place, the door is open to provide students and patrons with even more opportunities beyond their classrooms and libraries, including virtual field trips.
Understanding the Intersections of Scholarly Communication and Information Literacy: Part 1 (North Carolina Library Association)
The presenters are offering a two part webinar which will provide an introduction to the key concepts of scholarly communication and their relationship to information literacy and integration with library instruction. The webinars will build on the ideas presented in the ACRL whitepaper on the intersections of scholarly communication and information literacy (Intersections of Scholarly Communication and Information Literacy: Creating Strategic Collaborations for a Changing Academic Environment) as well as the ACRL Framework for Information Literacy for Higher Education. Topics covered in part one include definitions and the socioeconomic aspects of scholarly communication, in addition to the principles and expectations of the open access movement.
Introduction to Proposal Writing (Grantspace)
Are you new to proposal writing or want a quick refresher? Get an overview of how to write a standard project proposal to a foundation.
Social-Emotional Learning from the Top Down: Administrative Practices that Support Children's Emotional Development (Early Childhood Investigations)
The webinar will include specific teaching strategies and the concomitant administrative strategies that educators can use every day in their roles with their peers, the children, and the families in their care. Improving the adults' core capabilities, such as planning, focusing, exhibiting self-control, becoming self-aware, and being flexible will lead the way to offer children optimal opportunities to make developmental progress in becoming and being a friend to others.
August 3
Creating a Social Media Policy (Idealware)
Join us for Creating a Social Media Policy, a free webinar that will show you why a written policy is so valuable and how to begin creating one for your nonprofit.
USGS Library: Oil, Gas, Coal, Uranium, and Minerals Maps and Data (Federal Depository Library Program)
Attendees will learn tips and tricks on how to find and use print and(or) online information sources for oil, gas, coal, uranium, and mineral resources from USGS products, as well as library information nuggets available from local, state, Federal, and international providers.
Defending Gov's Vulnerable Endpoints (GovLoop)
Join us on Thursday, August 3rd at 2pm ET to hear tips from government and industry experts on defending the frontlines of cybersecurity.
August 4
Revamping Your Space—Creating a Modern Media Center (American Libraries)
Libraries are transformative spaces where users become collaborators and creators. Make the most of your space by creating an environment that matches the needs of your users and highlights the tech-savvy, flexible, and collaborative nature of your library.
August 5
Using Google Maps for Virtual Journeys (SimpleK12)
Have you ever wanted to take your students on a journey without leaving the classroom? Perhaps you need a visual to help your students see the landscape of the places they are reading about in English or social studies. Or maybe you want your science class to take a tour that shows natural elements such as volcanos or deep sea vents. Let Google Maps take you there! In this webinar, Kim Munoz will show how to use the "my maps" feature to create an interactive tour that can include text, video, and images. In addition, she will share some examples of how this can be used in the classroom.
August 8
FREE Virtual Conference: SLJ Teen Live
Highlighting the biggest upcoming YA books and important issues impacting your teen materials and programming. For more information and to register, visit: http://www.slj.com/teen-live-2017
5 Secrets of Email Marketing Geniuses (Firespring)
There is more power and leverage in one email subscriber than 100 Facebook likes or 50 Twitter followers if email marketing is done right. Problem is, 9 out of 10 nonprofits don't do it right. In this educational session, we will share the secrets of email marketing geniuses.
Engagement is the New Acquisition: Pathways for Action (Nonprofit Hub)
In this session, you'll learn why acquisition has evolved into engagement and how that shift can benefit your organization and brand. You will also walk away with new ideas for increasing opens, clicks, shares and actions leading to more supporters, advocates and volunteers.
Language: Your Most Important and Least Valued Asset (Digital Gov)
The experiences we make for our users are made of language choices. We also depend on language to collaborate with the people we work with. Yet language is most often only tended to when you talk about things like content and copy. Controlling your vocabulary is one of the murkiest messes you can take on, but it also might be one of the most impactful ways you could impact your organization's ability to reach its goals. In this online event, we ask information architect Abby Covert to share some strategies and tactics that could help us to pay closer attention to language choices we make.
Your Community by the Numbers: Race, Ethnicity, Ancestry, and Foreign Born... (Utah State Library)
Learn about how to access Census and American Community Survey data about race, ethnicity, foreign-born and ancestry groups using a variety of online tools available at census.gov. During this training you will learn about what how the Census Bureau collects and publishes data on these topics, as well how to access and download tables, and creates maps.
Fall YA Announcements (Booklist)
Fall YA Announcements, 2017: Get the inside scoop on this fall's forthcoming YA titles in this free, hour-long webinar, featuring representatives from Disney, Harlequin Teen, Macmillan Youth, Macmillan Adult, and Sourcebooks.
Online Storytelling: Big Impact. Small Budget. (GuideStar)
Standing out from the crowd with visual storytelling is critical when trying to connect with donors. Join Facebook, GuideStar, and Best Friends Animal Society to learn how.
Realities of Virtual Collaboration (Insync)
This session will review some of the current virtual collaboration tools available and suggest ways of using each most efficiently. We'll also talk about how and when you can incorporate a more personal touch to your communications across the virtual landscape.
Managing Difficult Volunteer Transitions (VolunteerMatch)
What do you do when it's time to ask a volunteer to leave your organization? This webinar will give you the tools to address challenges around difficult volunteers, volunteers aging in place, and suggestions to minimize these situations in the future. Suggestions for determining when a volunteer should be terminated, and making it easier on you, other volunteers, and staff will be presented. The role that risk management plays in these decisions will also be included.
How to Captivate and Engage Constituents with Your Website (Firespring)
Does your website captivate and engage people or is it merely an online brochure with a few photos and a mission statement? In this session, we will share more than a decade of focus group research.
August 9
Just Ask: Partnerships that provide funding and opportunity (Indiana State Library)
Join Susan Miller and Megan Barnes as they discuss ways that they've utilized partnerships to drive fundraising and greater awareness of the library in their community.
DorobekInsider Live- The Realities of IoT (GovLoop)
Join Christopher Dorobek and his panel of experts on Wednesday, August 9 at 2pm ET as they discuss the top IoT innovations and challenges that governments are facing.
Introduction to Project Budgets (Grantspace)
Are you ready to start fundraising for your project or idea, but don't know what and how much to ask for? If preparing a budget for your foundation grant is holding you back, this class will provide you with step-by-step instructions on how to generate a standard project budget for a foundation proposal.
Let's Talk: Librarians & Agricultural Law (Federal Depository Library Program)
The Agricultural Law Information Partnership is a collaboration between the National Agricultural Library (NAL), National Agricultural Law Center (NALC), and the Center for Agriculture and Food Systems (CAFS) at Vermont Law School. Participants will: Learn about basic sources for agricultural law research; identify innovative legal tools supporting the new food movement; Review information on National Gleaning, Healthy Food Policy, and Farmland Access Legal Projects.
Teaching Young Gifted Children: The Whats, Whys, and How-Tos for Supporting Their Needs (Early Childhood Investigations)
Whether you work in a preschool program, childcare center, kindergarten, or primary-grade classroom, you have gifted children in your group right along with children who have a broad range of abilities. Why is it important to recognize and support the needs of young gifted children? What are the best ways to identify these children? If you've ever observed characteristics in young children that are beyond their same age peers, and wondered how best to nurture their unique abilities, you don't want to miss this webinar.
Are You Ready? Your Animals Depend on It - Contingency Planning for Collections (Connecting to Collections Care)
This webinar is about emergency planning when you have living animals in your collections, however, the concept of contingency planning for emergencies should be of interest to all.
August 10
How to Think Like a Donor in 1 Hour (Bloomerang)
Successful communication isn't about what you want to say or how you say it. It's about what your donor wants. Donor's don't give to you because you're great. Donors give because they're great and you help them realize how great they are. See through your donor's eyes in this thought provoking workshop loaded with tips for better donor communication, cultivation and discovery.
Acceptable Use and IT Security (Idealware)
Part I of Establishing Tech Policies to Protect Your Nonprofit. If you don't have written policies—and regular training to ensure that people understand those policies—your organization may be facing bigger risks than you think. This course will walk you through the questions you should consider as you develop policies to protect your nonprofit.
Data User's Guide to U.S. Census Bureau's Economic Data (U.S. Census Bureau)
Learn how Economic data is organized by sectors, when and what types of Economic data products are released, and how to access Economic data through the many Census data tools. See Economic data in action through various media promotions.
Bozarthzone! Juggling 101: Managing Multiple Priorities (Insync)
"Time management" is an oxymoron. You can't change it, or lengthen it, or shorten it, or 'manage' it. This course will help you identify ways to deal with the things you can manage: yourself, others, and the tasks with which you're confronted.
Building a Community of Readers–Driving Student Engagement Through Collective Impact (Education Week)
Building communities of readers is everyone's responsibility–and ensuring that our collective efforts deliver intended results for students, schools, and communities is equally important. Learn how our personalized approach to literacy, based upon cutting-edge technology and results-oriented research, ensures that every learner is engaged and supported in ways that foster and measure their growth.
Managing Change at Your Nonprofit Organization (blackbaud)
The nonprofit landscape is changing drastically. There is more competition for funds; government budget cuts are looming; and technology is evolving faster and faster. All of this is causing nonprofit organizations to implement new practices, new ways of thinking, and new technology. While this may sound daunting, it can be a seamless and organic process that sets you up for success. Join Blackbaud's certified leader in change management, Kevin Stehr, as he walks through the best practices and core principles related to managing change within your organization.
August 15
Veterans by the Numbers - Searching the Census (Utah State Library)
Learn how to access to the most up-to-date demographic, socioeconomic, housing, and business statistics about our Veterans from the American Community Survey and the Survey of Business Owners using a variety of data tools available online.
Helping Participants Raise More through Storytelling (blackbaud)
You have a great recruitment and coaching plan for peer-to-peer fundraisers. But are you doing everything you can to help them tell your story? How can you empower them to communicate your impact and improve donation asks? In this webinar, we'll share lots of real-life examples and discuss techniques that successful organizations use to create mission ambassadors and super-fundraisers. This webinar digs deep into the methods of messaging in order to provide content your fundraisers will actually use.
Intelligent Outcomes: Learning from Both Success and Failure (Sirsi/Dynix)
Is the risk of failure deterring your drive to try new ideas at your library? Whether your efforts thrive or nosedive, there is much to be gained in the effort. Join Library Director Dustin Fife to learn how you can make your library a safe place to fail forward. In this webinar, Dustin will talk about the formulas for giving new ideas a go, and gaining from the results, regardless of the outcome.
Re-Energize your Volunteer Program by Designing Mission-Driven Opportunities (VolunteerMatch)
Too often libraries look at volunteer engagement as something that's nice to have, and never realize the true potential of volunteers. But, our organizations become more successful, responsive, and effective when we look at volunteers as a key component to our library's success. In this session we'll discuss creating a connection between the work volunteers do and your library's mission. You'll learn how to design volunteer opportunities with real impact, and how to tell the story of that impact both within your organization and to your community. Attendees will leave with sample mission-driven position descriptions and a worksheet to help craft their library's story of volunteer engagement.
Making Sense of Numbers: Understanding Risks and Benefits and Learning How to Communicate Health Statistics (National Network of Libraries of Medicine)
Numeracy literacy is not only a problem for individuals receiving health information but also for those providing information that contain numbers. This class is a basic introduction for anyone who wants to understand how to communicate health information that involves numeracy. The purpose of this class is to understand risk and benefits from a layman's perspective and to understand that the communication of numbers must be clear and easy to understand.
Twitter 101: Why You Need to Tweet to Build a Personal Learning Network (AASL)
Learn why Twitter is a must for being a connected librarian, building a Personal Learning Network, keeping current with the world, and school library advocacy. Also learn how to get up and running on Twitter easily and start taking the best advantage of it immediately. The webinar will include advice on effective account settings, what to tweet, how to read through tweets, how to select good accounts to follow, how to engage in conversations, and more.
August 16
Libraries as Community Catalysts Virtual Conference (Colorado, Georgia, Iowa, and Maryland State Libraries)
The Colorado State Library has partnered with the state libraries in Georgia, Iowa, and Maryland to offer the first-ever multi-state library virtual conference on Wednesday, August 16, 2017 from 9 am to 3 pm MDT on the topic of Community Building. We will explore how libraries are working in their communities to bring about positive change around a shared vision or goal. We have an amazing lineup of sessions for the day, featuring great presenters! The conference is be free, open to all Colorado, Georgia, Iowa, and Maryland library staff, and you can join any time during the day.
Creating a Culture of Learning in the Modern Workplace (Training Magazine Network)
Are you creating a learning culture for your employees? We're working in environments today where change is no longer an event but a constantly occurring process. In order for businesses to maintain a competitive advantage, it's vital for their employees to be continually improving and learning. You may have some good ideas about what it takes to implement a culture of learning, but how's your strategy? Do you have the tools and resources necessary to build a solid foundation for your learning culture? What's your communication plan? How will you measure success and failure? In this webinar, CEO of BizLibrary, Dean Pichee will talk about what an engaged learning culture looks like, what types of strategies to implement to turn your ideas into a reality, how to make sure your training really sticks and how to manage the change that will inevitably occur as you implement a culture of learning.
Help! I'm an Accidental Government Information Librarian presents ... State Agency Databases Project, finding and sharing agency databases by subject (North Carolina Library Association)
Join Daniel Cornwall for a short exploration of the State Agency Databases Project of ALA GODORT. Daniel will show the types of resources through the project and the new auto-updating subject compilations the LibGuides platform has enabled. He will conclude with how to contribute new databases to the project and how to share content from the project on your own LibGuides and web pages.
People - Difficult or Different? (Effectiveness Institute)
Why are some clients or co-workers so frustrating to work with?  Or more importantly, why would anyone think of YOU as a difficult person? In this highly interactive and engaging presentation, you will discover why "different" does not have to mean "difficult."  Then you will learn the magic of making slight adjustments in your awareness and behavior that will have a significant impact on your ability to "click" with customers and co-workers.
Calling BS in the Age of Big Data (National Network of Libraries of Medicine)
Our digital worlds are inundated with misinformation, data manipulations and outright lies. In this talk, we will look at common pitfalls specifically around information visualization. We will examine different ways that information can be misrepresented with figures and graphs.
Building Curriculum with Colleagues: Where the Library and Classroom Learning Connect (edWeb.net)
In this edWebinar, Michelle Luhtala, Library Department Chair, New Canaan High School, CT, will share strategies for using this time to build instructional partnerships that will last throughout the year and beyond. Digital backpacks, integration with Google, Mackin Groups, Learning Management Systems, Library Management Systems, and curation will be addressed. All librarians are invited to attend this live, interactive session.
August 17
Bring Your Own Device Policies (Idealware)
Part 2 of Establishing Tech Policies to Protect Your Nonprofit. If you don't have written policies—and regular training to ensure that people understand those policies—your organization may be facing bigger risks than you think. This course will walk you through the questions you should consider as you develop policies to protect your nonprofit.
Brain-Based Learning Principles for Maximum Retention in the Virtual Classroom (Training Industry)
Without some kind of reinforcement, people forget 90% of what they've learned in the classroom within one week! In this engaging webinar we'll explore six brain-based principles that result in maximum learning retention, transfer, and application. Brain researchers know that the challenge of moving information from short-term to long-term memory requires us to encode, store, and retrieve it repeatedly.
How to Get Tech Donations: A Special TechSoup Tour (TechSoup)
Find out about how your organization can access TechSoup's wide variety of product donation programs. We'll show you how to access our many learning resources to help you optimize technology for your organization. During this tour and Q&A session, we will highlight the ways you can make the most of the donation and discount programs for hardware, software, cloud applications, and services available to eligible organizations.
National Archives History Hub (U.S. National Archives)
Alex Champion introduces History Hub, a crowdsourcing platform for American history. Learn about this support community managed by the National Archives for researchers, citizen historians, archival professionals, and open government advocates.
PLAYful Musical Environments That Foster Learning: Listening, making, and moving to music in early education settings (Early Childhood Investigations)
Music holds an exceptionally fascinating place in our development as human beings. Music is a part of EVERY culture no matter how remote. Children unlock their music potential best with playful and structured guidance of an early childhood music specialist, but because most early learning programs don't have music specialists, child learning centers can easily borrow techniques from Master Music Educators. We know the research: The first months of life through the early school age years are a period of exceptionally malleable neural growth.  It is important to include music development during these stages.
More Than #MotivationMonday: Motivating Your Team Any Day of the Week (WebJunction)
Employees motivated to deliver top notch service are key to a library's success. But many in library organizations don't know how to effectively instigate employee motivation. As a critical management and leadership skill, it's important to know what motivation is and isn't, what works and what doesn't. In this session, we'll explore factors that influence motivation at work and review strategies for supervisors to keep their teams motivated and productive. No matter the size of your library or your role, you will be inspired to find your own motivation and be able to catalyze others!
Girls in STEM: Creating a New Era (edWeb.net)
This edWebinar will be presented by two high school students with a strong interest in pursuing careers in the STEM fields, dedicated to getting more girls to participate in STEM.
August 18
EBSCO's MasterFile Premier (Wyoming State Library)
Check out this database for all your basic research needs. Designed specifically for public libraries, this database provides full-text magazines (such as Advertising Age and Macworld, Parents and Ranger Rick, Yachting and Runner's World), reference books and primary source documents. It also includes an extensive image collection containing photos, maps and flags.
August 22

Memory Cafes and Libraries: The Perfect Fit (National Network of Libraries of Medicine)
A memory cafe is a safe and fun social opportunity for those living with memory loss, as well as their families and caregivers. Memory cafes have been offered in the Netherlands since 1997, but only in the US since 2013. Learn how your library can start a memory cafe and collaborate with key players in the community for the perfect fit.
Using Video to Extend Classroom Training (Training Industry)
Join us for this complimentary Training Industry webinar, where Kathy Irish, Director of Operations at ej4 will share how video can extend the reach of your classroom and achieve your learning goals when you combine them with traditional methods.
Good Reads for Reluctant Readers (Booklist)
Finding the right book for a daunted or disinterested reader can be tough. These books will open the door for even the most reluctant. This webinar features representatives from Black Rabbit Books, Lorimer, Chooseco (Choose Your Own Adventure), and Running Press Kids, who will discuss their upcoming titles, perfect for your reluctant readers in grades 3 - 12.
Once upon a Time, Storytelling was Learning (Insync)
When we are listening to a story our brains light up like a pinball machine. Our brains are not just sitting there decoding language, but instead are fully engaged and experiencing the events of the story. This is what makes storytelling such a great learning tool. Come find out how you can use storytelling in all of your classes whether they're virtual, face-to-face or computer-based!
Excel Made Easy for the Very Beginner (TechSoup)
Don't know a formula from a filter? We've got you covered! Learn the very basic functionality of Excel. This webinar is for new users to Excel or those needing a refresher on basic Excel functionality.
Government Information Resources for Teaching English as a Second Language and Learning English as an Immigrant (Federal Depository Library Program)
Do you have speakers of other languages in your library? Do they want or need to learn English? Then this is the webinar for you. We will present and discuss free resources from U.S. Government agencies like Voice of America, the State Department, and the Department of Education, as well as some state agencies and non-profit organizations.
Twitter 201: Now I'm a Tweep - What's Next? (AASL)
This webinar is a Part 2 for those who attended "Twitter 101: Why You Need to Tweet to Build a Personal Learning Network" on August 15 or for everyone who has a Twitter account but wants to take it to the next step. It will include tips on participating in Twitter chats, ways to optimize and get the most out of tweets with visuals, using Twitter as a back channel during conferences, using Twitter lists, third-party tools to enhance Twitter, and ways to use Twitter with students and for library advocacy.
August 23
Graphic Design for Libraries Series: Elements of Design (Indiana State Library)
Do you want to spruce up your library's graphic design? Learning and understanding the elements of design can help any artistic novice create attractive signage and advertisements. This hour-long session will cover the foundations of graphic design, including color, contrast, texture, and fonts and how they coexist in an image.
How to Break Up Boredom! Interactive Events for All Ages (Nebraska Library Commission)
Have you ever wondered how to break up boredom for your patrons, whether they are adults, teens, tweens or families...cheap? This small town Kentucky library brings out the human-size board games, life-sized Hungry Hippos and Battleship plus more!
How Electronic Arts Created a Brand Voice to Overhaul Their Customer Experience (American Management Association)
In this session, you'll hear how Electronic Arts (EA) created an authentic brand voice, how they are turning the tables on those difficult customer conversations, and how they are re-energizing their team and reshaping their culture in the process. You'll leave this session knowing how to supercharge your employee experience, boost engagement, and give your people the permission, tools, and support to be themselves while representing your brand.
5 Common Legal Traps for Nonprofits and How to Avoid Them (Wild Apricot)
Have you ever worried your organization could have some hidden legal risks? Often it's what we don't know that can come back to haunt us. This is why we've invited Erin McClarty, nonprofit attorney and strategist, to present a free webinar on the most common legal issues she sees nonprofits face, and what to do about them.
Challenge-Based Learning in the School Library Makerspace (edWeb.net)
In this edWebinar, Diana Rendina, Media Specialist and Writer, Tampa Preparatory School in Tampa, FL, will describe step-by-step how to introduce challenge-based learning into your school library makerspace.
August 24
Disaster Recovery (Idealware)
Part 3 of Establishing Tech Policies to Protect Your Nonprofit. We'll walk you through the potential disasters and guide you through developing a plan that will help you get your organization back up and running as quickly and as safely as possible.
Workplace Bullying: words can hurt more than you think (Colorado State Library)
Remember being bullied in grade school? The tears, fears, and anxiety of facing bullies may have shaped who you have become today. Do you ever wonder what happened to those bullies? It's sad to say but many have grown up and are now creating havoc in our libraries! This engaging session will show you how to remain calm and stay strong when coping with the bullies you work with or serve in your community.
Welcoming Everyone Online: Creating Accessible Online Resources For People with Disabilities (TechSoup)
Join Knowbility to learn how accessibility will expand your pool of potential donors, volunteers, and staff. Knowbility experts share no-cost practical tips on how you can immediately improve your website's accessibility.
American Indian Health Information Resources (National Network of Libraries of Medicine)
According to the 2010 US Census, approximately 5.2 million people stated that they were American Indian or Alaskan Native. A recent study shows that American Indian use of the Internet to find health information is lower in comparison with the adult U.S. population. This program will introduce a variety of governmental and non-governmental Internet resources that have health information for American Indian populations.
IFLA's Global Vision: An Interactive Discussion (Association for Rural and Small Libraries and WebJunction)
The Association for Rural and Small Libraries, in collaboration with WebJunction, invites rural and small libraries to join this highly interactive webinar discussion to voice your opinions and contribute to shaping a unique and comprehensive IFLA Global Vision. By joining us for this webinar, you can participate in this global discussion to identify future challenges and opportunities facing the library field and help to prioritize actions that a united and connected library field can take.
Equipping Students with Digital Literacy Skills (edWeb.net)
Join us to find out how to implement a comprehensive digital literacy curriculum in either a computer lab or a classroom setting. You'll also hear best practices on how you can integrate digital literacy into core area instruction. Jeff and Nettie will field your questions after their presentation. Elementary and middle school classroom teachers, technology teachers, library media specialists, principals, vice principals, and technology coordinators are invited to this live, interactive event.
August 29
Periodicals and More for Your Public Library Patrons (Utah State Library)
Join us for a refresher on your EBSCO resources! We'll focus on content geared to public library patrons. Learn how to access popular magazines like Consumer Reports, Sports Illustrated and more! Discover how journal alerts can keep your patrons connected to those periodicals from the convenience of their computer or mobile device.
AASL Best Websites for Teaching & Learning 2017 (AASL)
Did you miss ALA Annual? Didn't make it to the big reveal of AASL Best Websites or the Exploring Best Websites Session? Don't worry we've got you covered! Join Heather Moorefield-Lang for a dive into this year's American Association of School Librarians' Best Websites for Teaching and Learning recipients. Delve into websites that fall into categories like digital storytelling, social media and communication, media sharing, and much more. A fast-paced, highly informative session about new and exciting online tools and resources.
August 30
Graphic Design for Libraries Series: Introduction to GIMP (Indiana State Library)
Don't have the funds to purchase a license for Adobe Creative Cloud? Don't despair. There is a free alternative to Photoshop. This hour-long session will introduce the essential functions of the GNU Image Manipulation Program (GIMP).
Franklin Covey's 7 Habits® Seminar—Free Online Session (American Management Association)
Get a powerful introduction to the highly popular, hands-on seminar, The 7 Habits of Highly Effective People®, based on the international bestseller. In this complimentary online session, discover how the 7 Habits® can help you to lead yourself more effectively, engage and collaborate with others more successfully, and continually renew these capabilities. Your team and organization can also learn and harness these qualities for maximum results.