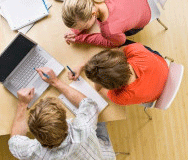 We hear from library staff that the hardest part of professional development is finding the time to learn. When we share this list of webinars each month, we know that it might be overwhelming, even daunting, to see all the opportunities. We recommend picking one topic for your learning this month, selecting one webinar on the topic, and using the month to reflect on, research and discuss that topic. With a long list of 82 webinars, covering 20 topic areas, it's good to remember that many of the sessions are recorded, so you can return to other topics later. This list, provided by the Wyoming State Library, comes out every month and is regularly updated on the Free Training page, where you can also view the offerings by topic.

For additional training, check out the WebJunction Catalog, free and open to library staff and volunteers everywhere.
Read on for 82 free webinars being offered for library staff and non-profits in the month of April.
April 4
Raising Your Library's Community Profile (Washington State Library)
Raising visibility means raising relevancy. As part of ALA's Libraries Transform initiative, Spokane County Library District spent the past two years doing just this by turning outward to their communities. We will discuss how this community engagement has changed day-to-day job functions, strategies for making the time to be present in your community and our best practices to implementing an engaged community focus gained from wins and fails as we embrace the idea that a library that supports its community has a community that supports its library.
Cheap and Easy: An Introduction to Passive Programming (The iSchool at UW-Madison)
Are you short on programming funds?  Does your staff struggle to find time to program?  Would you like to showcase collections and services or promote community initiatives?  If so, then it's time to add passive programming to your repertoire!  Discover what passive programming is and how to do it well.  Return to work with ideas that will allow you to design activities suitable for all ages, from kids to seniors, and even intergenerational audiences.
Influencing for Change in a Divided World (Training Industry)
"Divisive" is becoming a key word of our times. Many say the divisiveness in our culture is painful. Everyone's tired of it, but few seem hopeful that it will change soon. Political strife can affect your workplace with increased dogmatism and reduced flexibility. You can respond proactively by building emotional intelligence skills that support innovation and collaboration. Join us for this complimentary Training Industry webinar, sponsored by MHS Assessments. Marcia Hughes and James Terrell of Collaborative Growth will help you gain an understanding of emotional intelligence and strategic tools for workplace management.
Preparing for the Worst: Disaster Prep and Recovery for Nonprofits and Libraries (TechSoup)
During this free webinar with IT and disaster preparedness expert Lars Eric Holm, learn basic things you can do TODAY to help your nonprofit or library be better prepared ahead of a disaster and bounce back quicker after one strikes.
Developing a Strategic Plan for Volunteer Engagement (VolunteerMatch)
Join us as we talk about the fundamentals for creating a strategic plan for volunteer engagement for your organizations. This webinar will include components that should be included as well as ideas for working with organization leaders to include strategic goals for volunteer engagement in your organization's overall strategic plan.
Spring Picture Books! (Booklist)
Is there anything more formative than picture books for a child's love of reading? In this free, one-hour webinar you'll discover new titles from Albert Whitman, Charlesbridge, and Archipelago Books that get children excited about reading. You'll also learn about trends we are seeing in Picture Books today. Moderated by Booklist Contributing Editor, Books for Youth, Ilene Cooper.
Three Steps to Thriving in Chaos (Effectiveness Institute)
The turbulence of current events increases stress, drains energy and reduces productivity. In this webinar you'll learn three essential steps for not only surviving but thriving in the chaos. As a result of participating in this session you will: Identify the three phases of change and how to manage them effectively; Discover how behavior style impacts the change process; Apply three tools to increase your ability to thrive.
Five Self-Publishing Faux Pas to Avoid in the Library (Library Journal)
Get ready to explore five crucial self-publishing mistakes for libraries to avoid, and gain firsthand advice from seasoned experts on how to optimize your library's engagement with local writers. Moderated by Library Journal's Meredith Schwartz, this webinar offers dynamic perspectives on the importance of maximizing public library self-publishing programs.
April 5

Making Space: Administrative Weeding (Nebraska Library Commission)
Scott Childers, Southeast Library System Director, will discuss weeding for library directors. What should the library director keep out of all the bills, meeting minutes, donor records, summer reading manuals and everything else that accumulates over their tenure?
Effective Time Management Techniques to Teach Your Employees (Training Magazine Network)
In this webinar we'll provide effective time management techniques for yourself and your employees. The truth about multi-tasking; Key techniques you can use and teach your employees to improve time management; How microlearning can aid in effectively managing time in the workplace.
PubMed for Librarians: Building and Refining Your Search (National Network of Libraries of Medicine)
PubMed for Librarians: Building and Refining Your Search, is a synchronous online session that includes hands-on exercises. This class will focus on using some of the tools and features built into PubMed that are designed to help you search more effectively. We will also learn how to coordinate MeSH terms the way Indexers do and we'll explore the Index feature to build a search and explore topics. We will look at the Filters Sidebar and Topic-Specific Queries.
One Brand...Many Audiences: An Integrated Approach to Communications (4Good)
All too often, nonprofit communications are planned and executed in a silo. The membership team has one approach, the fundraising team another, and various program directors market their services independently as well. The result? A muddled brand presence and lots of wasted resources. Brand strategy consultant Michele Levy shares a variety of case studies to demonstrate her pragmatic approach to integrating your messaging and marketing efforts for greater impact and efficiency.
Explicit and Implicit Biases in Early Childhood Education: Becoming Aware of Microaggressions (Early Childhood Investigations)
In this presentation we will explore how biases and microaggressions delivered intentionally or unintentionally can cause a rift in teacher-family partnership and staff relationships. Using real life examples, we will examine different types of microaggressions, their potential messages and impacts on the recipients. We will also offer suggestions for addressing microaggressions in schools, and practical strategies for more effective and respectful communication.
Step Outdoors with Digital Storytelling: Integrating Storytelling & Science (edWeb)
In this webinar, Dr. Rebecca J. Morris will share apps and lesson ideas for integrating digital storytelling into curriculum, with a focus on science topics. Assessment of student learning and practical strategies for facilitating digital storytelling will also be discussed. Librarians and educators are invited to join this live, interactive session to learn how to integrate science with storytelling.
April 6
Fundraising 101: The Fundraising Cycle - What Is It, and How Do You Make It Work for Your Mission? (Charity How To)
Donors' reasons for giving are complex, so development professionals must understand how to engage with donors effectively at each step in the cycle. What motivates donors? What keeps current donors committed to your mission? What methods can you use to motivate new donors to give and remain a part of your nonprofit's family? There is no "one-size-fits-all" approach to donor engagement. Every successful fundraising campaign is built on a strategic understanding of the fundraising cycle. Knowing where each donor is in the cycle--and the types of engagement opportunities that work best for each step in the cycle--will help you acquire more donors, steward relationships with your current donors, and raise the money you need to meet mission. Join Heather to learn the basics of donor engagement at each step in the fundraising cycle.
Crowdfunding 101 (Firespring)
Join us to learn how to incorporate crowdfunding to raise the bar on your fundraising initiatives. Dana Ostomel, Firespring's leading authority on crowdfunding, will walk you through the lifecycle of a campaign, from prep through appreciation, emphasizing how to engage new audiences.
3 Easy Ways to Retain More Members Using Software (Wild Apricot)
In this free webinar, you'll learn how to: Get your members to renew on their own, so you don't have to chase them; Automate your new member onboarding process and save hours each week; Quickly identify who is about to leave, and what you can do to keep them.
Successfully Implementing Volunteer Program Changes (VolunteerMatch)
This training will give you the tools to approach program changes in a strategic way. We will also cover what to do if volunteers either can't or won't adopt the policies, how to manage that situation, and what to do if ultimately you need to ask a volunteer to leave.
Libraries Transforming Communities: World Café (Programming Librarian)
Join us to learn how public libraries serving large or urban communities may utilize the World Café method to create a living network of conversation around questions that matter.
Closing the Gender Gap in Computer Science Begins in Elementary School (edWeb)
Today's educators can empower and prepare their students for the future, especially girls, by equipping them with computational thinking and coding skills starting as early as kindergarten. Join us for an exciting webinar with Sarah Judd, Senior Curriculum Developer for Girls Who Code, a renowned non-profit organization dedicated to closing the gender gap in technology. Technology teachers, library media specialists, principals, and vice principals are invited to attend this webinar.
Bringing Coding to the Makerspace (School Library Journal)
In this timely webinar, you'll learn about best practices for introducing coding to your library makerspace and how you can support coding initiatives in your school or district. You'll also learn how tools like littleBits can give students the foundations in engineering and coding that will be useful no matter what changes lie around the corner.
Successfully Integrating For-Profit Board Members (GrantSpace)
New board members from the business world often speak a different language and operate from a different culture from the nonprofit board they join, which can result in a bumpy experience. This interactive session will look at how to effectively recruit, onboard and integrate such board members. The main goal is a seamless start leading to a productive and mutually satisfying experience, along with business and nonprofit professionals learning from each other and experimenting with best practices from both realms.
April 10
Revolutionizing Customer Service (Harvard Business Review)
Every organization wants to raise its level of customer service. The question is how to do it. Customer service experts Jochen Wirtz and Ron Kaufman—who are researchers, consultants, and authors—recommend revolutionizing customer service by jettisoning several conventional practices and engaging in deep cultural changes.
April 11
Fundraising 101: The Campaign Feasibility Assessment - Can You Do it on Your Own? (Charity How To)
First and foremost, the campaign feasibility assessment remains a powerful tool in nonprofit fundraising. The process helps you assess the potential success of the campaign before you invest time and resources--human and financial--into the effort. Join Heather to learn the basics of the campaign feasibility assessment and how you can assess whether you can complete it on your own or need to hire a development consultant.
Nonprofit 911: The Anatomy of a Major Gift Ask (Network for Good)
Want a foolproof blueprint for asking for major gifts? Join us for this webinar and learn how to prepare, practice, and perfect your pitch. We'll talk about common mistakes that come from inadequate preparation, and give you the inspiration and information you need to make your donors an offer they can't refuse.
Middle-Grade Reading, Spring 2017 (Booklist)
There's nothing like middle-grade reading to light up a student's imagination and pave the way for a life of reading. In this free, one-hour webinar you'll hear about upcoming middle-grade titles, perfect for grades 3—8, from Macmillan Children's Publishing, Bloomsbury, Houghton Mifflin Harcourt, Disney Book Group, and Albert Whitman & Company. Moderated by Books for Youth associate editor, Maggie Reagan.
Bozarthzone! Turning Stress into Power (Insync)
Managing stress effectively has less to do with managing external events – things you can't control – and more to do with better managing yourself. This session focuses on strategies for taking charge of your own responses to stress and turning them to more productive reactions and behaviors. Audience: All staff.
Sleeper Hits for Summer 2017 (Library Journal)
You may already know the biggest titles for coming months, the books that are best sellers before their official publication date. But what about sleeper hits, those great discoveries that librarians will want to have, though they might not know it yet? This webcast introduces you to such titles and offers recommendations from leading publishers.
April 12
Building a Digital Image Collection with Flickr: A low (or no) cost way to share your digital assets (Nebraska Library Commission)
Libraries have many options of services to store and share digital assets, including many from library automation vendors. Instead of looking at library vendors, one option is to use a photo sharing resource such as Flickr (from yahoo.com). From a very active Flickr user, this presentation will showcase how you can use this free resource to promote, organize and share your digital assets. Of particular note is using Flickr groups and tagging to make items from your collection accessible and findable by community residents as well as people all over the world.   
Managing Culture and Diversity in the Global Workplace (American Management Association)
In this webcast, we'll explore some of these challenges and opportunities and illuminate how cultures that embrace diversity and inclusiveness can yield fiscal benefits having a direct impact on the bottom line.
PubMed for Librarians: Using Evidence-Based Search Features (National Network of Libraries of Medicine)
Explore MeSH vocabulary and PubMed features that facilitate finding evidence from research. This is a synchronous online session that includes hands-on exercises. The class will explore Medical Subject Headings (MeSH) used for indexing study design and how they work in PubMed, introduce 3 PubMed products that facilitate evidence based searching, and demonstrate how to customize My NCBI Filters to quickly locate specific publication types.
Fuel Yourself to Fulfill your Mission: Self-Care Tips for Social Impact Leaders (4Good)
With so much at stake for your clients, for your organization, for your cause— it can be easy to overlook your needs! Yet, the constant state of stress and overwhelm is sapping your energy. If you're not practicing self-care, it not only affects your health but jeopardizes your ability to fulfill your core mission. You have a mission that needs to be nurtured; so you need to nurture yourself. In this session, Stress & Resiliency Coach Colette Ellis will guide you to uncover new ways to quiet your mind, rejuvenate, and find respite.
Introduction to Legal Issues in Collections Management (Connecting to Collections Care)
This Legal Issues Webinar Series is concerned with the legal and ethical aspects of managing collections. This, the first webinar of the series, will provide an introduction to the series and an overview of US and international laws and regulations that affect the acquisition, import, export, ownership, possession, and exhibition of objects and specimens, including wildlife laws and regulations that may affect artifacts or art objects. The second webinar (April 19) in the series will be concerned with ethical issues in collections management. The third webinar (May 17) will address the disposal of deaccessioned objects.
Planning for and Managing Storage for Digital Collections (Federal Depository Library Program)
Are you creating digitized or harvested digital content collections? How do you evaluate the digital storage you have? This webinar will look at various digital preservation infrastructure requirements, assess risks for digital storage media, and discuss cost-effective ways to plan and develop secure storage for digital assets.
Brand architecture: Rethinking how you connect the dots of your programs (GuideStar)
Join us for an interactive webinar in collaboration with Sarah Durham, CEO of Big Duck, where we'll define brand architecture and share insight for organizing your brand and expressing it in a clear, holistic way that your audiences understand–programs and all.
Build an Engagement Plan for Successful Outreach (North Carolina Library Association)
Outreach is critical for engaging with those who need our library services, especially when they are under-prepared or a member of a student population with unique needs. Making these connections doesn't magically happen but requires thoughtful consideration and planning! This webinar will guide you through the process of creating an engagement plan that strategically improves and invigorates your current outreach and campus collaborations. We will discuss several stages of creating an engagement plan, from the initial stage of identifying student populations with whom to connect through the final stage of impact assessment. Engagement plans are living documents that build on initial research and investigation, work through action steps necessary to achieve your outreach goals, and assess impact with new and existing data.
Engage Constituents with Your Website (Firespring)
Everything you do as a nonprofit organization leads people back to your website. It is the center of your marketing universe and the home base of your brand. Does your website captivate and engage people or is it merely an online brochure with a few photos and a mission statement? In this session, we will share more than a decade of focus group research that reveals proven methods for creating engaging websites.
Informational Books for Storytime (Infopeople)
In recent years, the number of simple informational books being published has increased. Storytimes offer a great opportunity to show parents and caregivers that these are great books to read aloud to children, and not just for homework.
April 13
The Inclusive Library – Providing Service to Your Refugee and Immigrant Communities (Texas State Library and Archives Commission)
This webinar, the third in the series, will provide practical information and resources for librarians on providing better service to immigrants and refugees in your community.
Inside Innovation Funding: Exploring Philanthropy at the Intersection of Problem-Solving, Technology and Design (GrantSpace)
Increasingly funders are experimenting with innovation funding, but how are they defining innovation, and what can we learn from approaches that are working? Building on Foundation Center's recent GrantCraft and Glasspockets blog series, funders will explain how they are applying and adapting strategies from the tech sector to strengthen and scale social sector endeavors. Topics covered will include competition grantmaking, accelerator programs, capacity building, and efforts to create a diverse and inclusive social innovation sector.
Is Your Agency Blind to Cyber Risks? (GovLoop)
Join us as government experts discuss the need for comprehensive, actionable data that will transition agencies from reactive to proactive cybersecurity postures.
April 14
Crisis in the Library: Are You Prepared? (Colorado Virtual Library)
This webinar is for the library workforce with ten simple steps to take to be aware of potential hazards and serve as a guide to actions needed to be ready for any disaster affecting the library! Participants will be shown the tools to assess risk, identify core services and resources at the library and what can be included in a one page disaster plan.
April 15
Google Training: Learn How to Use Collaborative Google Tools Step-by-Step (SimpleK12)
If you want to learn how to use more Google apps in your classroom then this event is perfect for you! We'll provide you with real-world ways to use Google Tools with your students.
April 17
It's in the Bag! Kits of All Types and for All Ages! (Idaho Commission for Libraries)
Join in this webinar to find out more about kits in the libraries. No registration required.
April 18
15 Free STEM-tastic Tools for Educators (SimpleK12)
Would you like to make science, technology, engineering, arts, and mathematics engaging and meaningful for all students? Join Todd Beard as he explores 15 free STEM-related resources that will increase critical thinking, collaboration, communication, creativity, and computational thinking. Using a cross-curricular approach, he will examine opportunities that benefit educators and students from kindergarten through adulthood. Come discover how combining state-of-the art technologies and programs with proven practices can create opportunities for achievement with real-world experiences.
Learning from Your Patrons: An Introduction to User Research (Colorado State Library)
oin us as we discuss how to conduct some basic research with your patrons to help make your website or other services easier to use.
Understanding Soft Risk in Volunteer Engagement (VolunteerMatch)
Soft risks are the attitudes, beliefs and actions that expose our organizations to risks. Those risks may include the actions of staff – both paid and volunteer, interactions on social media, lack of training for leaders and volunteers - leading to risky behavior, and how failing to screen for characteristics or "fit" can open volunteers and the organization up to risk. This webinar is designed to help attendees identify soft risks in their organization and give them the tools to make changes to processes and culture to minimize and address these risks.
10 Free Ways to STEM the Gap (SimpleK12)
Would you like to learn about ways other teachers and industry leaders are making connections using STEM education across the curriculum? Join Microsoft Fellow Todd Beard as he discusses how we can work together to "STEM the Gap" with hands-on tools and activities. Todd will cover why it is so important to immerse our students in the integration of Science, Technology, Engineering, and Mathematics. He will explain how to integrate STEM tools in the classroom so that students can create and collaborate with others. In addition, Todd will share some great, free STEM tools and resources available to students, teachers, and parents, and show how the Microsoft Education Community can help. Come discover all of this and more!
Civility Goes Viral: A New Approach for a New Era (WebJunction)
Civility is the healing power we need to counteract the divisive, fragmented forces that seem to be undermining our social fabric. Since 2006, Howard County Library System (MD) has been leading the way toward community connectedness with their Choose Civility initiative. They, along with three library systems across the country, invite you to join the movement to nurture civility in your own community. Learn how kindness creates communities, how to challenge stereotypes effectively, and cultivate random acts of civility. Find opportunities to implement Choose Civility to enhance internal and external customer service, develop partnerships and community support, and create a more connected community of people who will #choose2Bkind. Let's see civility go viral in 2017.
April 19
2020 Vision: What Leaders Need to Know to Navigate the Next Few Years and Beyond (American Management Association)
As a forecasting tool, demographics are unparalleled for seeing what's ahead in world culture, economics, politics, commerce and government. During this insightful webcast, demographer Kenneth W. Gronbach will lead you into his fascinating world of counting people. He'll explain to you why demographics precipitate economics, and not the other way around.
Using Statistical Data to Support Your Library (Wyoming State Library)
Join Thomas Ivie and Paige Bredenkamp as they look at ways the annual survey can benefit your library. The focus is primarily school and public libraries.
PubMed for Librarians: Customization with My NCBI (National Network of Libraries of Medicine)
PubMed for Librarians: Customization with My NCBI, is a synchronous online session that includes hands-on exercises. Attend this class to learn about the advantages of creating a My NCBI account, managing and manipulating settings in your My NCBI account, identifying available filters in your My NCBI account, and how to create a custom filter.
Effective Strategic Planning Part 2: Plan Development (4Good)
This webinar will look at how a nonprofit can infuse its mission into the daily activity of staff and board through a straightforward, rigorous, and even morale-building process. It will offer both a structure and tools for planning.
Re-evaluating Existing Library Spaces and Furnishings on a Budget (Demco)
During this webinar, you'll learn how to take an objective look at your library to reimagine your spaces. Interior designer Stephanie Shook will demonstrate methods for evaluating your existing building and furniture conditions, gathering objective input and creating a new experience and fresh environment for your customers, all in a budget-friendly way.
Using GIS: A Better Way to Assess Public Libraries (Federal Depository Library Program)
Using Geographical Information Systems (GIS) tools provides librarians with strong data to corroborate on-the-ground observations. GIS can be an integral decision support tool that library managers can utilize when planning strategically for the future. With GIS data, library personnel can fully understand the characteristics of the populations they serve and, in turn, develop facilities, collections, programs, and delivery points that align closely with the needs of the constituents.
April 20
Going Digital (Lyrasis)
oin us for a one hour free webinar that briefly introduces the critical components of digital content creation and collection development.
Involving your Board Members in Fundraising from Day 1 (Bloomerang)
In this webinar, Kathy Wright will show us an easy process to take your board from disengaged with fundraising to contributing at their highest level of involvement.
Turn Your Website into a Membership Growth Engine (Wild Apricot)
In this free webinar, you'll learn: Three website changes that will start attracting new members right away; How to get anyone on your board to easily make updates by themselves (even if they don't have any tech experience); The top website features our most successful clients use to drive membership growth.
Engaging Pro Bono and Skills-Based Volunteers (VolunteerMatch)
Integrating skilled volunteers into your existing volunteer program is both exciting and scary. If you're thinking about adding skilled volunteers to your program, or if you've just started, this seminar can help you make the experience successful for both the volunteer and the organization. Navigating the introduction of the idea into your organization, developing the art of delegating work to volunteers, and setting achievable outcomes will be covered.
Developing a Strategy for Inclusion and Diversity (American Alliance of Museums)
Join colleagues from the EdCom Steering Committee in this dynamic online conversation highlighting efforts by colleagues from the Minnesota Historical Society and National Center for Civil and Human Rights to create and implement strategies for inclusion, including those for increasing intercultural competence of staff, effective relationship building through community engagement, and efforts to diversify staff.
Librarian's Guide to Trade Data Part 6: Import and Export Codes (Federal Depository Library Program)
Participants will learn how to navigate the Harmonized Tariff Schedule (imports) and Schedule B (exports) by using the Headings/Subheadings, Article Descriptions, and Rates of Duty as defined by your respective 'General Rules of Interpretation' and any applicable import trade agreements, versus the 'HTS Search' and 'Schedule B Search Engine.'
How to Make Blended Learning Work in Your School (Booklist)
The blended learning approach is growing in popularity for K-12, but what are the best practices to ensure you achieve its full benefits? Don't miss this opportunity to gain invaluable insight from Instructional Technology Coach Anne Aita, who'll share how she's helped the Beaufort County Public School District (SC) successfully integrate eBooks and audiobooks into the classroom.
Quick Data Tools (U.S. Census Bureau)
Learn how to use a variety of data access tools online at census.gov that can quickly provide data. During this training we will learn about Quick Facts, Census Explorer, Census Flows Mapper My Congressional District, Easy Stats and more.
Bozarthzone! Social Media for Trainers (Insync)
Explore the use of free technologies like blogs, wikis, Facebook, Twitter, and online groups to help build communication, increase participation, and enhance transfer of training to the job. We'll both define and demystify each tool. You will get ideas for applying low-cost collaboration strategies to your own training programs—both classroom and online!
Creating Community - Promoting Choice, Voice and Connectivity via Free Apps (The TLT Group)
Join us to learn of some Apps that will help create community.
60 Tools in 60 Minutes (School Library Journal)
Get ready for a rapid fire tool share in this next webcast in the SLJ/ISTE series. We'll explore the best applications and gear for your school or library, including must-have multimedia content, cool coding platforms, and top choices for your maker space.
Veterans and Mental Health - Suicide Prevention (Infopeople)
Regardless of the numbers or rates, one Veteran suicide is one too many. In this webinar, participants will: Review recent suicide related data; Understand Veteran's increased risk for suicide; Learn how to identify, address and mitigate risk for suicide; Know where to contact the Veteran's Crisis Line; Understand trauma and resiliency. This webinar will be of interest to: library staff, volunteers, veterans and their family members, friends or caregivers who want to gain a better understanding and awareness of suicide prevention for Veterans.
April 25
7 Coaching Strategies to Develop a Positive Workplace Culture and Training Success (Training Magazine Network)
This event featuring coaching thought leader Tim Hagen will cover very specific strategies associated with the art of building a positive workplace culture. Participants in this session will emerge understanding seven specific strategies how training leaders and their managers can utilize these principles to foster greater trust, talent development, and employee retention.
More than Storytime: Outreach to Childcare Centers and Preschools (The iSchool at UW-Madison)
Outreach to childcare centers and preschools can be more than just a storytime. This webinar will help you begin to think about ways you can bring elements of the library experience, such as browsing and checking out books, getting a library card, or participating in a reading program to childcare centers and preschools in your area. Offering more than a storytime allows you to connect with children and families who may not already be library users, strengthen relationships among childcare providers in your community and the library, and spread early literacy advocacy beyond your walls.
Re-Energize your Volunteer Program by Designing Mission-Driven Opportunities (VolunteerMatch)
In this session we'll discuss creating a connection between the work volunteers do and the mission of your organization. You'll learn how to design volunteer opportunities with real impact, and how to tell the story of that impact both within your organization and to your community. Attendees will leave with sample mission-driven position descriptions and a worksheet to help craft their organization's story of volunteer engagement.
Grabbing Learner Attention (Insync)
Traditional communication and training methods for engaging and motivating employees are no longer working. Without initial attention, nothing we do really matters. This session will share simple and creative ideas that will grab learner attention and make it more fun. Techniques include both low and high tech examples, focusing on visual design and video.
Build Your Political Literacy Skills for Advocacy (WebJunction)
Advocacy efforts to sustain funding for your library are crucial in the best of times. Challenging times call for new ways to engage and activate advocates for your library. Level up your political savviness by taking lessons from successful campaigns. Whether or not you have a library ballot measure on the horizon, learn how to put these proven techniques to work for your library funding requests. Explore innovative options to energize, focus and build your skills and confidence. You'll come away with actionable tips and tools to market your library to garner a wide base of support from your community constituents.
April 26
Collecting Library User Feedback: Free! high tech and low tech options that will meet your needs (Nebraska Library Commission)
In this presentation, we will discuss our experience conducting high tech and low tech (but all free!) surveys with an emphasis on the benefits and drawbacks of each to help you decide which option is best for your needs.
Top Seven Fundraising Tips, as Featured in Nonprofit Fundraising 101 (Nonprofit Hub)
Join the former Craigslist Foundation E.D. and author of the newly-released, best-selling handbook Nonprofit Fundraising 101, as he shares practical, tactical solutions from his book that can and will help you get dollars in the door. Heyman will provide concrete tips and tools for individual giving, foundation grants, corporate sponsorship, and online campaigns, plus point you in the right direction for more information.
Lights, Camera, Advocacy to Action: Digital Storytelling for Libraries (TechSoup)
This free webinar will identify how to use digital storytelling for advocacy, as well as good practices for video production and digital storytelling. Presenters will share a list of technology tools that will help you develop top-notch stories.
The Top Nonprofit Tools Used by the Pros (Wild Apricot)
The webinar is presented by three top tech experts, who are constantly scouring the web for new and useful nonprofit tools. They've done all the searching for you, so all you have to do is show up and learn which tools will be right for your organization. In this free webinar, you'll learn: Over 30 tools that can save you and your organization hours each week; Tips for staying on top of new and emerging online tools; The number one pitfall when using and evaluating online tools.
How Natural Outdoor Classrooms Can Help Address Behavioral Challenges and Support Children's Well-Being (Early Childhood Investigations)
In this inspiring webinar. Nature education expert, Tina Reeble, will share insights, tips, and practices that will help transform your early childhood program from conflict to harmony with outdoor play and nature exploration. The webinar will explore ways educators can use time in natural outdoor classrooms to effectively reduce children's behavioral challenges, minimize conflict and, support peaceful interactions and add more joyful interactions to outdoor time. Join us to turn your attention to the outdoors just in time to transition to a new season.
All for Tech & Tech for All pt. 1 (Utah State Library)
Digital Inclusion is a hot topic in libraries these days, but what does it really mean? Join three current and former NTEN Digital Inclusion Fellows from the Salt Lake City Public Library and Salt Lake County Library Services who are dedicated to teaching and learning about what Digital Inclusion is, why it matters, and what it means for libraries. Participants will leave these sessions with concrete tools and ideas they can use immediately with patrons, and will be enabled to continue the conversation with library boards and administrators. Digital inequity often lives where it is least expected, so library staff members from all types of libraries are encouraged to attend.
April 27
7 Steps for Getting Started in Major Gifts (Even in Small Shops) (Charity How To)
This free webinar will provide you with an overview of how even small nonprofits can begin doing major gift fundraising. If you wish you could be raising big gifts for your organization but you don't know where to start, then this webinar is for you! Join us to learn 7 basic steps for connecting your organization to individuals with the capacity to make a significant gift. In this free webinar, you will learn: How to define a major gift for your organization; What 5 elements to have in place before starting a major gifts program; What your fundraising goal tells you about prospects; How to find major gift prospects to support your mission; How to build donor relationships that lead to big gifts; What you must do when planning a successful Ask visit; The best ways to thank your donors so they keep on giving.
Using Project Outcome to Measure & Build a Better Summer Library Program (Public Library Association)
Summer reading programs are on the horizon! How will you measure the success of your summer reading and learning programs? Project Outcome provides a set of tools to help you measure the outcomes of your summer programs, which can be used to make program improvements, justify funding requests, and strengthen community partnerships. This free webinar will cover good practices for administering Project Outcome surveys for summer reading programs. Learn what other libraries have done to successfully gather outcome data about summer learning and why standardized summer program outcomes are so important from the state library's perspective. This webinar will feature Project Outcome users who will share their success stories and lessons learned. Webinar participants will have the opportunity to ask questions and share their own experiences.
The Art of Coding (Infopeople)
Join us for this one-hour webinar that will cover how to facilitate a coding club or workshop in the context of art making. Presenter Sylvia Aguiñaga will explore fundamental coding concepts and how to apply them specifically to visual design.
April 28
Database of the Month: In Context (Wyoming State Library)
There are 8 In Context databases in GoWYLD.net. In this session we will look at some common features to all and some cool content within specific databases. We will also look at some of the Gale produced support materials.