Foundation Center Launches Visualizing Funding for Libraries
WebJunction
/
09 February 2017
Winner of the 2016 Knight News Challenge on Libraries, Foundation Center launches Visualizing Funding for Libraries, the most comprehensive free database of library funding that has ever existed, containing grants given to U.S. libraries by U.S. foundations. Grants data includes local, state, and national sources for public, academic, school, special collection, and government libraries. Additional demographic information can be viewed corresponding with library service areas.
While there is a long history of philanthropic funding for libraries in the United States, most public libraries rely on government funding for financial support. Local funding accounts for nearly 85 percent of public library funding, and state funding has decreased nearly 43 percent over the past decade. Philanthropic funding is an opportunity for libraries to fill gaps and continue to innovate on the services they are providing their communities.
The data tool will allow users to search and see funding sources at the national, state and local levels and answer key questions about regional funding trends. Data visualizations such as maps, network connections and partnership pathways will highlight key networks of funders and recipients as well as individual grants.  
Visualizing Funding for Libraries can help: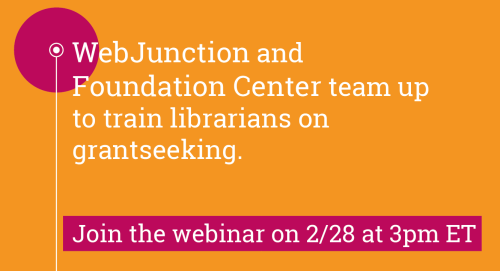 Identify and apply for funding opportunities to support innovative projects and new services for their communities.
Explore new funding opportunities to help them fill gaps in funding as federal, state, and local sources are threatened.
Learn what successful grant projects have been funded in the past to help inform future projects and proposals.
Encourage collaboration between library professionals and philanthropists to fund community-advancing initiatives.
Funders to better understand the gaps in support for communities and their libraries.
Visualizing Funding for Libraries will offer free fundraising capacity-building training through three engaging formats: webinars, in-person events, and an eLearning course. Join us on Tuesday, February 28, for the first webinar, Visualizing (and Finding!) Funding for Libraries, hosted in collaboration with WebJunction.