Feeding a Need: New App Helps Youth Find Free Summer Meals
Ariel Gilbert-Knight, Senior Content Manager, TechSoup and TechSoup for Libraries
/
02 May 2014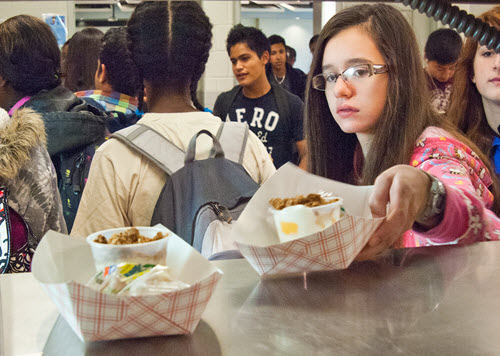 See TechSoup update, How Range Is Addressing Food Insecurity During COVID-19
Millions of low-income students rely on free or low-cost school meals. But when summer vacation starts, the school meals end. This means youth who had access to nutritious meals during the school year may be undernourished or hungry over the summer.
The good news is:  there are thousands of sites serving free summer meals to low-income youth. And there's a new free mobile app called Range that helps libraries, non-profits, faith-based organizations, and others working with youth locate those free meal sites this summer.
Food Insecurity in a Land of Plenty
The statistics on hunger in America are startling:
14.5% of U.S. households experienced food insecurity in 2012, according to the most recent data available from the U.S. Department of Agriculture (USDA).


"Food insecurity" means that, at some point in the year, a household lacked access to enough nutritious food to support an "active, healthy life for all household members."


The same USDA study showed that 10% of U.S. households with children under 18 experienced food insecurity that year. That's 3.9 MILLION U.S. households with hungry children.
During the school year, federal programs like the National School Lunch Program help close this nutrition gap by providing free or reduced cost meals to low-income students.
Lack of Food Isn't the (Whole) Problem
Come summertime, however, school lunches are no longer available. That's when the federal Summer Food Service Program steps in, offering nutritious, free summertime meals to low-income school-age youth.
There are tens of thousands of libraries, community centers, nonprofits, and other organizations nationwide that offer free summer meals for school-age youth through this program.
Unfortunately, only one in six youth who are eligible for the National School Lunch Program take advantage of the Summer Food Service Program.
Organizations like Share Our Strength say this is partly due to lack of awareness: community members in need don't know about the Summer Food Service Program or don't know where nearby free meal sites are.
This means many children and teens who regularly had access to nutritious meals during the school year may be hungry or undernourished over the summer, even when there are free meals available in their communities.
The Range mobile app helps address that awareness problem. 
A Range of Nearby Summer Meals
Range helps trusted adults in a community – such as librarians, church group leaders, youth-focused nonprofit staff, or community volunteers – direct school-age youth to sites that offer free meals.
The app was created by Caravan Studios, a division of TechSoup Global, with financial support from Microsoft Citizenship.
Marnie Webb, with Caravan Studios, refers to these trusted adults as "first referrers" because they are the ones interacting directly with youth in a community and would be well positioned to provide referrals to nearby free meals.
Range allows librarians, nonprofit staff, and other "first referrers" to:
Find meal sites by viewing a map of nearby free summer meal sites based on current location or searching by address. Free meal site data comes from WhyHunger, a nonprofit that collects data on free federal and grassroots summer meal sites. [Note: Right now Range only includes 2013 data for California because the full list of 2014 summer meal sites is not yet available. Stay tuned! The location of 2014 summer meals across the U.S. will be displayed in Range as it becomes available, starting in mid-May.]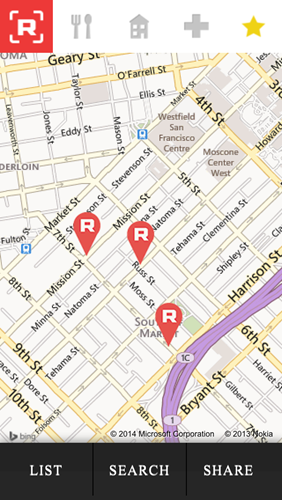 Learn more about the meal site by quickly viewing information about the location, including address and hours.


Share summer meal site info via text or email. Your privacy and the recipient's privacy are protected when sharing information via Range. Range texts and emails are sent through third party services (Twilio and SendGrid). This means your email address and phone number are not shared with the recipient, nor is the recipient's contact info stored on your device.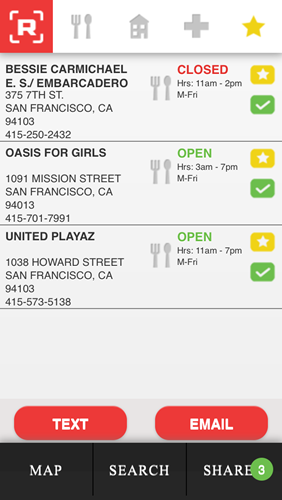 Learn More
Help youth in your community find a summer meal! Register for TechSoup for Libraries' upcoming free webinar on May 28. You'll hear from Marnie Webb of Caravan Studios, who will talk about childhood hunger and resources to reduce the hunger gap in your community, including WhyHunger.org and the Range app. Michael Cox, Director of Public Services at the Pueblo City-County Library District (CO), will share his library's experience as a summer meals site. Patrice Chamberlain, Director, California Summer Meal Coalition will share how the Summer Meals program improves access to nutritious meals and builds community in the process.
Find out more about the problem of hunger in America by exploring resources from Share Our Strength , WhyHunger, and Feeding America's Map the Meal Gap project.
Download Range and try it out for yourself. It's available for Windows, Android, and Apple devices. Remember, it only includes sample data from 2013 right now, but 2014 data is coming soon!
This post originally appeared on TechSoup for Libraries.
Images: USDA, USDA, marietta | Range screenshots courtesy of Caravan Studios