Case Study: Henry County Library System Provides Summer Food Service Program
Audry Flinn, Children's Services Specialist, Fairview Public Library, GA
/
23 January 2017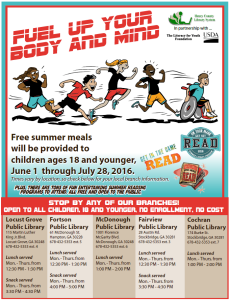 The amount of children who suffer from hunger due to near-poverty economic status has risen in recent years. It has long been the assumption that public schools are the logical place for low-income children to access additional nutritional opportunities in their communities. However, if the schools offer meals for low-income children during the academic year, where do they go when school is not in session?
Many libraries are filling in this gap by supplementing their summer offerings with US Department of Agriculture (USDA) summer meal programs, by providing low-income children with learning opportunities, healthy food and social interaction, while also facilitating community collaboration, so kids don't have to worry about going hungry during summer vacation. The objective of libraries to collaborate with community agencies in providing healthy meals during the summer resulted from the need for sites that were accessible and inviting, safe and also offering other programming activities.
In 2015, Henry County Library System in Georgia responded to the request to be a luncheon site for the USDA summer meal program. Although we received an email with a number of resources if we were interested in being involved in a public library feeding site, our library director handled all the paperwork committing the five libraries of Henry County to being food distribution sites.
As with any new program, there were obstacles to be overcome and challenges to be met in delivering free meals to our community's underserved population. Once our staff was trained, we developed a "modus operandi." The additional responsibility of offering free lunches for children over an hour or two throughout the day certainly became viable and the inconvenience was negligible.
Some resources we were given to learn more about becoming a summer meal site or supporting local summer meal programs:
USDA Summer Food Service Program website features webinars, toolkits, and a mapping tool to help determine need in the community.
Lunch at the Library website provides practice-based resources and evaluation tools to help librarians successfully partner the lunch service with summer reading and enrichment programs.
Food Research and Action Center (FRAC) website provides state-specific data, anti-hunger advocate contacts, and other helpful resources. Each June, FRAC issues its Hunger Doesn't Take a Vacation report that features a state-by-state analysis of participation trends and opportunities to reach more kids.
In Georgia, we were given the contact information of the Outreach Manager in the Nutrition Services Division of "Bright from the Start": Georgia Dept. of Early Care and Learning in Atlanta, GA; the person/organization responsible to match our library system with a summer food service provider to provide the meals in our area.
These websites have evolved in recent years to offer more Q&A and suggestions to make summer meal programs more successful. For the staff at Henry County Library System who offered the free summer food program, we made every effort to provide educational, interesting, fun and interactive programs in conjunction with the free meal available to the children that visited our libraries.
Our first summer was a little lackluster, as we simply advertised we were a free lunch site and did not know much about the children we were reaching. If we didn't know who we were reaching, how were we supposed to plan program to attract the target audience?  
However, our second year participating, we planned and advertised a variety of programs for our usual children and teen patrons either before or after the lunch serving period. By concentrating on our library objectives and reaching our local patrons, we hoped to attract a wider variety of patrons who would benefit from the free summer food program. While we advertised the summer food service program at the libraries, the best information came from those who came for our programs and additionally received free lunch, who in turn shared the opportunity with others verbally.
There were some rules that we also had to follow for providing the free meal program.
1. The summer food program is for all children under 18 years old, without discrimination. No registration or financial need requirements.
2. Every child is allowed one (1) complete meal; adults were not allowed to consume any of the food, nor was the food allowed to be carried off the premises.
3. Library staff is trained in the serving of the free meals as provided by the local SFSP partner. Being a site that did not have a working kitchen or restaurant facilities, we received pre-packed or "box lunches" consisting of a sandwich, vegetable snack or chips, fruit juice and milk.
4. The local food service partner assisted all the libraries in the handling of fresh viable lunches and storage of all perishable components of the lunches.
5. As site team members, we were required to keep statistics relating to number of lunches provided and number of children participants. Usually each library location had a designated team leader who made sure all Summer Food Service Program rules and regulations were being followed and submitted all necessary documentation regarding food handling and distribution of lunches.
The Henry County Library System intends to participate in the SFSP again in Summer 2017, in conjunction with the Collaborative Summer Library Program titled Building a Better World. Our director will work with the local organizational partner to provide appropriate lunches as an addendum to our summer reading activities; and we will again continue to plan library literacy programs for our patrons, as demographics and our summer reading program theme as possible.
"Library partners, continue to do what you do best. Direct your efforts to provide quality summer reading programs to your patrons as you always have. Focus your attention on reaching young readers. Should you choose to participate in the summer food service program, you will find that the food service details will likely fall into place, and both reading and free lunch programs will be equally successful." — Audry Flinn
Q&A with 3 Libraries on Summer Food Programs
WebJunction recently reached out to three libraries for a Q&A filled with details, inspiration and advice on participating as summer meal sites. Librarians from David A. Howe Public Library in Wellsville, NY, Boone County Public Library in Burlington, KY, and New Castle Public Library in New Castle, PA, share how each library meets the need in various ways and different approaches.
Read the full article Libraries Provide Much Needed Access to Nutrition in the Summer.