Encouraging Health Information Discovery in Libraries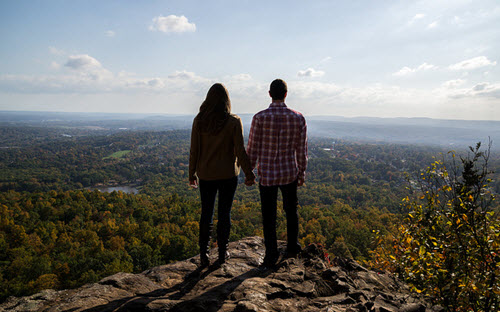 We've all heard the saying before, perhaps from an educator, a parent, or even a librarian - "You don't know what you don't know."
On the one hand, this phrase is a humbling reminder that there are limits to personal knowledge. On the other hand, it's an empowering prompt to go, seek, and discover. Information seeking behavior is highly complex and deeply theorized. Information seekers don't always know what they're looking for, nor do they always have the context they need for targeted inquiry.
This, of course, is where libraries play an essential role – by highlighting topics and resources of potential interest, and facilitating related dialogues at the individual and community level.
As a former journalist, Marjorie Ruschau came to librarianship with strong knowledge of her community and a keen sense of discovery. In her current role as Reference Librarian for Meriden Public Library in Connecticut, Marjorie develops a monthly health newsletter, in coordination with the local health department, to raise awareness of community health topics and resources.
As you can see in these examples, the Health Beat newsletter addresses topics such as safe relationships, colon cancer, stress, and asthma. In addition to providing approachable content on complex matters, this newsletter highlights library health materials and draws attention to existing initiatives and resources. Marjorie has produced this monthly newsletter for over two years, and shared the following tips for making health information accessible to your community:
Look to national or state health campaigns for inspiration
Federal agencies such as the Centers for Disease Control and Prevention, National Institute on Aging, NIH Senior Health, and Office of Minority Health often promote resources for specific health topics and populations that you can organize your library's activities around. Similarly, your state health department may also focus outreach on more localized topics.
You can stay up-to-date on priorities and resources from these organizations by signing up for resource updates, or following them on social media.
Make the information simple and visible

Marjorie intentionally produces newsletter content in a straightforward and conversational format, and keeps the newsletter brief (2 pages) by design. She also prints copies of the newsletter and makes it available in a regularly updated reference display that includes pamphlets from local health and service providers.
Due to the visibility of these health resources, the local Lyme disease support group that meets at the library knew they could engage the library as a partner not just for meeting, but for raising community awareness of this topic through sharing their collateral in the public display. There is also a link to the newly updated personal health site MedlinePlus is available from the library website.
In this way, patrons who may want health information but may not necessarily feel the need to have a conversation about it can discover topics independently.
Remain open to outreach ideas
As a front-line staff member, Marjorie is well positioned to understand and advocate for programming topics of community interest. Meriden Public Library successfully offered health insurance marketplace enrollment events with community partners, and experienced high attendance.
In providing community health resources and maintaining a relationship with the local health department, Marjorie can connect her expertise with broader programming and outreach activities at the library as they develop, in this way supporting her colleagues as well as her community.
According to Marjorie, "It's important to our library to provide topical health information to the community because there's so much bad information out there about health. Some websites pass along myths or just quack cures. As librarians we can point the public to information from reliable sources and where to go for more."
WebJunction's Health Happens in Libraries project has developed a number of resources to help you encourage health information discovery through your library, whatever your role may be.
Most recently, we've added a media kit, with Health Happens in Libraries imagery available for download, and a communications guide that can help you focus your library's health engagement strategy around core messages.
We're also hosting a webinar on June 11 at 2:00 PM Eastern Time focused on Launching Community Conversations with Local Health Data, and are always eager to see and share ideas of libraries contributing to community health activities using the Twitter hashtag #libs4health.
Thanks to Marjorie for sharing her story – you too can reach out at any time to tell us yours!