Easy, Powerful, and Free: Sign Your Library Up for the Impact Survey
Anna Shelton
/
10 September 2013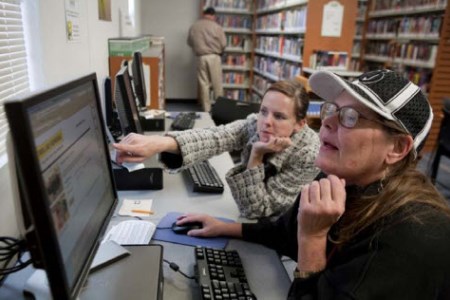 Access to computers in public libraries changes lives. The landmark study Opportunity for All (2009) illustrated this decisively, with compelling national findings about the extent to which library computers are used to gain admission to college, obtain employment, and more. A newly updated tool, the Impact Survey, makes it nearly effortless for libraries to capture powerful local statistics about the outcomes people experience using public access technology at their library. Survey results can be used to better understand patron technology needs, plan services, and advocate for library resources. The Impact Survey takes patrons about 8 minutes to complete and requires very little staff time to administer. Each public library in the US is eligible to participate for free through July 2014.
How it Works
Samantha Becker, Research Manager for U.S. Impact Study at the University of Washington, provided an overview of the Impact Survey in a recent WebJunction webinar and emphasized how simple it is for libraries to get started. Your library creates an account which doesn't take very long to set up, and is given a few lines of unique HTML code. When the library is ready to start surveying, you just cut and paste the code in your library's website to allow library users to take the survey online. Becker recommends keeping the survey open for 2 to 6 weeks. On the last day, delete the snippet of code and the library website returns to normal.
When Becker described what happens next, you could have knocked me over with a feather. The day after closing the survey, you get a suite of professional, full-color reports customized with your library's survey results. In addition to graphs and charts analyzing your survey responses, the standard reports include an op-ed customized with your survey results ready to submit to your local paper; an advocacy flyer featuring your survey results with regard to education and employment; and a ready-made presentation about your library's outcomes, ready to share with the city council, commissioners, service groups, or others. See these sample reports here. All of this is done by the survey tool, requiring no number-crunching by library staff.
One Library's Experience with the Impact Survey
Maggie Buckholz, Director of the Burlington Public Library (WA), implemented the Impact Survey a few years ago, and shared her experience with the webinar's 220 participants. Burlington is a fairly small library without dedicated IT staff. They found the survey setup fairly simple with technical help readily available from the Impact Study team. Based on the survey findings, Burlington Public Library immediately introduced some new services including "Lunch and Learn" sessions for small businesses. Technology training was reoriented to build from a basic foundation of learning to use a mouse. But to Buckholz, even more important than service improvements were the transformations the Impact Survey evoked in library staff. Survey results increased staff understanding of the important activities people perform on the library's computers, and helped elevate staff's perception of the work they do to teach computers and technology skills to the public.
The professionally packaged survey results provided Buckholz with powerful advocacy material which she shared broadly. Community leaders were impressed by the ways the library was using the data to establish budget priorities. And in the wake of successive budget cuts to the library during the economic downturn, data generated in part by the Impact Survey motivated a city department head to step forward and absorb a budget cut on the library's behalf. In explaining his decision, the department head said, "The work the library is doing is too important for the community."
In addition to commenting on how much they appreciated hearing about the Impact Survey and learning from Buckholz's experience, participants raised many good questions during the webinar discussion. Regarding cost, Becker anticipates there will be a nominal, sliding scale fee after July 2014 to sustain the maintenance costs. The survey will continue to be updated, with questions added as trends in libraries change.
Customizable, Supported Survey Delivery
Becker also explained that while Survey questions are consistent, many elements of survey delivery are customizable.
Your library decides when to survey your users. Some libraries run a pre- and post-survey around the time they make a technology change, such as establishing a computer lab. Becker encourages libraries to run the survey annually to track changes or trends.


The survey period can be extended up to 6 weeks if the desired number of responses isn't reached more quickly.


While online delivery of the survey is most popular, a paper option is also available.


Library systems can easily update branch information as locations are added or closed.


There are a variety of ways to embed the survey in a library website, including banners, a JavaScript Lightbox, and a hot link. Technicians are available to help libraries with any level of technical capacity or type or website configuration. Libraries can call for one-on-one support to troubleshoot questions, including interaction with content management systems.


Language is also provided for libraries to support distribution by email.
The updated Impact Survey empowers libraries by changing the way libraries can discover and share technology service outcomes in their communities. In addition, data collected for use at the local level can be easily rolled up to state and national levels to advocate for public access technology.
Implement the Impact Survey at Your Library
The Impact Survey website will be up and running for libraries to use starting in October. For more information, and to sign up, visit www.impactsurvey.org. Both webinar presenters also encouraged people to contact them with questions: Samantha Becker at srbecker@uw.edu and Maggie Buckholz at maggieb@ci.burlington.wa.us.
To view the full webinar and supporting materials, please visit the webinar archive page.