Digital Citizenship and Public Libraries
Mantra Roy
/
18 August 2014
Just as political citizenship expects principles of integrity of its citizenry, digital citizenship refers to expected modes of conduct in the digital world.
Digital citizenship is an umbrella concept that includes the following:
Preparing technology users for a society full of frequent technological innovations
Guiding technology users to become responsible and safe users of technology
Educating digital literates about making sound decisions regarding use of technology
Teaching digital natives how to be safe in an online world with respect to privacy issues and how to behave appropriately online
Teaching digital immigrants how to navigate technologies like social media tools to present themselves in a digital world
Informing technology users how to analyze and evaluate digital information
Recognizing teaching tools to help the wide range of technology users
Identifying teaching methodologies to reach the digital literacy needs of the community
Many school and some community programs have engaged with digital citizenship because they recognize that everyone in the community must understand their rights and duties as digital citizens. The emphasis has been primarily on young children (mostly digital natives) who find their sources of academic information online, who engage with social media at a younger age than others and thus should understand how to keep themselves safe, and, finally, who should recognize the impact of their digital footprints. Middle and high school children explore the Internet for research projects; so, it is essential that they recognize reliable sources of information and use the information responsibly. Issues of cyber-bullying and online predators are real concerns of parents and teachers and they would want to keep their children and wards safe and risk-free as they engage with the online world. Finally, what children say to each other online leaves footprints that can affect others seriously. So, they must be informed about the need to be polite and well-behaved identities on the internet.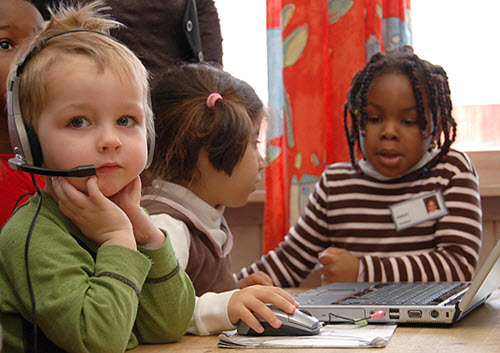 Resources such as Common Sense Media and Educator Innovator offer several programs to educate and guide school children. Thinkers, teachers, and educators in the field also believe that adults who are new to the digital world must also be oriented in the norms of navigating the online world. So, parents, other adults, and senior citizens must also be educated in digital citizenship. For example, in order to understand how your children use Twitter or the messages they receive, adults must understand these new technologies themselves in order to protect their children. What does an online avatar mean and when can it become offensive? Sometimes, children will not know they are being insensitive. It is parents and teachers who can point it out only if they know what creating avatars means.
Libraries offer different types of community services which are attended by community members of various groups, viz. age, ability, ethnicity. We attend to their language skill needs, their creative needs through makerspaces, and their technical literacy needs by checking out iPads and sometimes Google glasses.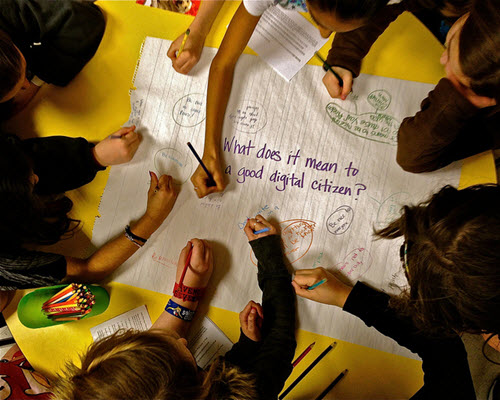 If we offer sessions on how to become digital citizens in order to understand their roles, rights, and duties in the online world, children, adults, and senior citizens will benefit immensely.
Is your library providing programming or services to address Digital Citizenship?
Many libraries offer digital literacy services to those learning more about technology (see WebJunction's webinar on libraries' responses).
But do any offer programming on how to become digital citizens in order to understand roles, rights, and duties in the online world, whether for children, adults, and senior citizens?
We want to know! Please contact us if you have resources or programming ideas. We'd like to showcase what public libraries are doing in an upcoming WebJunction article or webinar.