Covering the Basics: San Antonio Public Library Connects Patrons to Health Information
Liz Morris
/
13 November 2013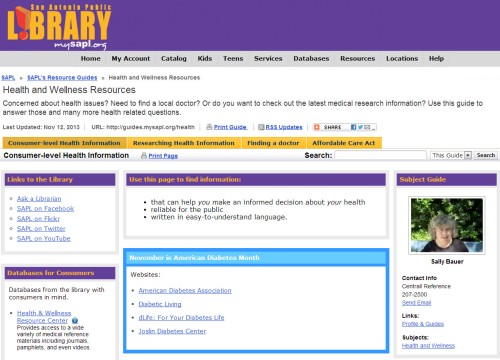 When it comes to health information services, San Antonio Public Library (SAPL) has their patrons covered. Sally Bauer is a reference librarian at SAPL. She maintains their online health and wellness resources for patrons, as well as supports library health programming. In an effort to be as accessible as possible to SAPL's diverse community, the online health resources are organized in categories such as consumer-level health information, researching health information, finding a doctor, and the Affordable Care Act (ACA). The online health and wellness guide also includes a rotating monthly health theme, with related topical content. Many of the resources include annotation, so that patrons can understand the type of information associated with each resource and navigate the site accordingly.
Library programming for health includes sessions on prevention and management for conditions such as diabetes, as well as support for those impacted by Attention Deficit Disorder or Alzheimer's. Programming has been conducted in partnership with local organizations, such as WellMed Medical Group, the Red Cross, the American Heart Association, and Susan G. Komen for the Cure. This commitment to providing health information services at SAPL made the evolution to providing ACA resources generally smooth. According to Sally, "Health information services are important to us because we are often the first place our patrons come to for this information, and we take this responsibility very seriously."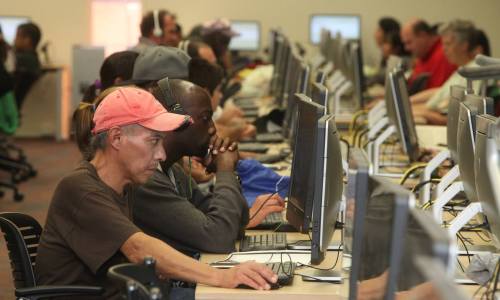 In order to support patrons with ACA information, the SAPL system has dedicated computer space and time at four branch libraries exclusively to provide access to the marketplace at HealthCare.gov. Application assistance at these locations is provided by a local marketplace enrollment team from Cognosante. Cognosante is one of many official consumer assister organizations that can be identified through the zip code locator tool at HealthCare.gov. These dedicated application spaces at SAPL branches are available to all community members, regardless of their library card-holder status, and are provided in addition to general computer and Internet access at all library locations. SAPL has also provided space at their Central Library for trained assisters from the City of San Antonio's Department of Human Services to support community members with ACA needs, aligning with the city's broader enrollment efforts.
Library staff members are available to direct patrons to this diverse enrollment support provided at the library, as well as inform patrons of local application and enrollment assistance locations elsewhere in the community. All of this information is clearly laid out for patrons and library staff alike at SAPL's ACA resource page, which has been heavily trafficked since the start of open enrollment. SAPL's efforts were highlighted in a local news story, emphasizing the critical computer technology access gap that libraries nationwide are filling through their provision of public computing for diverse services, including health information.
Through their experience providing health information services in multiple formats, as well as their established technology infrastructure and partnership capability, San Antonio Public Library is well prepared to meet community needs regarding the Affordable Care Act, now and in the future.