Free Consumer Health Information for Libraries and Patrons
Faye Williams, LaJoy Mosby, Leah Castaldi, Annie Osorio, Knowledge Center Library
/
04 April 2016
The Office of Minority Health Resource Center's Knowledge Center Library aims to reduce health disparities in the United States, serving as a resource center for individuals and as an excellent resource for library staff. Public libraries can use these resources for inspiration or support in answering consumer health questions or in developing community health programming for minority populations. A large resource collection and confidential access to information are great assets your library can tap into for free.
April is designated as National Minority Health Month. This year's theme, "Accelerating Health Equity for the Nation," is particularly significant for the Department of Health and Human Services Office of Minority Health, since it also marks the 30th anniversary of its creation, following the 1985 release of the historic "Report of the Secretary's Task Force on Black & Minority Health." This document also is known as "The Heckler Report," in recognition of Margaret M. Heckler, Secretary of Health and Human Services at that time.
Regulations for the office required the establishment of a resource center that would provide information and education to the general public, with the objective of reducing health disparities in the nation. In 1987, the Office of Minority Health Resource Center (OMHRC), including the Knowledge Center Library, opened its doors. As librarians, we are particularly proud that a federal office, with such impact for so many citizens, was established as a direct result of findings published in a government document.
Large collection dedicated to health issues for minority groups
As a nationwide service of the HHS Office of Minority Health, the Resource Center provides access to a wide variety programs and operates as a contractor to the federal government. In addition to the Knowledge Center, OMHRC provides a variety of services for health professionals and the community. These include helping nonprofits to improve their organizational capacity in serving their respective communities, providing funding and health information resources for health professionals and the general public via a free 800 number or email, exhibiting at national and minority health conferences, and developing health campaign materials and social media strategies for use by health organizations.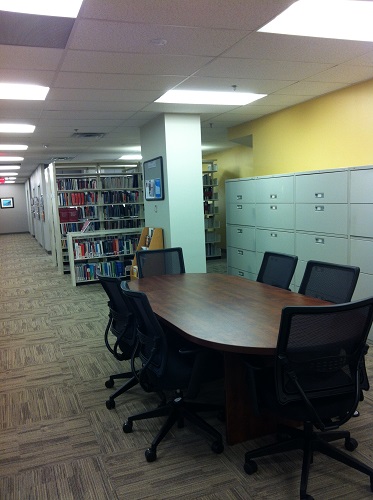 The Knowledge Center collection is the nation's largest repository of information on health issues specific to African Americans, American Indians and Alaska Natives, Asian Americans, Hispanics, Native Hawaiians and Pacific Islanders. The non-circulating collection consists of more than 55,000 documents, books, audiovisuals, indexed journal articles and organizational records, which are continually updated. Consumer health brochures in 35 different languages, with active links to the full text document, can be located by searching the catalog. Also, the Knowledge Center stores more than 600 digital documents in our Internet Archive collection.
In 2010, we initiated an aggressive digitization program, so that more government documents and open access grey literature in our collection would be available online and preserved long-term. Now, over half of the collection has been converted and is publicly accessible through the online catalog via the Office of Minority Health Resource Center website.
More than a knowledge repository
The Knowledge Center is more than a repository. We also contribute to outreach and educational activities of the office by reaching out to libraries in support of both research and consumer health services. We exhibit at major library conventions such as the American Library Association (ALA) Annual Conference, Public Library Association (PLA) Conference, Association of College & Research Libraries conferences, Medical Library Association Annual Conference and the Joint Conference of Librarians of Color.
This year, you can visit our exhibit booth at the PLA Conference in Denver (CO) and the ALA Annual Conference in Orlando (FL). We have sample bibliographies and will provide live demonstrations of our online database. We also have presented posters and speaking sessions at a number of conferences and are excited to be presenting a poster session at the International Federation of Library Associations World Library and Information Congress, in Columbus (OH) in August 2016.
Our communications and graphics design teammates have been extremely supportive and imaginative in promoting the library and its collection. A series of small efforts have resulted in continually increasing use of our website content. For example, they developed a widget that can be downloaded from our website and posted on another website or LibGuide. The widget leads to the catalog search page and to statistical profiles of various disease conditions. This is yet another example of librarians reaching beyond their usual limits, since the librarian researches and updates these website statistics! Furthermore, we are included in the office's social media efforts on Twitter, YouTube and Facebook. Look for our librarians' Twitter Chat later this year!
Additionally, our staff submit weekly summaries on new documents added to the collection to the FYI Weekly Health Resources and the monthly Health Equity Link, which are distributed to thousands of subscribers. A monthly "New Acquisitions" list is posted on the website and disseminated to our entire email subscriber list via GovDelivery. We write occasional blogs for the website and have developed bibliographies, brochures and bookmarks to hand out at various conferences and training events.
Free and confidential access to information
OMHRC also is tasked with facilitating access to information on affordable health insurance, particularly for minority groups and limited English proficiency populations. Many resources are found by searching "ACA" in the library catalog or by calling the 800 number. Another example is available on our website—the ACA Resource Kit. The website also provides a simple portal for locating consumer-level materials regarding the ACA, see http://www.minorityhealth.hhs.gov/mycoverage.
OMHRC provides free and confidential information services to the public via e-mail, mail and the toll-free telephone line. Bilingual (English and Spanish) information specialists are available from 9:00 a.m. to 5:00 p.m. Eastern time, Monday through Friday. The toll-free line is accessible within the continental United States, Alaska, Hawaii, Puerto Rico and the U.S. Virgin Islands.
Some examples of information services available are health clinic and health organization referrals, consumer health information resources, grants and scholarship funding searches, and customized database searches on the latest minority health information on a variety of health conditions, issues and resources. We can mail out limited quantities of health-related brochures in support of health fairs and educational events. All services are free of charge to the general public.
The library reading room is open to the public. Appointments are requested to ensure that a librarian is available to assist patrons while using the physical and digital collection.
Contact us at:
Call: 1-800-444-6472 (English and Spanish)
TDD: 301-251-1432
Email: KnowledgeCenter@minorityhealth.hhs.gov
Website: http://minorityhealth.hhs.gov
Location:  8400 Corporate Drive, Suite 500, Landover, Maryland 20785
Faye Williams, M.S., has been the Knowledge Center Manager for the Office of Minority Health Resource Center since 2006. She is responsible for subject research, library digitization programs, collection development and library outreach services. Williams graduated with a B.A. from the University at Albany (NY) and an M.S. in Library Science from Simmons College, Boston (MA).
Acknowledgements:
Thank you to OMHRC staff for their contributions: LaJoy Mosby, Deputy Project Director, Leah Castaldi, Technical Services Librarian and Annie Osorio, Digital Access Librarian.

Photos:
Top: OMHRC staff Maria Bonet and Teddy Owusu respond to inquiries.
Middle: OMHRC Reading Room
Bottom: Staff with exhibit booth: (l to r) Leah Castaldi, LaJoy Mosby, Annie Osorio, Faye Williams