Connecting in California: Partnering for Impact
McCrae Parker and Liz Morris
/
31 July 2014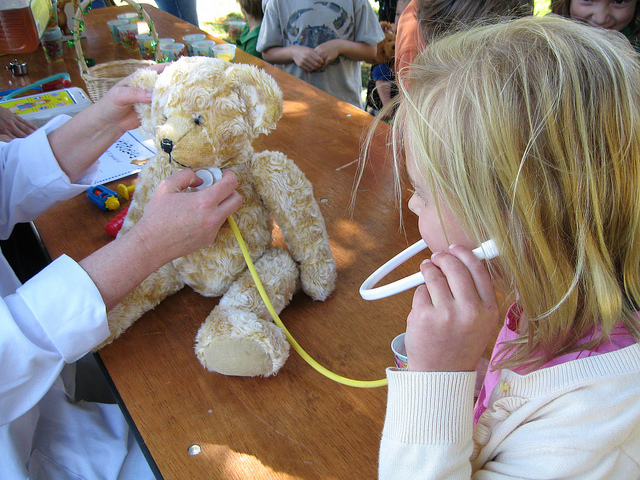 Members of the Health Happens in Libraries team met with representatives from Infopeople and Covered California in May 2014, to explore factors that supported the highly successful collaboration between California public libraries and Covered California during the initial enrollment period of the health insurance marketplace established in California as part of the Affordable Care Act (ACA).
State of the State
California was the first state to set up a health insurance marketplace. Launched in October 2012, Covered California was designed to serve as a marketplace for eligible Californians to evaluate insurance options, purchase plans, and secure coverage for themselves and their families. From inception, a key feature of Covered California was the development of an online marketplace portal. However, marketplace officials recognized that personal connection would be vital for effective use of the online portal, and Covered California identified public libraries, faith-based organizations, and colleges and universities as key targets to create those connections through community-based outreach, education and enrollment efforts.
Finding Solutions through Strategic Partnerships
Recognizing that libraries would play a critical role in bridging information gaps and the eventual use of health care options, Infopeople, as the continuing education arm of the California State Library, developed custom resources for library staff to better assist patrons. The assets created include online resources such as FAQs, informational webinars and self-paced online training modules for public library staff to develop their own knowledge and skills regarding the Affordable Care Act and other health information areas such as health literacy.
Covered California, meanwhile, engaged 60 library locations in 47 cities and 9 counties to support enrollment. Between January 2014 and March 2014, 221 enrollment events occurred in California public libraries, with 1,980 consumers enrolled in coverage and 4,252 receiving outreach and education as a result.

Covered California's library engagement approach was informed by recognition that libraries were already a trusted source for reliable information and education services, located in ZIP codes and communities that Covered California had identified as priority areas for outreach, and could provide communities physical access to in-person education and enrollment assistance due to their meeting spaces and accessible hours.
Libraries provided Covered California with much needed venues for gathering community members, sharing promotional materials (signage, brochures, etc.) and access to Internet connected computers for education and enrollment activities. Covered California, meanwhile, provided libraries with communications and follow-up support, including connections to multiple media outlets (traditional, ethnic, and social media groups included) to increase the impact of the events. Together, libraries and Covered California were also able to leverage social media's sense of immediacy to generate and maintain continuous momentum. Most importantly, Covered California ensured appropriate levels of qualified in-person assistor staff for each event in the form of trained educators and enrollers, coordinating culturally competent and multilingual assistance in order to make the experience as customized as possible for each customer.
Looking Forward
Areas identified for improvement and greater synergy in future enrollment periods include coordination of outreach events with other library events, such as holding an enrollment event after a library open house. The continuum of engagement that leads to enrollment will also continually be prioritized by Covered California and library partners, specifically, focusing intentionally on outreach, education, and enrollment as distinct milestones for engaging community members in marketplace options. During initial open enrollment, it was often the case that an individual received information about the marketplace, returned home to digest the information with family, then returned with questions and required additional time to make their final decision to enroll. Key to this decision-making, beyond trusted enrollment advisors, are community-specific influencers, such as ministerial staff at local churches, campus bloggers at colleges and universities, and block captains for neighborhood groups who can be engaged to increase the effectiveness of outreach and enrollment events.
Best Practices for Success
Together, Covered California and their library partners modeled key building blocks for successful collaboration, and libraries were further supported by the proactive resources provided by Infopeople.
At its most effective, collaboration builds on foundational elements of networking, coordination and cooperation and enhances the capacity of each organization for mutual benefit. It encourages partners to maintain a shared vision and align resources to make results as impactful and sustainable as possible. The library's ability to emphasize custom patron engagement along with factual awareness is a critical contribution. The clarity of roles and resources that Covered California and their library partners brought to their work in marketplace enrollment serves as an excellent reminder of the reciprocal possibilities that exist in serving priority community needs.