Building Rural Prosperity with the Rural Information Center
Anna Shelton
/
29 December 2014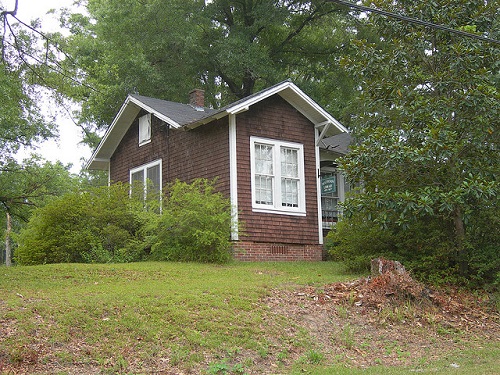 Perhaps especially in rural communities, libraries provide key points of connection with the broader world, serving as windows on faraway places, other cultures, and diverse perspectives. But libraries can also help deepen our ties to the places we live, discover new things about our own backyard, and build connections in our own communities. For people living and working in rural areas, the Rural Information Center (RIC) offers one way to connect with world-class expertise on issues and opportunities specific to rural life. 
RIC is a service of the National Agricultural Library, and was established in 1987 in response to the farm crisis of the eighties. A recent webinar by Mary Louise Reynnells, Technical Information Specialist at RIC, highlighted a plethora of resources available through the center. RIC provides personalized help by phone, email, or mail in response to patron inquiries on topics including small farm funding resources for disaster assistance and business planning and how to get help buying or repairing a home in a rural area. In addition to being a great reference source for individual library users, RIC also serves as a starting point for rural libraries, businesses, community organizations, and emergency responders seeking funding and other resources.
Find funds for rural issues
RIC does not provide any funding directly, but RIC staff have helped locate public and private funding resources for many rural projects, including roof repair on a rural library housed in a historic building, fire and rescue academies, a renewable energy training center, improved transportation services for people with disabilities, and expansion of a business incubator program. Being in touch with such a wide variety of projects has given RIC broad perspective on what it takes to prepare successful funding applications. Reynnells stressed the importance of being prepared to describe the community impacts that funding will bring.
Libraries and individuals can bring their funding ideas to RIC staff and ask for help finding resources, examples, and best practices. One tip Reynnells shared for rural communities is to become familiar with the entire funding landscape – loans as well as grants, since "usually there is not just one magic bullet in funding." Both loans and grants are included in RIC's Rural Federal Funding Database, which provides a curated view of rural-focused programs pulled from the catalog of federal domestic assistance. Data is updated quarterly, and anyone can search using key words or browse by department.
Reynnells noted two USDA programs that can be used for funding of rural libraries, and invited people to contact RIC with questions about either program:
The Community Facilities Loans and Grants for Rural Libraries program includes both grant and loan programs that can be used for brick and mortar construction as well as enhancing and improving public libraries through purchases of equipment, shelving, computers, A/V, distance learning equipment, and even bookmobiles.


The Distance Learning and Telemedicine (DLT) Grant Program can help cover equipment and wiring needs to support distance learning, including possible grants for libraries working with schools, community colleges, or businesses to provide distance learning.
Connect with rural experts

Although funding information is the number one request received by RIC, it offers a much wider array of resources, including case studies, models, best practices, planning tools, referrals to experts, and more. RIC provides a calendar of upcoming events on rural topics and hosts an online guide to help address the perennial and complex question, "What is Rural?"
In addition, RIC's parent organization, the National Agricultural Library, offers a wealth of other relevant online resources including:
An Agricultural Thesaurus and Glossary in English and Spanish
Databases such as PubAg (including 40,000 full-text journal articles on agricultural research) and AGRICOLA (citation database)
Datasets including LCA Commons (the first open access life cycle assessment dataset for North America) and work toward I5k (a project to map the genomes of 5,000 insects).
For a complete set of resources from this webinar, please visit the webinar archive page. This webinar was hosted in collaboration with Association of Rural and Small Libraries (ARSL). ARSL members can connect with other rural and small libraries around the country through a members-only listserv. The next ARSL conference will be held in Little Rock, Arkansas on October 1-3, 2015.