Bike the Branches at Brooklyn Public Library
Jennifer Peterson
/
20 July 2017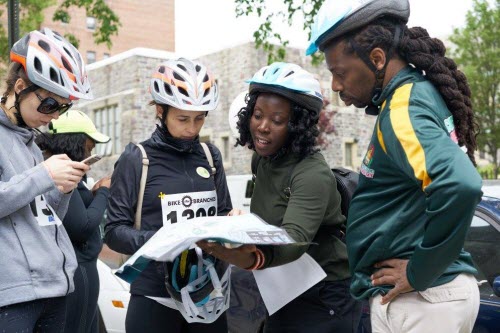 On May 20, Brooklyn Public Library (BPL) hosted the fifth annual Bike the Branches event, a day-long bike ride through BPL's 60-branch system, including a race for both amateurs and professionals, self-guided tours for the more leisurely bikers, and events and activities throughout the system for 35,000 visitors of all ages.
We wanted to highlight this fantastic fundraising event and share some of the details so that other libraries might be inspired to host their own bike-related events.
Registration costs were $20 for adults, $10 for children and $100 for VIP tickets. All riders were provided with a library "passport" to stamp at each branch they visited and prizes were awarded to adult, child and team winners. Participants were given from 10 am to 5 pm to visit as many borough libraries as they could.
There were a number of Bike the Branches Tours hosted in collaboration with community organizations, like the Prospect Park Alliance and Brompton Bicycle, who also awarded two of their $1000 folding
bikes to the winners in each of the amateur and professional categories. And earlier in the week, the New York Department of Transportation hosted a free helmet fitting and giveaway at the library to help prepare riders for the big day.
But Bike the Branches wasn't just for cyclists; non-riders were invited to join in with numerous activities throughout the system, including morning yoga, a carnival, story times, scavenger hunts, musical performances and more. The event culminated in a block party at BPL's central library, featuring live music, a beer garden, food vendors and more.
The library invited the community to share their Bike the Branches photos on social media, with the #BiketheBranches hashtag. The library shared a wonderful album of photos from the day and Windsor Terrace Branch posted a short video montage.
Bike the Branches – About the Ride and FAQ
BKLYNER preview of the event
Brooklyn Paper coverage of the event