Big Talk (Ideas, Collaboration, Difference) from Small Libraries 2016
Erin M. Schadt
/
09 March 2016
The fifth annual Big Talk from Small Libraries online conference was once again a showcase of the great work small libraries do across the United States and Canada. On February 26, 470 attendees from all over North America listened to 12 speakers from small libraries or who work directly with small libraries.
The conference is organized and hosted by Christa Burns and Craig Lefteroff of the Nebraska Library Commission and is co-sponsored by the Association for Rural & Small Libraries.
Individual presentations and slides are available to watch on demand on the conference website.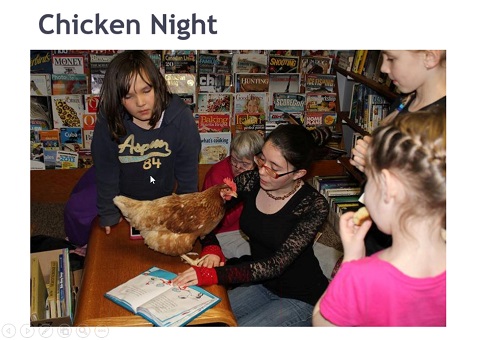 The day started out with the engaging and informative presentation Transforming Your Library from Lovely to Lively! by Kathie Hogan, Program and Communications Coordinator, Powassan and District Union Public Library, Powassan, Ontario, Canada (population served: 7,500).
Hogan shared how her library went from stagnant to vibrant by adding programming, outreach and marketing. From offering conversational French and yoga classes to how to raise backyard chickens, cocktail parties and a murder mystery night, the Powassan and District Union Public Library has tried it all!
Hogan specifically presented and expounded on 10 hints to become a community hub:
1. Go Slow. (It takes time for both patrons and staff to make the adjustment.)
2. Communication. (Consistency is key.)
3. Social Media. (Post as often as you can, use real photos and have personality.)
4. The Media. (Build relationships and get them involved.)
5. Experiment. (Take it to the streets—get out.)
6. Atmosphere. (Talk to and get to know your patrons.)
7. Businesses. (Align your goals with theirs.)
8. Read UnSelling. (Required reading at her library.)
9. Programming. (Try new things.)
10. Have Fun! (It's contagious.)
The Road to Best Small Library Award: How Our Small Library Planned this Incredible Journey was presented by Rosemary Cooper, Library Director, Albert Wisner Public Library, Warwick, NY (population served: 23,647). Cooper described how she used the desire to be named the Best Small Library in America (which they successfully achieved in 2016) to drive decisions and programming as the library grew from a small physical space into a new library, a tripled budget and a tenfold increase in library participation.
The Best Small Library in America award, cosponsored by the Bill & Melinda Gates Foundation and now in its twelfth year, honors the top libraries serving populations of 25,000 or fewer people. Cooper talked about they worked toward the level required to have a shot at the award, how they prepared their application and what they learned about their library in the process.
For Dig Into Your History, Karyn Millikan, Branch Manager/Collection Manager, Tipton County Public Library, Tipton, IN (population served: 18,000) described how she shared her own love of genealogy by creating and securing funding for the Dig Into Your History program for girls ages 10–15. The summer-long project helped the 25 girls who participated discover a sense of who they are by finding out who they come from and to "dig" into their family trees through research, interviews and field trips. Each girl kept a scrapbook-style journal of the information she located, and they held an end party to share this information with significant people in their lives.
The noon hour featured a "lightening round" of five presentations:
In Leveraging the Power of Little, Hope Decker, Member library Liaison, Pioneer Library System, Canandaigua, NY (population served: 1,400), highlighted the advantages of being little and (much easier to navigate change; opportunity to be innovative; space to make mistakes) and how to overcome the disadvantages (limited space, staff, funding).
Amy C. Kucera, Executive Director, John G. Neihardt State Historic Site Research Library, Bancroft, NE (population served: 1,500/year), gave an overview of this special destination in northeast Nebraska that includes historic site, educational center, library, museum, garden and more. The library specializes in regional studies of poetry and prose, American Indian culture and Western History. Kucera works to create further opportunities for library development through experiences that explore the Plains Indian culture and history with emphasis on indigenous language and stories woven into Neihardt's life and works.
Karen Mier, Library Director, Plattsmouth Public Library, Plattsmouth, NE (population served: 6,502) gave an informative presentation on how to create and use Easy Group Calendars. Her library has created a community calendar on Teamup.com and shares responsibility for its maintenance with local business and non-profit groups. She has also adapted the calendar to other library uses such as scheduling staff, rooms, equipment or other projects.
For To the Big Stage on a Small Budget: From Special Collections to Archive 2.0, Julie Pinnell, Library Director, Doane College, Crete, NE (population served: 2,100) shared ideas for using student employees and available digital resources to increase access and preserve archival legacy. These ideas grew from increased interest in Doane College's Archives when both staff and budget were in short supply for making the primary resources available for research.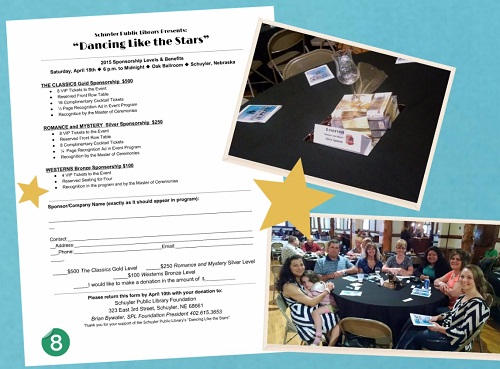 In Kicking Up Our Heels, MeMe Smith, Library Director, Schuyler Public Library, Schuyler, NE (population served: 6,211) gave a great overview of Dancing Like the Stars, a successful fundraiser put on by the Library Foundation, Library Board of Directors and volunteers. The engaging community event featured entertainers, a dance-off and a diverse mix of the town's Latino and Anglo populations that raised $8,000 for their building fund. Smith emphasized the importance of leveraging your connections and that the fundraiser was intentional in making the event inclusive of their Hispanic community, which makes up 65% of their population.
The afternoon continued with the presentation Learn More, Pay Less from Natalie Bazan, Director, Hopkins District Library and Dorr Township Library, Hopkins and Dorr, MI (populations served: 4,600 and 7,400). Bazan gave a run down on the many places library staff can find free and low-cost webinar and training opportunities available to everyone. (Hint: think WebJunction!) Whether you are looking for training on grant writing, technology, programming ideas and more, there are dozens of opportunities each month to add to your knowledge. See the presentation slides for all the resources Bazan shared.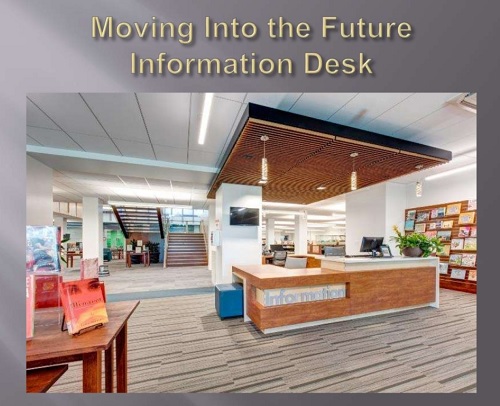 Adriane Herrick Juarez, Director, Park City Library, Park City, UT (population served: 8,050) presented Honoring the Past, Moving Into the Future, a detailed overview of the renovation of the Park City Library from historic high school, circa 1928, to a 21st Century library. The building's history was preserved while adding a coffee shop, digital media lab, high-tech community gathering spaces, increased youth services areas (including gaming), bookstore browsing displays, roving reference and expanded study areas. Along the way, a commitment to preserving the history of the building allowed it to be placed on the National Register of Historic Places. Herrick Juarez emphasized that communication to constituents was key—as well as the focus on preserving the past while creating a space for a dynamic future.
Meg Wempe, Assistant Director & Adult Services Librarian, Ruby M. Sisson Memorial Library, Pagosa Springs, CO (population served: 12,000) talked about how to create a lifelong learning lecture series in the presentation Reach Them, Teach Them: Having a Lifelong Learning Series in YOUR Library. Wempe gave examples that showed no matter the size of the library or community, there is still opportunity to create programs for adult ongoing learning. She emphasized that drawing from your own communities' human power and interest is key. When planning, ask yourself: who are the people in your neighborhood? Who in your community might be able to present at your library? What does staff know, what are they willing to share?
Examples include guests from local government such as the forest service, museums, hospitals or local colleges. She also talked about the importance of getting the word out and working with your local newspaper and media.
The last presentation of the day, Flip The Script: Changing the Direction of the Library, was an inspiring highlight of the day. Dianne Connery, Director, Pottsboro Area Public Library, Pottsboro, TX (population served: town of less than 2,000, service area about 3,333) detailed the journey the Pottsboro library went on, transforming from a library wondering when—not if—they would close, to a vibrant "no shushing" community hub.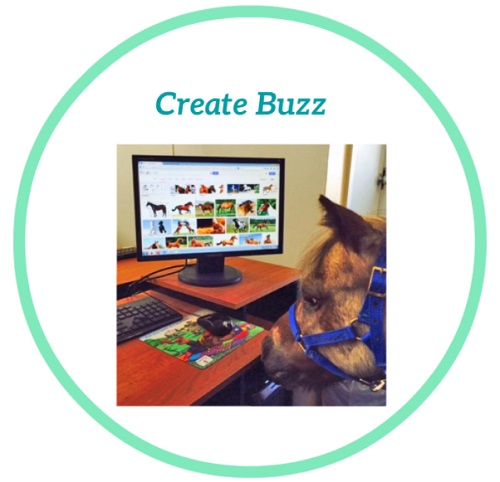 From 2010–2012 the library was preparing to shut down, and that's when Connery joined the team and "flipped the script" looking at what the needs of the community were and how the library could meet those needs. She helped shift the focus from fundraising and policy to examining what would make "the place so important to the community there would be rioting if we were to close." There were stumbling points along the way—over structuring meeting room rentals, pushback on reducing their collection (thousands of books which hadn't been checked out in a decade)—but the results have been impressive.
Connery's tips include:
Set a vision or a common goal to strive for (helps you make strategic decisions).
Build relationships within the community.
Think of the library as platform, a way to bring people together.
Stay flexible and be light on your feet. Say yes and follow things to see where they lead. (The example she gave was when they won a BestBuy grant and used it to create a teen tech program in which teens made Lego racers and videos. One of the videos won a Young Adult Library Services Association Award that came with a book, which the library blogged about. When the author of the book saw the post he had a back and forth with the library and teen that gained positive attention and excitement.)
Give people something THEY value.
Imperfect Action: done is better than perfect. "We have built an environment of experiment—lots of trying. If something goes wrong, it's a learning experience and we move on."
They have fun and take advantages of unconventional opportunities. Take for instance the image at right that caused quite the social media buzz. Miniature ponies were visiting the library for a program, and since they were planning to replace the carpet soon anyway brought in the ponies for fun and photo ops.
Overall it was a full day of interesting presentations that are well worth reviewing on the Big Talk from Small Libraries website. Individual presentations and slides are available to watch on demand on the conference website.