Best Board Games of 2015
John Pappas
/
11 January 2016
This article was first published on the Board in the Library blog. Republished with permission.
The board game hobby and industry is booming. Distribution into big box retail stores like Barnes & Noble and Target is commonplace. Numerous games are coming out each year. It is nearly impossible to play, review and then recommend which ones would be best for the library space (let alone attempt to determine which are appropriate to your library space and the community that utilizes it). That said, there are dozens of games worth discussing and recommending. The best method to determine which games to include in your library is to play as many as you can, explore what is out there and listen to what your community is looking for.
The games in this article are not the best games to start with. These are meant to supplement an already existing board game collection. If you are looking for a good starter collection for your library, check out my six-part series Board in the Library. My personal starter collection for the Bucks County Library System (PA) consisted of Carcassonne, Ticket to Ride, Splendor, Pandemic, Catan and Forbidden Island at each branch with an additional strategy and children's game. That way we have a large selection of popular family games plus a few additional ones in the system for adults and experienced gamers (Dead of Winter, Sherlock Holmes: Consulting Detective and Dark Stories).
Supplementing with a few of the best games of 2015 will keep your collection relevant for experienced gamers, and it will provide space for emerging gamers to grow into more complex and engrossing games. It also provides an enriching social experience for patrons who may not have the resources to purchase expensive games.
Enjoy my selections for 2015 and feel free to add your own favorites into the comments below!
The Strategy Game: Tesla vs. Edison: War of the Currents
In Tesla vs. Edison: War of Currents, players are placed in the role of one of the five major companies in the late 1800s attempting to seize upon the popularity and innovation surrounding the electrical business.
Players develop new technology, publicly spar through promotional campaigns and slander the competition. They purchase and manipulate stocks while trying to create successful networks and develop new projects in major American cities. In order to succeed, players recruit "luminaries." These luminaries are the inventors, newspaper hacks, engineers, innovators and financiers who will lend their considerable talents to your company's goals and allow players to take different actions.
The designer, Dirk Knemeyer, tends to adapt traditionally dry historical themes and apply an immersive level of gameplay to engage players. His games can be relatively simple to learn if you have a couple of gateway games under your belt, and the strategic depth of his games will provide ample fodder for returning players.
Tesla vs. Edison plays two to five people and lasts 60 to 90 minutes. If you currently have Power Grid in your collection and want something similar and with enough depth for experienced players, try Tesla vs. Edison: War of Currents.
Pairings: This games pairs well with Empires of Light: Edison, Tesla, Westinghouse, and the Race to Electrify the World by Jill Jonnes, Tesla: Inventor of the Electrical Age by W. Bernard Carlson and The Wizard of Menlo Park: How Thomas Alva Edison Invented the Modern World by Randall E. Stross.
The Experience Game: Time Stories
This cooperative game is difficult to define. It is more a cooperative puzzle that provides a system for new stories and experiences rather than a game a group would replay. But lack of definition is exactly what makes T.I.M.E. Stories so interesting.
You are playing what is essentially a choose-your-own-adventure puzzle where players are futuristic time-traveling cops who attempt to avoid or resolve paradoxes. The game comes with one scenario to play. Each scenario takes approximately five hours to play (don't worry, you can save your game) in which you travel to different time periods, alternate realities or genres.
Each scenario provides a mystery to figure out through a map and a series of locations represented by an array of cards, which provide a panoramic view of your present location. Each location has plenty to explore and do, and you won't solve it on your first try but don't worry...you are time travelers so you can always try again!
If your library is looking for circulating material that will provide an immersive (albeit an immersive one-time experience), a game that is ripe for expansion (each of the additional scenarios will provide a new experience...for $25), a decent science fiction narrative, or just some innovative games to impress upon patrons how much board games have indeed grown up, then T.I.M.E. Stories may be what you are looking for.
It plays two to four people and will take about five hours to complete (although game sessions can be saved so it does not require a one five-hour sitting—in fact, I would not recommend that at all).
Pairings: This game pairs well with anything Doctor Who and The Time Traveler's Wife by Audrey Niffenegger. Really, the beauty of T.I.M.E. Stories is that it could pair well with anything. Most of the scenarios are what you would expect: spooky asylum, zombie apocalypse, alternate fantasy reality...but if they did something similar to Outlander, I would jump out of my pants.
The Party Game: Codenames
I have a love/hate relationship with party games. I dislike games that play to the creative extroverts in the crowd. You end up having to do some sort of interpretive dance or make the Sistine chapel out of clay. It drains me. I also dislike word games. So Codenames (a party word game) should be far out of my wheelhouse. However, I love it. Everyone I've ever seen play it loves it. It consistently comes out at every board game event at the library.
Without a doubt, this game will become part of my starter kit. It appeals to a broad diversity of players. Do you like party games? Great, you are in! Do you like word games? Bingo, pull up a chair! Do you hate both those types of games? Doesn't matter, you'll love the interaction with your teammate and the lightly applied spy theme.
In Codenames, two teams made up of a spymaster (the spymaster knows the identities of secret agents, represented by cards on a 5x5 grid. Some are blue agents, some red agents, some innocent civilians and one ruthless assassin) and a field operative trying to determine his or her team of agents.
In the style of Password the spymaster provides single-word clues that relate to the codenames (it can relate to more than one) on the table. A team keeps on going until they fail and play moves to the next team. It is fun and think-y as you try to find the right word to alert your field operative to the proper agents. Codenames plays two to eight people, lasts 15 minutes, is simple to teach, easy to learn and fun to play. In short, the perfect library board game.
Pairings: This game pairs well with people; games, groups and parties; laughter and secrets. If you need a proper pairing, I think The Spies of Warsaw with David Tennant or the television series Mission Impossible may get you in the proper mood.
The Cooperative Game: Mysterium
Don't tell anyone, but my favorite all-time game from my childhood is Clue. I loved the feeling I had exploring a manor house, sleuthing out clues and making accusations. Mysterium provides the same deductive experience but with the addition of more engaging cooperative play, better mood-setting artwork and gameplay that doesn't make you hit yourself in the head with a lead pipe.
All but one of the players take the role of psychics investigating a murder in a haunted house. The ghost of the person originally accused and convicted of the murder is attempting to clear its name and allow its spirit some well-deserved peace. One player plays the ghost and attempts to communicate silently to the psychics who the murder was, where the murder took place and with what—pretty much the same round up as with Clue—through dreams and visions represented by a large stack of Dixit-like cards.
The images are surreal, strange and could offer many possible meanings, so the ghost can use several of the cards to get its point across. The psychics need to figure out what exactly the ghost is trying to express. If the team of psychics can solve the mystery within seven days, everyone wins!
Mysterium plays two to seven people and plays in 45 to 60 minutes. If your library has Dixit for the kids, then it certainly should have Mysterium for the adults. Also, there is no text in the game, so, like Dixit, it is completely language independent. If your library services a diverse community then this would certainly work well.
Pairings: This game pairs well with the movies Haunted Honeymoon and Ghost as well as the classics The Haunting of Hill House and We Have Always Lived in the Castle by Shirley Jackson. Give The Uninvited Guests by Sadie Jones too.
The Strategic Storytelling Game: Above and Below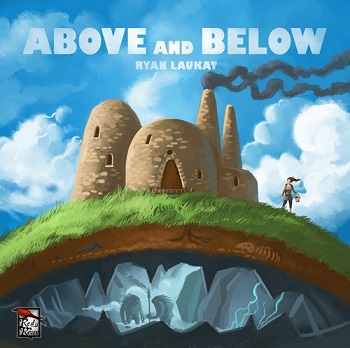 The best game I've played all year is Above and Below. Ryan Laukat from Red Raven Games designed, developed, did the artwork for and published this game all by himself, and it is amazing.
Above and Below is a storytelling, adventure, city-building, exploration game where players are each attempting to rebuild their village after a devastating attack by a horde of barbarians. Having escaped with very little (three villagers, some money and the makings for a hut), each small group of refugees eventually found a new place to rebuild. They can build and develop above ground as well as explore the vast network of limestone caverns below them. Above ground, your hard work will always be rewarded, but the caverns below contain rare treasures and resources, and they provide an amazing storytelling, choose-your-own adventure feel where you never know what you are going to find.
If you are familiar with other worker placement games such as Agricola, Stone Age or Lords of Waterdeep, the game mechanics are simple. Each player can assign a villager to a task—build a structure, explore the caverns (with at least one partner—it's too dangerous to go alone!), recruit and train a new villager, labor, or harvest. The game shines, though, when you explore the caverns where a short narrative is read from a large storybook that accompanies the game. You are provided with a situation where you need to make a choice and those choices affect the outcome of the game. Players roll dice and check to for success, adding a nice dose of luck and randomness into the game.
I will happily teach, play or narrate Above and Below. The graphic design is so intuitive, I even have a blast teaching the game. The artwork and design is simple and thematic (you can almost feel the soft warm summer breeze and hear the cold, metallic chimes drifting up from the caverns below). Unlike T.I.M.E. Stories, you have plenty of replayability with satisfying thematic narrative. If you can find it, buy it and then invite me over to play. I'm game!
The Small Box, Big Game Game: The Grizzled
The Grizzled is another cooperative game, set in the trenches of The Great War, where players are French soldiers trying to survive the war through a series of missions. Each mission is executed quite simply by discarding cards from your hands.
Each player is dealt out a series of cards with different icons on them (a shell, a gas mask, a whistle) and a background (night, rain, snow). If you have three of these threats displayed at one time, the mission fails. The game is simple, but difficult. The decisions are never easy to make, and the choices tend to lead to more difficult situations if not thought through, and decisions often require sacrifice—one wrong move will likely stack on another and another, until everyone is reading their name on the memorial.
While slightly depressing, I am enthused that a game exists about war with no actual fighting. The game is about companionship, survival and support. The Grizzled is a journey every gamer should take at least once. It was best expressed in the rulebook "At the same level as literature and cinema, games are cultural medium which is undeniably participative."
The Grizzled plays two to five and lasts 30 minutes if you are lucky.
Pairings: It pairs well with Catch-22 and Pat Barker's Regeneration trilogy (Regeneration, The Eye in the Door, and The Ghost Road).
John Pappas is Library Manager, Bucks County Free Library (PA). He enjoys talking about emerging technologies, gaming, public librarianship, outreach and zen.