Belgrade Community Library: Small and Unstoppable
Betha Gutsche
/
14 September 2015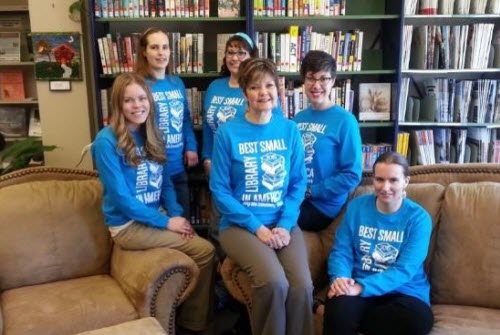 "We thought we were too small but we took the challenge. We were going to make it a celebration either way." –Gale Bacon, Library Director
In the photo at right, Belgrade Community Library (BCL) Director Gale Bacon and her staff of five are proudly wearing their Library Journal Best Small Library of the Year t-shirts. It's a compact and colorful testimony to what a truly small library can do by thinking big and embracing challenges.
In Library Journal's January cover story, BCL self-identified as the "loaves and fishes" library―operating on a small budget with few staff and not enough open hours in a week, yet they are able to offer a wide range of programs to their community near Bozeman, Montana. They tell a story of remarkable growth:
Serving a population of 12,700, they had 7,039 registered borrowers in 2014, up from 1,788 in 2000.
The year 2014 saw 81,120 visits, up from 33,956 visits in 2000.
They've seen a 204% increase in attendance at library events from 2010 to 2014.
Among many factors that contribute to their success, three stood out:
Identifying and connecting with people who are underserved by the library
Raising their hand to join and test statewide initiatives
Engaging and celebrating community volunteers and partners
Connecting with the underserved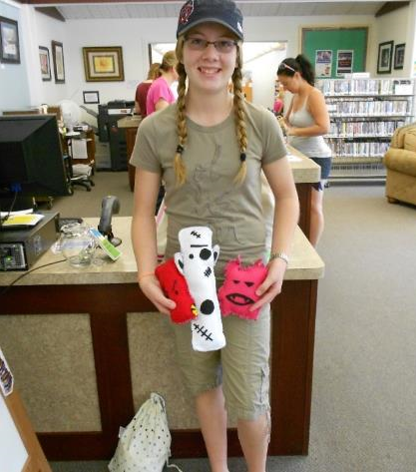 To boost the number of people using the library, BCL staff made a special effort to understand who was not using their services and then design programs to meet the needs of those groups. Their outreach to kids of military families is one great example of inclusiveness. Powered by a partnership with Operation Military Kids, Youth Services Librarian Rebecca Kamp has conducted a number of programs to create a strong and supportive community atmosphere for military families. The "Loved Ones Deployed Overseas" program brought community kids together to tell their stories and to help everyone understand each other's perspectives about deployment and loss. The result was a strengthened and unified community.
In another productive partnership, BCL leveraged the strong connections that Thrive Montana has with hard-to-reach segments of the community. "Dynamite Dads" events reached out to dads and male role models to recognize their contributions to family strength and to build peer relationships. The library also encourages parents of young children to come to the library for monthly sessions on "thriving babies," which promote early literacy practices through tactile sensory play.
Raising a small hand for big initiatives
The library is keenly aware of the importance of their role in providing technology access to the community. Thinking outside the box is their call to technology action. So when the Montana State Library launched a pilot makerspace project and offered Maker Kits, Belgrade was the first library to acquire the kits and begin delivering programming to its patrons. Now they have expanded access through strategic partnerships in the community.
Volunteer and partner power
With such large ambitions and so few staff, volunteers and partners are key to the variety of programs that BCL is able to offer. In addition to reducing the load on the handful of regular staff and there is the mutual benefit of sharing knowledge, resources, and audiences.
By securing a VISTA volunteer, BCL essentially grew its staff by one, adding a full time, fully funded position for three years.
A collaboration with teens to teach tech to adult patrons was a winner on many fronts. It bridged a generation divide, helped the teens feel valued, yielded tech-happy patrons, and the program was so successful, it has been repeated.
BCL partners with wellness clinics to provide mobile health clinic visits and fitness classes at the library.
The "Stories to Grow" program recruits volunteers to offer storytimes around the community for kids who might not be able to get to the library. It's a big capacity-expanded that takes the library service visit hundreds of children at multiple day care centers.
Most important of all, BCL takes time to celebrate and appreciate its volunteers. And they make sure the Library Board is fully aware of the value of volunteers and partners.