Are you headed to the ALA Annual Conference in San Francisco? Several members of the WebJunction team will be there and invite you to participate in these events! We'll also be sharing our thoughts and insights back with the WebJunction community in early July.
LearnRT Best Practices in Training Showcase
Saturday, June 27, 2015 – 1:00pm to 2:30pm (details)
Location: Moscone Convention Center 133 (N)
Come see the best practices of your training, learning and presenting peers at our annual showcase. Come and share your tips, tricks, things that worked and things that didn't work but you learned from at this open showcase and presentation. We want to hear how awesome you are and how you have helped your staff and community thrive.
WebJunction will have a table at this event to share great resources, and we invite you to stop by and learn about our current programs.
Ignite! Presentation: Advocacy in Action: Engage your local community to build passionate support for the library
Sunday, June 28 11:30am – 12:00pm
Location: Moscone Convention Center North, Room 130 (details)

What can advocacy efforts actually achieve? Prepare to be amazed. Join us on a tour de force of US public library accomplishments. Learn key takeaways gleaned from local advocacy efforts at 3,000 public libraries from across the US over the past six years. Discover newly revised curriculum from Turning the Page and digital resources from Geek the Library. Get data to help strengthen the case for a deeper commitment to advocacy at your library. Come away inspired by the best of the best: stories and examples of bold community transformations, powered by libraries small and large.
Health Happens in Libraries through Community Engagement
Sunday, June 28, 2015 12:30pm – 2:00pm (details)
Location: Moscone Convention Center, Exhibit Hall - Poster Session - Poster 14
Health Happens in Libraries magnifies the role of public librar
ies as key contributors to our personal health goals, the health of the communities we live in, and our collective goal of a healthy nation. The U.S. IMPACT study found that 28 million people in the United States use public library computers and seek assistance from librarians for health and wellness issues, including learning about medical conditions, finding health care providers, and assessing health insurance options. The demand and opportunity to meet community health needs is clear, and the IMLS-funded Health Happens in Libraries project serves to connect libraries to the resources to make it happen. This session will share the processes, experiences and outcomes of five U.S. public libraries of various size and location that developed, planned and implemented community-focused health activities in partnership with local organizations. These activities were designed to engage community members with the library, build strong local partnerships, and emphasize pragmatic and effective ways for libraries to address health-related service needs. The session will also highlight the project's curated collection of resources and materials that all libraries can use to confidently provide health information and services to their patrons.
The Coalition to Advancing Learning in Archives, Libraries and Museums: The View Ahead
Sunday, June 28, 2015 – 3:00pm to 4:00pm (details)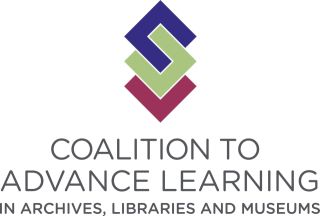 Location: Marriott Marquis San Francisco, Yerba Buena Salon 13-15
The Coalition to Advance Learning in Archives, Libraries and Museums brings together archives, library and museum organizations working in deliberate coordination across sector boundaries to devise and strengthen sustainable Continuing Education and Professional Development (CE/PD) through increased coordination and collaboration. Leaders in CE/PD will be interested in the notable progress the Coalition has made toward its vision, pursuing collaborative projects, exchanging resources and knowledge, and building communication channels and tools. Learn about the Coalition Strategy, which outlines goals and objectives, describes actions taken and lessons learned, and envisions future directions for cross-sector collaboration related to staff development. The Coalition work is currently funded by grants from the Institute of Museum and Library Services and the Bill & Melinda Gates Foundation.
Celebrate and Connect: Geek the Library and Turning the Page
Sunday, June 28 4:30pm – 6:00pm
Location: Moscone Convention Center North, Room 121 (details)
RSVP is not required, but if you could please send us an email and let us know you plan to attend, we would appreciate it!
Connect with public library colleagues who have participated in a bold campaign to showcase the library as the beating heart of their local community. Celebrate the 3,000 libraries of all sizes and from across the U.S. that have sparked sweeping change through the landmark advocacy programs Geek the Library and Turning the Page. Discover new, free digital resources and training curriculum you can use immediately. Converse with fellow public library thought leaders, including staff development champions from ALA's Learning Round Table (ALA LearnRT). Whether you're an advocacy superstar or are looking to strengthen local support for your library, join us to raise a glass to your library's future and power up for the year ahead. Because advocacy never stops.
OCLC events and sessions
OCLC is hosting many sessions and events that present great opportunities to connect with your colleagues, including a symposium on Millennials in Transition. The symposium will also be streamed live, if you can't attend in person.
Learn more about these OCLC events and RSVP here.