The Yellow Brick Road to Digital Inclusion
Betha Gutsche
/
26 July 2012
Between the National Broadband Plan, the proliferation of BTOP project implementations, libraries' continued emphasis on public access and digital literacy, and numerous community technology efforts, there is a veritable frenzy of digital inclusion activity in the country. The infrastructure is expanding and reaching more of the underserved. Opportunities for digital skills training abound.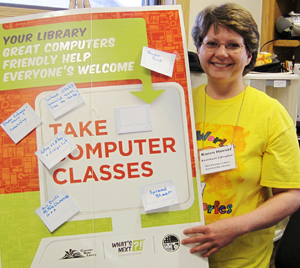 Yet, as we proceed down this promising yellow brick road toward the fully digitally connected community of our national vision, it is critical to grasp why we are headed there. Articulating the "why" is essential to getting entire communities on board, to ignite the collective quest for success through digital connection. Like Dorothy and her companions on their way to Oz, we need to be propelled forward by concrete desires and strategies for a better life:
for greater opportunities for education and career preparation (a brain)
for enhanced public safety and engagement with local government (some courage)
for enriched and extended social connections (a heart)
for a prosperous and economically healthy community (a home)
[Rate your library's digital literacy impact in the poll below and read learning successes contributed by readers.]
[Photo: Red Feather Lakes (CO) Assistant Librarian Karen Horner, courtesy of Colorado State Library on Flickr.]
The national call to action comes from the highest levels. In his 2011 State of the Union address, President Obama portrayed a future digital age for America.
"It's about a rural community in Iowa or Alabama where farmers and small business owners will be able to sell their products all over the world. It's about a firefighter who can download the design of a burning building onto a handheld device; a student who can take classes with a digital textbook; or a patient who can have face-to-face video chats with her doctor."
FCC Chairman Julius Genachowski picked up the mantra, depicting the National Broadband Plan as a "bold roadmap to America's future," invoking the image of "an America with world-leading, broadband-enabled health care, education, energy, job training, civic engagement, government performance and public safety."
In the framework for Building Digital Communities, IMLS evokes the vision of a digitally inclusive community where "all people, businesses, and institutions will have access to digital content and technologies that enable them to create and support healthy, prosperous, and cohesive 21st century communities."
Many leaders who are immersed in the pursuit of digital inclusion discern the convolutions of widespread adoption. The provocative New York Times article Wasting Time Is New Divide in Digital Era suggests that increased access to technology does not automatically translate to an increase in learning and competitive skills.
"As access to devices has spread, children in poorer families are spending considerably more time than children from more well-off families using their television and gadgets to watch shows and videos, play games and connect on social networking sites, studies show."  
Danah Boyd, Senior Researcher at Microsoft, is quoted as saying, "Access is not a panacea. Not only does it not solve problems, it mirrors and magnifies existing problems we've been ignoring." Arun Prabhakaran, project director of the successful Freedom Rings Partnership in Philadelphia, advises that "digital inclusion is not by itself the solution; it is the infrastructure for getting at the solution." In the rollout of the project to the 41% of Philadelphians who lacked regular broadband access, the partners emphasized what connection to the Internet could do to open doors for them and improve their lives.
Widespread adoption of mobile technologies appears to be narrowing the digital divide. In the past two years, there has been an uptick in adoption of smartphones by minorities. According to data from the Pew Internet 2012 Smartphone Update, 49% of African-Americans and Hispanics now own a smartphone of some kind, compared with 45% of white and Asian non-Hispanics. However, for many of these users, mobile technology is their only Internet access. As noted in Crossing the Digital Divide: Bridges and Barriers to Digital Inclusion, this form of access is limiting. They do not have a full array of digital tools for learning or career-building. Filling an online job application is a daunting task on a small phone screen.
It all boils down to helping each American find his or her own compelling reason to leap across the divide, to realize how getting connected into broader networks of opportunity will help them find a brain, some courage, a heart, or home. Here are some success stories of individuals who made meaningful connections.
A Brain
In the current Information Age, acquiring digital skills is critical to success. It opens up opportunities for education and career advancement.
Kenny is a 13-year-old who went to the Boys and Girls Club Dell Tech Lab in Oklahoma City and found solace, skills and goals for his future. After his mother died last year, Kenny was struggling each day after school, not only because of his profound personal loss, but because he didn't really fit in with many of the other teenage boys who come to the Club. He doesn't care much for sports in the gym, or pool in the teen game room. It was the Dell Technology Center, with the aid of a full-time Technology Director/Youth Development Professional, that brought Kenny to life. Now instead of dragging in the front doors of the Club after school, he walks in with a spring in his step, a smile on his face, and announcement to all "I'm here." Kenny wants to become a game development professional.
Ellen was laid off from a non-technical job in the economic downturn. Having no idea of how to use the laptop to complete an application for work, she turned to her local library for help. She arrived almost in tears from the realization that it all had to be done over the internet. After a librarian spent some time with her, explaining how the laptop works and what information she was going to need, Ellen felt better and more confident. Now every two weeks, she comes in and acts like a pro on the computer and has even helped other patrons learn how to use the e-government services.
Some Courage
This may be stretching the Wizard of Oz metaphor a bit, but increased civic engagement is a form of courage in stepping up to get involved with community issues and giving voice to one's ideas and concerns.
The St. Paul Neighborhood Network (SPNN) is a community media center that focuses on helping St. Paul "understand itself" and uses the power of media to connect with and improve the community. They work on the belief that to make an impact, it's necessary to get out and get involved. Using a variety of media tools, participants connect with community members, civic issues and cultural aspects. Brianne Jones, a senior at Central High School, says that participating in SPNN has "really shown me what I want to do with my life." To get a taste of the creative approaches to civic engagement, watch Open World Learning, a compilation of three projects from the youth Neighborhood Video Project.
Local governments around the country are eliciting more active engagement with their citizens through digital technologies. 3-1-1 Anaheim Anytime provides easy online access to ask questions or request services, encouraging residents to follow them on Twitter and send direct-message tweets. Across the country in Georgia, blogger Amy Bruckman tells her story of Twitter-enabled civic connection. As a busy mom, she was able to simultaneously give her 5-year-old a bath and participate in an interview of candidates for the superintendent position of her kids' school system. She questions whether or not this is meaningful engagement, but she acknowledges that the virtual interaction was "fun" and amped up her interest in the election. "Maybe those tiny steps do mean something in the end." Maybe the courage to become a more engaged citizen builds step by digital step.
A Heart
Social connections are extended and possibly enriched through the Internet. Although not a substitute for in-person connections, some recent adopters have been surprised by the potential of online social interactions.
One of the programs of the St. Paul-based Nexus Community Partners works with Somali women who are recent immigrants to the U.S. A leadership curriculum builds relationships among the participants and offers training sessions on a number of topics and skills building. According to program officer Terri Thao, the women "went from zero computer skills to proudly announcing 'look at our new Google group for Somali moms!'" Once they saw the computer as a tool to enhance their community connections, they soared up the learning curve.
Among the numerous successes of The Freedom Rings Partnership (Philadelphia), there is the poignant story of an older homeless man who went to one of the project's technology "keyspots" to learn basic computer skills. When he told his instructor that he had lost touch with his daughter over the years, he was encouraged to create a Facebook account. Through this social tool, he reconnected with his daughter and is rebuilding his relationship with her virtually.
A Home
As the IMLS vision states, all this digital inclusion effort is about building "healthy, prosperous and cohesive 21st century communities." This is our new community home in the digital age.
Connect Detroit is a Knight Foundation funded effort to address a divide in which less than 40% of households had broadband access. The multiple facets of the project are all aimed at enriching the community home for all residents. While the wired and wireless infrastructure is a necessary underpinning, a key lesson learned was the critical focus on digital literacy training that reveals how integral the Internet is to everyday tasks and to health and prosperity. Watch the videos to hear the stories of:
Stephen Pitts, artist and art teacher recovering from a head injury: "If I can [study] online, I don't have to leave home. Once somebody shows you how to do it, you can do it yourself and it gets easier."
Jean Caldwell, who realized that even a simple flight to Florida required an interface with the computer to check in and check her bags. Learning the computer has helped her reading skills and even led to a job. "It's that light bulb moment. You don't feel like you're just lost out here."
J-Renee Stevenson, an inspirational vocalist, entrepreneur and single mother of 3, was motivated to take advantage of the free laptop offered for completion of the basic computer class in order to help her kids with their education and to advance her own business.  "You're held back when you don't have the things that you need to make your dreams come true."
So as you send your patrons skipping down the yellow brick road of digital literacy, think about how the new skill sets will help them to find what they need to fulfill their dreams and ambitions. The digital age is ripe with opportunities to learn, engage, connect and create more flourishing 21st century communities.
Stories of Patron Success With Digital Literacy
We asked you to share stories about patrons who have been positively and practically impacted by the digital literacy training offered at your library. Here is what you posted.
1. "There is nothing like the look on a patron's face when they realize that they CAN use the computer and accomplish things that they previously thought were not achievable. Techno-phobic patrons look to our library staff as non-judgmental and helpful in all things technology, whether it's using an e-reader or filling in an online application."

2. Two recent success stories from our job seeking skills lab. The two participants came in with low skills and needed help with online job searching and resume composition.
Young, Recent Graduate Looking for Entry Level Position: Renee McAllister of Winston-Salem visited this employability lab after exhausting all other resources. While there, Renee, a recent college graduate, got the one on one attention she needed to re-invent her resume as well as polish her professional presentation through participating in various mock interviews. By adding these new skills and tools through the Computer Training Bridge, Renee had the confidence to apply, interview, and successfully claim a new career as a Medical Records Specialist at a local orthopedic surgeon's office.
Experienced, Hardworking Professional in Need of Work: When Dennis Turner was downsized by a local auto parts company, he came to the library frustrated and bitter at his former employer and the new and unfamiliar electronic job search and application process. With plenty of patience, Dennis was eventually equipped with the skills he needed to look for jobs online and even email an attached copy of his new resume to prospective employers. After devoting six months of tireless searching and re-tooling under the tutelage of the Drop-In Job Seeker staff, Dennis received a phone call while he was in the library training lab with the news that he had an offer from a Kernersville, North Carolina auto-repair shop. He gladly accepted and is currently enjoying a full time position within his field.
3. We don't have a library in our little village, but we built an online centre out of people's cast off computers and put a connection into it. We started out helping people, then they started to help themselves. And each other. The whole village is now digital. The few that aren't and totally resist the idea are left in peace, and they get their info from friends online if they need it. Many who came calling for a look left with a light bulb moment. If you find out what interests people and don't bombard them with silly online courses you can hook them. Once hooked they can find out anything they like online and they don't need you anymore. You have set them free, like a bird learning how to fly.

4. Several of our patrons have been able to locate employment. Also, we now have several patrons who can create their own ads, business cards, resumes, etc as a direct result to our Microsoft Publisher 2010 classes.

5. Our library received a "certificate of appreciation" from one of our customers in July, 2011. The following is an excerpt:
"As a result of an extended period of unemployment and using this facility as my office for a job search, I have had the opportunity to witness many examples of customer service, a sense of humor, friendliness, and adaptability to think outside the box in order to bring positive outcomes to the challenges we are faced with on a daily basis. A very special "thank you" for the opportunity to display one of my commemorative plate designs highlighting the military as part of your Memorial Day display. The ability to create the design was possible, in part, to things I learned in the free computer classes. In closing, please keep up the good work."