Making Change Happen Outside and In
Betha Gutsche
/
23 October 2012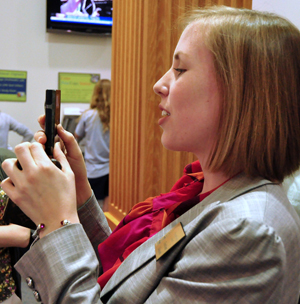 "Some people want it to happen. Some people wish it would happen. Some people make it happen." --#makeithappen tweet
[Photo: young library professional Gretchen by zsrlibrary on Flickr]
In a world of constant change, there are those who resist and there are those who are leaping forward to make things happen. Fortunately, the library field has a healthy contingent of "leapers"—library professionals who are full of ideas for how to renew and reinvent libraries and looking for opportunities to make change happen. For the leapers, the pace of change often seems sluggish and the hurdles daunting or annoying. Yet there is a kind of life force in the ideas for how to renew and reinvent libraries that keeps the bearers of those ideas pursuing ways to make them real. When librarian J. P. Porcaro seeded Twitter with the #makeithappen hashtag, it propagated an ongoing frenzy of tweets, resonating far and wide. Says Porcaro, "makeithappen is about leadership, about how you live your life, about your mind and your actions." Meredith Farkas refers to the #makeithappen meme as "a rallying cry for librarians new to the profession to let go of whatever is keeping them from taking professional risks and creating change."
Makeithappen takes a change-making path that is "on the fringes," independent of bureaucracy; action happens organically,  often leveraging social media networks. Another path pursues action within existing organizational structure, working with or around rules and long-standing processes.
On the Fringes
The social networks of the Web have provided an exceptionally fertile field for growing ideas into action. Just formulating the #makeithappen hashtag started a conversation that took off like grass fire. Porcaro identifies the social connections as a key ingredient: "be friends with people to make the emotional connection with people." Patrick Sweeney, an avid gardener in the field of ideas, comments, "it's very difficult to work within the system as an organization, but as a group on the fringes, we aren't bothered by their rules, regulations, and bureaucracy. We can just do awesome things all the time."
In the age of the Internet, many people have stretched their wings in the library field and forged bold new definitions of what it means to be a library professional. The Library 2.0 movement and the growing cadre of Emerging Leaders are full of evidence of this energy. Here are just two examples of that social network-enabled awesomeness fostered by the spirit of makeithappen.
With close to 2000 members, ALA Think Tank claims to be facebook's largest active group of info-sharing librarians. It is the result of a group of young library professionals looking for a better ALA conference experience and better support from an organization they perceived as "increasingly unresponsive to change." Think Tankers post news and events, discuss hot-button library issues, and brainstorm more ways to stir it up in library world. Congregating under the imprimatur of ALA, the group has the freedom of working outside of the organization's bureaucracy while influencing a change in the culture as their ideas spread and succeed.

Think Tanker Patrick Sweeney inaugurated the first Great Librarian Write-Out in early 2011. Frustrated by the dearth of strong positive writing about the value of libraries outside of the library world, he called for library professionals "to get out of the echo-chamber of librarianship" and get published in a non-library magazine or journal. Sweeney backed his impassioned challenge with $250 of his own money. The winner was announced at ALA Midwinter 2012 after a "year of spectacular writing from a number of amazing articles submitted from around the country." Buoyed by the success of year one, the Write-Out is now in round two, with an even larger prize. (The deadline is Midwinter 2013). Of course, the big winner here is our profession.
In the Belly of the System
Perhaps the more difficult path toward making things happen is working within a library organization to effect change. On the institutional fringes, idea propagators collect followers from all corners of the global Web, attracting the like-minded who need little convincing because they are already receptive to the new, the unconventional, the disruptive. Within an organization, the pool of followers is much smaller and the structure more restrictive.
[Photo: Change-makers Sweeney and Porcaro conduct an interview at ALA 2012]
There is abundant advice for CEOs, directors, and managers on leading change in an organization. However, for a library professional who does not have official authority, getting a great idea and taking steps to put it into action can easily run into the snares of bureaucracy and hierarchy. Emily Lloyd gave voice to the frustration of many when she asked, "what would you do if your library system wasn't wasting your talents?"
In response to the question, David Lee King outlined some of the key mechanisms by which he has managed to get permission to be a change agent for his library. A critical factor in securing permission before plunging into action is to "make sure everything I'm asking for relates to our strategic plan." Or, from a slightly different angle, convincing your director that what you want to do aligns with the library's overall strategic direction. King concedes the advantage of working within an organization that has a healthy, positive attitude about trying new things. But he has good advice for responding to a less favorable organizational culture: "Maybe your library doesn't have a strategic plan – you can still set annual goals for your job with your supervisor, and start working on those things."
Having secured administrative permission, inspiring co-workers to change may be the greater challenge. In Leading from the Library, a new "occasional" column, Steven Bell shares his insights into leadership. In the academic library environment, he has heard a recurring complaint about change-resistant colleagues who feel no motivation to buy into new ideas or participate in innovative actions. Having or building a basic relationship of trust is crucial. Yet even with a foundation of trust, it is still necessary to sell your idea, to communicate your passion and articulate why the proposed action is worthwhile. Bell recommends Simon Sinek's Start With Why (the book or the TED talk) for a better understanding of how to connect with people's emotions and get to the core of how the change will benefit them. According to Sinek, "People don't buy what we sell, they buy why we sell it." An astute commenter on Bell's column notes that a leader's own passion is not enough; it is necessary to map that passion onto the passions (emotions) of those to be led into action.
With any attempt to make it happen inside of an organization, one's people skills are the foremost competency involved. It helps to recognize and respect personality differences that influence how people react to proposed disruptions of the status quo. Creating an Organization That Lives Change identifies three camps of "change styles"—Conservers, Pragmatists, Originators.
"Originators enjoy risk and uncertainty …and prefer change that challenges current structure." As the entrepreneurs pushing new ideas into the organization, they can come across as arrogant, impractical, and dismissive of accepted policies and procedures.
"Pragmatists deal in outcomes and seek practical, functional solutions to problems." They are not necessarily the champions of change but they can operationalize actions and mediate between Conservers and Originators.
"Conservers prefer to work within the existing structure to create change incrementally." Their cautious approach to change may come across as inflexible but honoring tradition and established practice is not the same as clinging to it.
Then there are the outright Resistors to change. "It's important to remember however, that often the biggest objections to change come from the people most devoted to the company."
As the person who is stirring things up within an organization, the Originator has the main responsibility for identifying the change styles of co-workers and figuring how to work with them toward success. In other words, the Originator takes on the leadership role. Although developed for leaders with official authority, Kotter's 8-Step Change Model, offers an enduring set of strategies for implementing effective change:
Create urgency
Form a powerful coalition
Create a vision for change
Communicate the vision
Remove obstacles
Create short-term wins
Build on the change
Anchor the changes in corporate culture
In spite of a subtext of frustration that the library field is not changing fast enough, there has been tremendous change and forward motion in the last 10-15 years. It's driven in part by technological advances that simultaneously forced and enabled change, in part by the fresh perspectives of people new to the field, and in part by an increasing willingness to look beyond the library cloister to see how the outside does things effectively. The number of library professionals making it happen is encouraging. Let's all continue the efforts, adhering to good common sense steps for putting ideas into action and injecting change into the culture in the process.