M.A.P. for the Future of Online Learning
Zola Maddison
/
22 March 2013
Whether we are training our patrons, other library staff, or we are the learners, online learning is increasingly the reality for our learning opportunities. From a purely economic standpoint, online learning just makes sense as budgets continue to shrink. With an online course, we are no longer limited by geography or conflicting schedules. We can now reach more people, more times. But efficiencies do not create effectiveness. In our recent webinar, The Future of Online Learning: a Changing Landscape, Joann Flick, Continuing Education Coordinator at the Montana State Library and Betha Gutsche, WebJunction Programs Manager, explored education innovations that are increasing engagement through learner-centered discovery, flipped classrooms, and enhanced online learning.
Flick and Gutsche create a roadmap for the future of successful online learning through a process of reviewing the history of learning and technologies. Upon reflection, we realize that it is neither necessary nor possible to predict what future online learning technologies will be. Our energy is better spent understanding the practices that make learning successful and embedding those practices into the technologies we have at our disposal. Using Daniel Pink's theories on personal motivation, we can create a M.A.P. for the future of successful online learning practices—Mastery, Autonomy, and Purpose.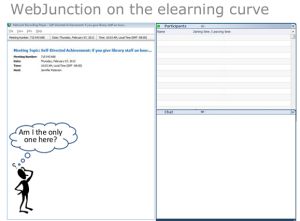 Mastery: Let's face it. Learning something new is hard. Add a new technology to the mix, and that new topic can feel overwhelming. In reality, we all want to feel confident and able to master the new challenges and topics that come our way. So how can we help learners find that sense of personal drive that allows them to persevere and achieve mastery? Game play techniques are a great way to start:
Apply collaboration: A goal is only accomplished when the team reaches it, not one person.
Level up: Learners are motivated to get to each new level, gaining upward momentum, rather than getting to a final destination.
Failing forward: We can all acknowledge the truth behind the sentiment, 'the more I fail, the more I learn'. Let's design learning in a way that makes failing fun. Think of those old Choose Your Own Adventure books.
Digital badges: Combine external rewards with internal pride of achievement.
Autonomy: We are all born with the desire to explore on our own and be in control of our own paths. How can we connect the natural instinct for exploration with directed learning? Our webinar hosts and participants brainstormed techniques to give their learners control of their learning experience:
Give them choices
Interactive
Give them time to practice
Make it available on their schedule
Just in time training
Including them in planning
Give them an open deadline
Hands on is my favorite way
Let them set time to meet online
Make it relevant to what they need
Flipping the classroom
Self-paced online learning
Record sessions so they can be accessed later
Let them select the topic of the assignment
Have a mix of instructional tactics (lecture, videos, handouts, etc)
Short sessions that are chunked
Pre-assignments on their own time to add to the discussion when we come together
Allow them to choose relevant issue during practice time
I ask them to provide examples and ask questions throughout.
Get their input on curriculum and/or assignments so it is more of a partnership
Show them and then have them do it and let them ask if they have questions
Role play in the training
Integrate social components and social web tools
Through facilitation and group activities
Let them choose topics for training
Ask them to share something about themselves
Asynchronous schedules, providing a number of options to access content
Active participation
I provide optional sessions for F2F contact for those who need that aspect in a hybrid format
I allow students to work one on one with me
24/7 available
Chunking information with pause and replay
Give alternate--sometimes extra credit--possible assignments. A menu of learning activities that accomplish same learning objectives
Validate their previous experiences.
Flexible assignments that they co-design with the instructor
Give them creative license and let them brainstorm
Give them an assignment (or maybe a choice of assignments!) where they can reflect on how new info relates to their experience and/or how they might use it.
MOOCs, or Massive Open Online Courses
Purpose: It turns out that people really do aspire to a higher purpose. In fact, we are purpose "maximizers", looking for opportunities to apply our sense of purpose.  Libraries are in a great position to leverage this purpose driven motivation, and tap into that inherent passion. We asked our webinar participants how they align a sense of purpose and social good with staff learning:
Align with competencies
Webinars in line with current goals
Make library instruction relevant to assignments
We are doing lots of cross training.  They are so proud when they help our patrons.
Embedded librarianship = Going into the community, attending community meetings, and making them aware that they serve them and how they serve them. You can use a tablet to answer immediate reference questions.
In Montana, Flick has gone from offering 1-2 webinars a month, to an average of 2 per week—and the demand is still growing. At some point, she expects the demand to level off. However, they continue to find that the more online learning opportunities that they offer, the more people attend—and it hasn't had any impact on their face-to-face training attendance numbers. Joann's theory? People love to learn! Giving them more opportunities, and the rights kinds of opportunities, encourages people to learn even more.
To learn more about best practices and new approaches for online learning, watch an archive of the video and view the related resources.
[Photos: library, courtesy of only alice on Flickr; webinar screenshots showcasing participants' mastery of online tools and autonomous learning.]