$0 Goes a Long Way for Adult Programs
Betha Gutsche
/
30 March 2012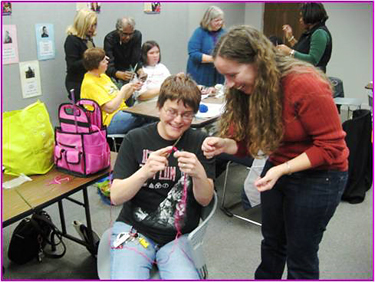 Ideas for low-to-no-cost adult programming in libraries proliferated like popcorn kernels bursting in rapid sequence at this webinar. While presenter Joey P. Holmes from the Laurens County Library (SC) described an impressive array of well-attended programs he had delivered on a shoestring budget, the audience peppered the chat window with a parade of programs they had done. The refreshing message from all sides is that every community is rich with potential speakers and performers who are happy to contribute their talents to the library for free.
Some of the more uncommon and well-attended programs from Joey:
The Coupon Lady on how to save big at the grocery store
Moonshine—its history in South Carolina
Knit Night, a recurring show and tell of knitting and fiber projects
The Rabbit Lady—yes, a Laurens County author with her rabbits
Ukulele Fun with the YesterUkes, Laurens County's senior all-ukulele band
Some of the more uncommon ideas from the audience:
"Sniff Off" contest with tea blends from a local tea shop to celebrate National Tea Month
"Dog Listener" from a local kennel
Library Literary Speed Dating Program:  bring 3 favorite books to talk about
"Parkin' lot pickin'" with 20 local musicians in the library parking lot, each performing for 10 minutes
Jigsaw puzzle exchange
Weather myths with the local TV weather lady
De-cluttering workshop from a professional organizer
Before diving into the idea fest, Joey started the webinar with a discussion of marketing and promotion of events, because, as he says, "Programs and PR are inseparable!" He sends his promotional messages out far and wide into the community on multiple media fronts as a deliberate effort to control and enhance the public image of the library at all times. When he is successful at generating the impression that "there is always something going on at the library," it raises the value of the library to the community and to political leaders, even if they do not attend events themselves. Like his programming ideas, his outreach seeks unconventional outlets, like the local Girl Scout Leaders who are always looking for free things to do with the 12,500 girls in their troops.
For the whole smorgasbord of ideas, see Joey's slides, the chat log, and other resources on the archive page.