Looking Beyond Our Borders
Zola Maddison
/
30 October 2012
Yesterday, I watched a video called Open for All. The video highlights the work of the Library Development Program, a public library initiative sponsored by the Bill and Melinda Gates Foundation, currently working with 3,300 public libraries in small and rural communities across Poland. I've never been to Poland, so I wasn't sure what to expect. What are the challenges facing rural library staff in Poland? What programs and services do their communities need? Without giving too much away, I can tell you that their challenges and their successes will probably resonate with many of you. These small public libraries are doing everything from offering computer classes to seniors, to collecting local oral histories, to training youth on animation software, to building strong community partnerships.

But why is this important? Why does looking at what's working in Poland matter to public libraries in the U.S.? Below are three reasons I believe we need to start looking beyond our borders.


Leading 21st century skills
From our local newspapers to the Institute of Museum and Library Services (IMLS), everyone is talking about the critical need for communities and individuals to develop 21st century skills in order to adapt and thrive in a global economy. If we are to position our libraries as leaders within our communities, it is then critical that we absorb, practice and model 21st century skills for our communities. Adopting a global perspective in our work can bring new ideas and new partnerships, while strengthening our 21st century skills such as communications and technology literacy, critical thinking, creativity, and global awareness.

Inspiration and innovation
At WebJunction, I'm always amazed at what happens when we get library staff together to work on common community challenges. Lists of on-the-ground solutions are developed, shared and adapted to meet individual community needs. And because these solutions are almost always developed at a library lacking resources (staff, time, money, or all of the above), they offer real world, innovative approaches that can be easily implemented. When we expand our boundaries to listen to on-the-ground solutions from library staff in other countries, we open ourselves to even more possibilities of innovation and inspiration that will help us meet—and potentially anticipate—our community needs.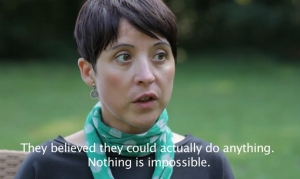 Building our momentum
The other amazing thing that happens when we bring library staff together, whether in person or online, is a palpable sense of power and momentum in the potential for libraries as community leaders gets created. I believe that this comes from the opportunity to remove ourselves from often isolating daily work and network with equally dedicated, dynamic individuals. We get more than new ideas. We walk away with renewed energy for our work and a reaffirmed sense of the monumental importance of our role in our communities. In Open for All, one library staff member echoed that same sense of possibility, stating, "In the beginning we didn't know what to do with the Internet or with a computer," but that her team later, "…believed they could actually do anything. Nothing is impossible." Expanding our network to include our international colleagues increases opportunities for dedicated library staff to engage, and through this process, we build the momentum at a global scale for strong public libraries that power vibrant communities.
[Photos: Screen captures from the Open for All video by Library Development Program]