Interpreting Data for Big Impact
Betha Gutsche
/
04 March 2013
"No matter how good your data are, you still need stories."
When the PEW Research Center issued a January report on Library Services in the Digital Age, the echo chamber of library social media was abuzz with comments like "stop what you're doing and read this report now." The library field found affirmation and encouragement in the key findings from this neutral statistical reporting agent:
91% of Americans say that libraries are important for their communities—even if they don't use them personally.
80% say borrowing books is a "very important" service libraries provide.
80% say reference librarians are a "very important" service of libraries.
98% of those who have ever visited a library say the interactions are "very positive"
77% say free access to computers and the internet is a "very important" service of libraries.
"A notable share a notable share of Americans say they would embrace even wider uses of technology at libraries."
The real challenge is to use the data effectively to communicate far beyond the library world and demonstrate the profound impact of libraries in our society. In spite of the happy statistical news, there are too many people who still hold a worn out stereotype of libraries. You can probably recount the times you've heard or read "we don't need libraries; we have the Internet." Lee Rainie, director of the Pew Research Center's Internet & American Life Project, has himself said "no matter how good your data are, you still need stories."
Panelists at the recent webinar How Libraries can meet the Evolving Needs of Patrons in the Digital Age, offered recommendations for interpreting the PEW results and shaping the data into targeted and meaningful messages to stakeholders that connect the library to the values and aspirations of the community.
Lee Rainie reads the survey results as a "loud and clear message" that the environment is stressed and overloaded, and that libraries can offer mitigation, with their special skills sets and space.
Larra Clark, program director for ALA Office for Information Technology, sees real value in the survey's information about non-users and their perceptions of the library. Libraries can use this data to show compelling evidence of their value to the entire community, including those who don't use it directly. "Data like this begs to be broadcast through social and other media," says Clark. The library brand is strong but there is more that can be done to connect it firmly with the community's priorities and to tell the story of how the library is changing in response to their needs.
Julie Hildebrand, director of Independence Public Library (KS), named LJ's Best Small Library in 2012, advises linking data to personal stories and local examples. She finds encouragement in the statistics that indicates users are open to wider uses of technology while still appreciating the reference expertise of librarians. Her rural library is now exploring new formats for resource lending (rokus, for example), expanding resources and reference services online, and devising more interactive learning opportunities for the community.
Key Messages in the Data
To help you find the stories embedded in the PEW survey and other data sources, the Gates Foundation and GMMB have compiled Communicating with Local Decision Makers, pulling out four key messages from which to craft local stories. The messages resonate on an emotional level while being solidly backed by impressive statistics.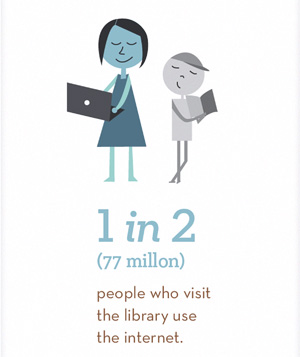 1. "Libraries are one of the few things that nearly every American can agree on."
 It is rare indeed to find 91% of Americans agreeing on anything these days. The fact that it is the importance of libraries is not a message to be overlooked.
2. "Libraries and librarians are leaders in bridging the digital divide."
Those who work in libraries are not surprised to learn that "62% percent of public libraries state they are the only institution in their community that provides free access and training to the Internet," or that "76% percent help patrons complete online job applications." Libraries know they are on the vanguard of the pursuit of digital inclusion. But does your community know this? The opportunity is ripe to connect the library's digital literacy efforts with the larger aspirations of the community to be economically vital, healthy and well-informed.
3. "Americans value library staff expertise and support meeting diverse information needs."
What an affirmation to learn that 80% of Americans think it is very important to their community that libraries have staff on hand available to help people find and use information. Here is the response to "who needs libraries we have the Internet." It seems that Americans know this; they just don't know that they know it. Let's tell them.
4. "Americans embrace increasing technology services."
While it's reassuring to hear that Americans value traditional library services and only "20% strongly support removing book stacks from public locations in favor of newer programs and resources," the data show that people are open to new uses for the library, especially related to new technologies. This is a message to take to funders. If Americans look to the library to both hold the past and pave a way to the future; that is surely something worth listening to and backing with financial support.
Build on these four messages and craft a series of stories about your community that emphasize your library as a unifying institution, which is on the frontlines of bridging the digital divide and enabling exploration of future technologies, and backs these services with helpful staff and information-finding expertise. The stories will have variations depending on the target audience you intend to reach. The consistency is in the strong underlying message that the library is central and essential to the community as we all accelerate into the future.
Additional resources:
Telling the Library Story
Archive and related resources for a webinar presented by Jamie LaRue, which focuses on turning the evidence of our daily patron encounters into short, compelling, and memorable messages that build support.
Infographics: American Public Libraries and Community Internet Access
Infographics created by the Bill & Melinda Gates Foundation that help to tell the story of how libraries support community internet access.

Data that Jumps Off the Page
Data visualization is a way of presenting data (numbers) and text in combination with images to make the relationships easy to see at a glance.