OCLC Staff's Day of Caring for Seattle Libraries
Kathleen Gesinger
/
27 October 2012
OCLC Seattle office leads two volunteer teams to support local libraries
"Thank you for your help today. It's amazing what 10 volunteers can do in a couple of hours. It would take one of our staff weeks to do what you did. We have 25 buildings and 2 gardeners."

These were the words that lingered as we headed back to our OCLC Seattle office after a morning volunteer project at the Seattle Public Library, Douglass-Truth Branch. Three weeks earlier, another group of our staff participated in a gardening project at an equally beautiful Seattle landmark, Rainier Beach Branch. It was part of the United Way of King County's Day of Caring, with the direct support of OCLC to contribute our working hours to these public libraries. Members of the Seattle Product and Development Teams for CONTENTdm, ILS Sync Gateway, and Record Builder joined members from WebJunction and the Community Relations Team.
[top photo: Day of Caring leader and organizer Kathleen Gesinger, Partner Services Manager for WebJunction, cleans up the weeds at the Douglass-Truth branch of the Seattle Public Library.]
25 buildings and 2 gardeners.  Each time we finished up our morning effort, a little sore, a little muddy, a closer team, it was clear that those few hours meant a lot to each branch manager and the facilities manager. There were many words of thanks and expressions of appreciation that we would take the time to help weed, rake, and clean up the grounds of these branches. In so many ways, the feeling and the benefit was mutual. This was an opportunity to meet those we serve when we build tools, provide solutions and build community in libraries. The chance for a diverse set of teams, who focus on a wide range of OCLC offerings, to step away from our desks and be a part of the daily life of libraries.

[photo: shovel-ready members of the October crew: (from left) Ahniwa, Kendra, Susan and Craig]

In between the team bonding around newly found weeding skills, plant identification, or family life, we were a part of the daily library experience. Looking up from our rakes or weeding tools, we saw the library's day come to life. Young adults waiting outside before the doors opened. Toddlers walking with their preschool teachers, all holding hands in a line on their way to story time. Grandparents bringing their sweet grandbabies in strollers. Mothers opening doors for their kids. A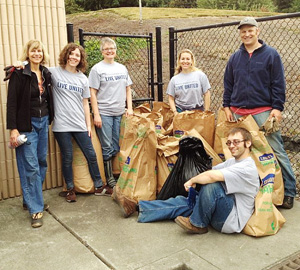 retired man looking for a place to read and connect, maybe strike up a conversation with the staff or another patron. Everyone looked like they were headed somewhere with purpose, conviction and excitement – and they were! Story time, children's materials, a place to do research, scan the web, read a variety of newspapers, or just sit awhile. We were able to leverage the energy of a group of volunteers to focus on the outside of the building so more library staff could focus on what was going on inside of the library. It felt like a day full of wins. It was a great way to recharge and revisit the impact that libraries have on their communities and on individuals. 
[photo: A morning's work is in the bag(s) for September crew members: (from left) Betha, Kathleen, Jennifer, Kendra, Christian and Steven.)
See all the photos from our two projects on Flickr.