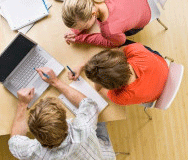 October's list of free webinars includes important learning to help equip libraries to better serve their communities. Build skills to enhance services and programs for all ages and increase your confidence in growing your library's infrastructure, funding and community relationships. Remember that most of these offerings are recorded, so know you can revisit when you have the time. This list, provided by the Wyoming State Library, comes out every month and is regularly updated on the Free Training page, where you can also view the offerings by topic. This month's list covers 55 webinars and two virtual conferences in 19 different topic areas.

For additional training, check out the WebJunction Catalog, free and open to library staff and volunteers everywhere.
Read on for 55 free webinars and two virtual conferences being offered for library staff and non-profits in the month of October.
Free October Virtual Conferences
October 3
Are you ready? Open Education Resources and Future Ready Librarians (TL Virtual Cafe)
Join TL Virtual Cafe for this informative webinar about Open Education Resources and the Future Ready Librarians Initiative.
October 4

Texas High School Librarians Create College Ready Students (Texas State Library and Archives Commission)
Ever wonder what your college students learned before entering your library? Or perhaps you're a elementary, junior high or high school librarian looking for some information literacy inspiration. End the guessing game and come hear from Texas high school librarians and their diverse initiatives to bridge the gap between research and writing in order to smooth the high school-to-college transition. Come prepared to ask questions and learn about essential resources.
The Leader's Guide to the Executive Brain (Training Industry)
In today's competitive business environment, leaders need to be hyper-aware of their greatest asset—their brain! Leveraging the brilliance of others and creating an environment in which everyone thrives begins at the top. Set yourself—and others—up for success through a better understanding of brain functioning. Learn the key strategies that will help you unlock the behaviors to take your leadership to the next level.
Developing a Strategic Plan for Volunteer Engagement (Volunteer Match)
Are you engaging volunteers with an eye to the future? Do you know what your volunteer program should look like in three or five years? Join us as we talk about the fundamentals for creating a strategic plan for volunteer engagement for your organizations. This webinar will include components that should be included as well as ideas for working with organization leaders to include strategic goals for volunteer engagement in your organization's overall strategic plan.
A Place for Everything and Everything in Its Place: Conducting (and Maintaining!) a Collection Inventory (Connecting to Collections)
Is each and every item in your institution's collection identified, documented, and "locatable"? If so, congratulations: you needn't read any further. But if not, you are far from alone. Even though the creation and maintenance of a reliable, accurate and up-to-date inventory is fundamental to the mission of any collecting institution and underpins all of its day-to-day operations, this admittedly Sisyphean task often falls into the category of as-time-permits.
Teen Programming: A Mover & Shaker's Recipe for Impact and Success (WebJunction)
When "Change Agent" Courtney Saldana was featured as a 2016 Library Journal Mover & Shaker, we were treated to a sampling of her outstanding work with teens, and knew that all libraries could benefit from hearing more. Learn about her teen programming basics along with practical and actionable steps for doing a teen needs assessment, creating a teen space and hosting a teen book fest. Courtney will also introduce us to Skills for Teen Parenting (STeP), a program connecting teens with what they need to succeed as adults and parents: how to interview successfully, dress professionally, deal with conflict and time management, care for their child, postpone or prevent a second pregnancy, and more.
Your "Principal" Partnership: Communicating Library Program Success (AASL)
You're doing a terrific job collaborating with teachers and getting students to read independently, but—does your principal know? Communicating positively and regularly with your building principal is your key to partnering for student academic achievement. Learn effective ways to communicate evidence of school library program successes that appeal to your principal's communication, generational and work styles. Learn how to use monthly and annual reports to: document the library's good work with students and teachers; determine trends, growth and challenges for the library program over time; set annual library program goals and objectives; enhance your professional portfolio to use in your own annual assessment by your principal; and target your professional development needs.
October 5
Shaping an Organization Responsive to Change (SirsiDynix)
Not everybody likes change; library leaders and board members know this fact all too well. But change doesn't have to ruffle feathers. Join emerging trend blogger and Digital Services Director David Lee King to learn how to guide your library through major change. David is a try-new-things expert. In his work for Topeka & Shawnee County Public Library, David helps make his team a forward-thinking community leader. In his blog, David shares ideas on how to tap into new technologies, and why it is important for libraries to do so. On October 5, David will share his expertise on how to help your team keep up with changes.
How to Engage and Mobilize Groups: 4 Proven Facilitation Techniques (4Good)
When you're tasked to lead groups, build consensus and deliver solutions to clients or community stakeholders, the quality of every single interaction matters. Getting your board meetings, community meetings and internal meetings RIGHT and planning them thoughtfully is a no-brainer, yet so many organizations fail at optimizing these opportunities. Why? Because, surprisingly, many lack key facilitation and people skills to engage others. United Way has become the global leader in engaging and mobilizing people to carry out its mission. Like United Way, we all must avoid poor group management and meeting pitfalls to effectively perform, but doing so requires both an art and a science to harness soft skills—that are often overlooked or untapped. Join Michael Wilkinson, Leadership Strategies' CEO and Certified Master Facilitator, to unearth these essential facilitation techniques.
Engaging Staff Meetings: A Time for Professional Conversations that Foster Continuous Quality Improvement (Early Childhood Investigations)
This webinar, presented by Judy Jablon, will explore how to use staff meetings for engaging professional conversations that foster continuous quality improvement. We'll discuss how the content and process of intentional staff meetings effectively model dialogue, inquiry and problem solving among adults—all behaviors we want to encourage between adults and children. We'll consider how to incorporate meaningful data into staff meetings in ways that support teachers in more deeply understanding child and program outcomes.
Meet the Makers: Makerspace Tips and Trends (edWeb)
The maker movement continues to gain popularity as schools integrate these spaces and lessons into their schools and curriculum. Michelle Cooper, the 2016 TCEA Library Media Specialist of the Year, has been actively involved in the maker movement through programs like "The Great Maker Challenge." Michelle will discuss the maker trend and offer tips on how you can start or grow a maker movement in your school. This webinar will benefit district and building-level administrators, technology directors, technology coordinators, librarians and media specialists, board of education members, other education staff involved in technology planning and any educators interested in the maker movement.
October 6

Maximizing Global Team Effectiveness: The Role of Training (Training Magazine Network)
Globalization has made virtual teams a business necessity. The search for new markets, top talent and innovation means that teamwork is required across borders, cultures and time zones. While global teams offer opportunities for collaboration and new solutions, problems created by distance and limited face-to-face contact can be significant. Training can play a critical role in helping global teams work together effectively, leveraging technology and just-in-time online tools that enhance team connections and results.
Nonprofit 911: The Year-End Game-Changer: Your Team of Messengers (Network for Good)
Join us to learn how to turn your board, staff and loyal volunteers into your team of passionate messengers and fundraising ambassadors for your organization. They'll build confidence and skills while you'll get more of the donations and donor loyalty you seek—without additional budget or hires.
Visualizing Value: How to Align Teams with Experience Mapping (O'Reilly)
We are witnessing a shift in the way businesses create value. Competing today requires a new mental model of how the world works. Visualizations help organizations change their perspective; maps of the experience seek to align customers' experiences with how businesses operate from the outside in rather than the inside out. Jim Kalbach explains how he uses maps as collaborative tools, highlighting the importance of value alignment, and demonstrates how to engage others in workshops and exercises.
Managing Your Library in the Cloud – The Community College Experience (OCLC)
Learn from Bob Holzmann, Systems & Digital Technology Librarian, how staff at the Tulsa Community College Library have simplified or eliminated daily back-office activities, improved student and faculty interactions and have more time for library enhancement projects and collaboration while holding down costs.
Bozarthzone! Better than Bullet Points (inSync Training)
Effective e-learning involves much more than just putting PowerPoint shows on the Web. In this session we'll explore solid ideas for transforming bullet-based content into compelling, engaging, interactive online learning programs. See the possibilities for putting simple PowerPoint based e-learning to a level on par with programs created with long-learning-curve higher-end products, custom art and approaches dependent on programming expertise. Audience: trainers and instructional designers.
Targeting Donors for Year-End Success (TechSoup)
Join Network for Good's Brian Lauterbach to get tips on smart donor communication for meeting your year-end fundraising goals.
October 7
Coping with Multi-Platform, Multi-Devices (TLT Group)
Please join us for this informative webinar!
October 11

Humanizing the Learning Experience (Training Industry)
As L&D providers, we are responsible for helping our employees stay relevant and grow. Although it may seem like it, it's not about increasing available content. It's about creating a learning ecosystem, made up of content, systems and people, which supports learners for their positions now and in the future.
The Scoop on Series Nonfiction: More New Titles for Fall 2016 (Booklist)
Don't miss this continuation of our popular series of webinars on series nonfiction for youth featuring presentations from three of the top publishers in this booming field: Reference Point Press, Lerner and Teacher Created Materials, a division of Shell Education. Moderated by Booklist Books for Youth associate editor Julia Smith.
Managing Difficult Volunteer Transitions (Volunteer Match)
What do you do when it's time to ask a volunteer to leave your organization? This webinar will give you the tools to address challenges around difficult volunteers, volunteers aging in place and suggestions to minimize these situations in the future. Suggestions for determining when a volunteer should be terminated, and making it easier on you, other volunteers and staff will be presented. The role that risk management plays in these decisions will also be included.
People - Difficult or Different (Effectiveness Institute)
Why are some clients or co-workers so frustrating to work with? Or more important, why would anyone think of YOU as a difficult person? For example, isn't it irritating when the person across the desk or on the phone can't seem to ever make a decision . . . or makes a snap decision only to change it a day later? In this interactive and engaging Webinar, you will discover why "different" does not have to mean "difficult." Then you will learn the magic of making slight adjustments in your awareness and behavior that will have a significant impact on your ability to "click" with customers and co-workers. You will laugh as you identify your behavior style, as well as those with whom you work. While you laugh, you will also learn that people are different and that "intent" doesn't always equal "impact." In short, you will realize how to make work . . . less work!
Should You Contract Out Your Nonprofit's Tech? IT Assist and Managed Services (TechSoup)
If your nonprofit or library has a small (or non-existent) paid staff and managing your technology is a burden, have you been considering managed IT services or contracting out maintenance? Maybe you already do have some managed IT services, but want to understand whether you're getting the most from the relationship out of your limited resources.
Assessing Library Programs and Collections in Academic Libraries (Texas State Library and Archives Commission)
Using assessment data to make more informed decisions and communicate value is an essential part of what we do to improve our libraries. However, it can be a daunting process to plan, collect, and draw conclusions from assessment data of library programs and collections usage. Join Krystal Wyatt-Baxter, Head of Assessment at the University of Texas Libraries, and Jacqueline Bronicki, Assessment and Statistics Coordinator at University of Houston Libraries, as they provide their respective insight and tips on programmatic assessment and collections analysis. By the end of this one hour webinar, attendees will have a better idea of what they can do to begin planning for continuous assessment in their library.
Engaging Reluctant Middle Grade Readers (School Library Journal)
At our upcoming webcast, industry experts will offer a sneak peek at some titles from Andrews McMeel, Black Rabbit Books and Listening Library. From graphic novels to audiobooks and everything in between, these selections are guaranteed to get patrons revved up about reading.
October 12

Circulating the Internet: How to Loan WiFi Hotspots (Nebraska Library commission)
Learn how the Norfolk (NE) Public Library started loaning out WiFi hotspots to patrons in August 2016. Library staff will share their inspiration for starting the program, how they worked through the logistics and policies needed, and what the public reaction has been to the new service.
Effective Nonprofit Website Planning (NonProfit Hub)
Ross McCulloch will chat to us about the key things to think about when planning a non-profit website design or re-design. You'll learn how to involved staff, volunteers and clients effectively; the basics of user experience testing; how to prioritise user need over internal politics by using simple personas; and more!
Introduction to Proposal Writing (GrantSpace)
Are you new to proposal writing or want a quick refresher? If so, you don't want to miss one of our most popular classes! Get an overview of how to write a standard project proposal to a foundation. It will include: the basic elements of a proposal; the "dos" and "don'ts" of writing and submitting a proposal; and how to follow up whether the answer is yes or no.
How Successful Libraries Thrive in Uncertain Times (WebJunction)
Have you noticed that some libraries manage to thrive even when times are tough and things are going against them? We would all love to know how to pave the way for future success in a world that seems to change by the hour. Successful libraries don't have a crystal ball but they do share five characteristics that encourage positive results, regardless of what the world throws their way. Learn how to activate these characteristics in your library, including low cost/no cost tips that apply to any size of library or community. Give your library a new lease on life and revitalize excitement about your services.
October 13

Trends in Teaching Information Literacy (Library Connect)
How do you ensure your information literacy training is compelling and covering the right material? In this webinar, three librarians will discuss interesting ways to enhance your information literacy instruction in the classroom and beyond, including addressing complex topics such copyright education and discipline-specific information sources.
The Annual Review Revolution (Harvard Business Review)
Most people, whether employees or supervisors, hate annual performance appraisals. These reviews are widely criticized for being uncomfortable, time-consuming and of dubious value. The annual review's biggest limitation is its emphasis on holding employees accountable for what they did last year, at the expense of focusing on improving performance now and in the future. To solve that problem, many organizations are moving to more frequent, development-focused conversations between managers and employees: traditional performance appraisals have been abandoned by more than one-third of U.S. companies. On October 13, in a live, interactive Harvard Business Review webinar, Cappelli will describe the revolution in performance management, why it is occurring and how leading organizations are transforming their performance management processes.
The New Volunteer Manager's Toolkit (Volunteer Match)
New to volunteer management? Looking for a refresher on the basics? This webinar will walk you through the three primary Rs—recruitment, retention and recognition. We'll discuss the most popular program components such as interviews, orientations, volunteer handbooks and more. And, we'll talk about the importance of managing risk for your program and your organization. All attendees will also receive a sample packet with examples of program documents and program assessment checklists to help you evaluate your existing program.
Project Outcome: Making Sense of Survey Results (Public Library Association)
The first in a series of three webinars designed to help you turn your Project Outcome results into action. This webinar focuses on developing and understanding how to parse your survey results and develop strategies for potential uses. Deeply engaging with your data is a key first step; later webinars will address how to communicate clearly about data, and use your data for program improvement, advocacy and planning. Participants will also hear from a Project Outcome library about their strategies and challenges in framing survey results.
October 14
Get Ready for Money Smart Week 2017 (American Library Association)
Financial literacy is important to all communities and libraries can be part of the solution. Through Money Smart Week, April 22 - 29, 2017, you can join hundreds of other libraries across the country helping individuals to better manage their personal finances. In 2016 over 900 libraries from 48 states participated! Money Smart Week is a partnership between ALA and the Federal Reserve Bank of Chicago, through which libraries of all types provide financial literacy programming for all stages of life during. Retirees, school kids, college students—everyone can learn more, to be better with their money. Learn from veterans and first-timers how Money Smart Week has been a great success for their libraries, and how it can be in yours. Get valuable programming and promotion ideas, tips on possible partners, and resources that make it easy for you. Learn how easy it is for your library to participate April 22 - 29, 2017!
October 18

Transitioning from High School to College or Employment for People with Disabilities (Texas State Library and Archives Commission)
Librarians will learn about agencies and organizations that assist young people, their families and school personnel in important decisions concerning higher education or employment opportunities. Relevant web sites, online guides and articles, and access to print materials will be included. In addition, librarians will learn about topics that relate to and can affect transition, such as independent living, self-determination, mentoring/shadowing and personal assistance services.
Getting to Know Creative Coding Through Games and Apps (CCGA) (SimpleK12)
Would you like to introduce coding to your students in late-middle school to early secondary grades? If you are considering bringing computer science into your classroom—whether you have a few weeks or a full semester to engage students with fun coding—"Creative Coding Through Games and Apps" (CCGA) could be just what you're looking for! Join Lisa Simmons as she provides an overview of the CCGA curriculum, which introduces programming concepts in a manner that will excite and engage. Best of all—no prior experience is required! The CCGA self-paced, online training tools, lesson plans and more are publicly available and free!
October 19

Strategies to Build and Align Your Frontline Leadership Team (American Management Association)
Newly minted, first-time supervisors often receive some cursory level of leadership training, which often focuses only on compliance and rules rather than on leadership with a heart. Managers are typically left on their own to figure out how to lead effectively in terms of hiring, developing and keeping their most talented performers. They likewise receive little proactive training about how to avoid litigation landmines in the workplace, when to escalate their concerns, or how to insulate the company from employment-related liability. Join Paul Falcone as he shares his best-kept secrets about getting your operational leadership teams on the same page in terms of the culture, ethics and environment that you want to foster. This webcast will focus on hard core, in-the-trenches strategies and tactics regarding leadership offense (developing, motivating and retaining top talent), leadership defense (holding tough conversations, documenting foolproof corrective action and creating "clean" terminations), and most importantly—leadership wisdom—for all frontline leaders to share.
The Future Is Here: Training The Newest Generation (Training Magazine Network)
It is essential that organizations learn how to train, motivate, advance and retain high-value Millennial and Gen Z workers. These workers have been digital for most of their lives. They often need soft skills training earlier than their predecessors, and they expect to have access to training anywhere. In this webcast, we'll focus on how organizations can further capitalize on their training infrastructure to improve worker skills and job satisfaction using next-generation e-learning methods and courses.
The Insider's Guide to Accessing NLM Data (National Network of Libraries of Medicine)
Join us for the first in the Insider's Guide series of webinars about more powerful and flexible ways of accessing NLM data, starting with an introduction to the Application Programming Interfaces (APIs) for PubMed and other NCBI databases. This series is geared toward librarians and other information specialists who have experience using PubMed via the traditional Web interface, but now want to dig deeper. This class will start with the very basics of APIs, before showing you how to get started using the E-utilities API to search and retrieve records from PubMed. The class will also showcase some specific tools and utilities that information specialists can use to work with E-utilities, helping to prepare you for subsequent Insider's Guide classes. We will finish by looking at some practical examples of E-utilities in the real world, and hopefully inspire you to get out and put these lessons to use!
Future Ready Librarians (edWeb)
Librarians are at the forefront of helping schools become "future ready." Join us for a webinar with Michelle Luhtala, Library Department Chair at New Canaan High School in Connecticut (winner of AASL's 2010 National School Library Program of the Year) and Mark Ray, Chief Digital Officer for Vancouver Public Schools and Future Ready Librarians Thought Leader. The Alliance for Excellent Education (the Alliance) launched its Future Ready Schools (FRS) initiative in October 2014 with the aim of leveraging technology and connectivity to personalize and transform learning. In June 2016, the Alliance, in partnership with the U.S. Department of Education's Office of Educational Technology, expanded FRS to position school librarians as leaders in this effort. In this session, Michelle Luhtala and Mark Ray will discuss what it means to be Future Ready. We'll be encouraging questions from the audience to help us address this important topic.
Using Free and Inexpensive Technology to Transition Your Library to a Learning Commons (AASL)
The Learning Commons model cannot be thought of as only the physical hub for collaborative learning. It also has to incorporate an outreach model. Free and inexpensive technologies, such as social media, self-created presentations and short videos, email boards, etc., facilitate this outreach to the entire school community of students, faculty and administration.
October 20
Bozarthzone! Getting Started With Working Out Loud (inSync Training)
Since Jane Bozarth's popular "Show Your Work: The Payoffs and How-To's of Working Out Loud" was published in 2014 there's been a great deal of interest in finding ways to help others narrate their own work and better capture our own. The benefits to both organizations are tangible: from better filling shoes when a veteran leaves a job, to crossing organizational silos, to making our skills and talents more evident to others. But it's hard to know what, and when, and how to share, and how to encourage others to join in. Join in this hour with Jane to look at ways to get started with working out loud.
Broadband Planning for Libraries: Enough is Never Enough (TechSoup)
Come to this free webinar to learn how to plan for broadband and how to pay for it. Guests Emily Almond and Amber Gregory will share E-Rate and broadband tips and tricks, and will include a special look at extra funding available through E-Rate 2.0, available only for a limited time.
Caring for Archives: Fundamentals for Everyone (Connecting to Collections)
This webinar will cover the basics of archives preservation within a framework of risk management. Some issues discussed will be familiar to other areas of collection care, while others will speak to the particularities of archival collections. Topics will include storage environments, housings, care and handling, collection surveys, security, integrated pest management, disaster planning and digital preservation.
Managing Library Technology: Keeping All the Balls in the Air (WebJunction)
Managing library technology isn't just about the technology. It involves fine juggling skills to manage people, workflows, procedures, policies and more―all while prioritizing, delegating and tracking. Just preparing staff effectively for upgrades or changes to technology takes finesse. How does one person do it all? Strong project and time management skills are key. Regardless of your job title, and whether working with a small team or a library-wide technology committee, anyone can learn smart practices to keep everything, and everyone, in motion and on target.
New Books for Storytime (Infopeople)
Storytimes are one of the most popular and consistent library programs offered by libraries, yet we often feature the "tried and true" books we have used for years. In this webinar Penny Peck will focus on new picture books that will engage the storytime audience. We will look at: books that invite audience participation, books that promote the five parent practices (talking, singing, writing, playing and reading), books based on songs and nursery rhymes, books that promote pre-literacy skills and kindergarten readiness and websites useful to storytime planning.
October 25
Crime Fiction to Quicken the Blood (Booklist)
Feeling a chill in the air? Never mind that sweater—reach for a mystery or thriller! There's no better way to keep warm than by turning the pages of a pulse-pounding read. Register now to join Booklist Executive Editor Keir Graff for our ever-popular fall mystery webinar, and listen as representatives from Houghton, Macmillan, Books on Tape, Severn House and Soho preview the hottest crime fiction from their forthcoming lists.
Emerging Tech Trends in Libraries–Part 5 (Infopeople)
As part of the continuing Emerging Tech Trends series, presenter Laura Solomon takes a look at: augmented reality, evolving social media, changing wearables and chatbots. She will discuss what these technologies might mean (or not) for libraries. We can't track everything, but we can pick out some patterns in what's happening around us.
October 26

Anatomy of an Annual Appeal: Create Your Compelling Fundraising Offer (4Good)
Writing a compelling fundraising letter can be tricky. It's not the same kind of writing as a brochure, annual report or grant proposal. But it's not rocket science—it's something you can easily learn; just not something most of us are taught. In this webinar you'll learn the art of taking your appeal from run of the mill to out of the ballpark. From anesthetizing to astounding. From colorless to captivating. Your appeal letter should be an "offer" to join you in something amazing and transformative. Whether you're an old pro and just want some new tips, or you're writing your appeal letter for the first time, you'll find killer strategies and tried-and-true tactics to get your appeal to the next level.
First Aid for Time-Wasting, Energy-Sapping Meetings (O'Reilly)
Another dreaded meeting. Another time waster leaving many participants unsure of what the meeting was about or why they were asked to attend. Do meetings have to be this way? The presenters provide tactics and guidance to help you run your next meeting better. Bring your most vexing meeting problems to this webcast and walk away with ideas you can use the very next hour.
Introduction to Finding Grants (GrantSpace)
Are you new to the field of grantseeking? Discover what funders are looking for in nonprofits seeking grants and how to find potential funders. You will learn the 10 most important things you need to know about finding grants including: who funds nonprofits and what are their motivations; what do funders really want to know about the organizations they are interested in funding; and how do you identify potential funders and make the first approach.
Making Data More Powerful (Infopeople)
This webinar will introduce a newly designed, cloud-based, open-source and inexpensive program for data collection that enables libraries to track unduplicated counts and other unique key metrics. It was developed and piloted by the El Dorado County Library and will be available for any interested library wishing to customize it for their own data collection purposes, as part of a California State Library toolkit to be released in December 2016. This webinar is California-specific, although others may find it of interest. Everyone is welcome to attend.
October 27

Selecting the Right Products for Your Makerspace (Demco)
Struggling to find the best tools for your makerspace? Media specialist, author, consultant and makerspace expert Laura Fleming discusses the steps to evaluating the needs of your school or community and the critical role this plays in planning and supporting your makerspace. She'll cover the importance of open-ended exploration and how to choose the most appropriate products to allow for exploratory learning to take place. You'll also learn about specific products that can meet the criteria of open-ended exploration, including Demco's line of TeacherGeek® tools.
Creating an Interactive Exhibit in Your School Library (Programming Librarian)
This webinar will describe an innovative approach to a research project on the Greensboro protests. Students at the Friends Seminary created an interactive display of archival photographs and explanatory texts that drew people from all sectors of the school community to the library. Students in younger and older grades, parents, staff and casual visitors came to the library, viewed the display and discussed it. Webinar attendees will learn not only how to develop a project focused on the Greensboro sit-ins, but also on how to structure a research experience that builds community and engages learners beyond the classroom.
October 31
Database of the Month: STEAM It Up! (Wyoming State Library)
Join Chris Van Burgh and Paige Bredenkamp as we look at how GoWYLD.net can support your STEAM projects and programs.