2017 Library Marketing and Communications Conference Recap
Linn Haugestad Edvardsen
/
04 January 2018
Linn Haugestad Edvardsen is a product marketing manager at OCLC and has worked with public libraries on marketing and advocacy projects around the country.
Imagine a room brimming with people (nearly 400!) whose mission it is to spread the word about libraries. Enthusiasm. Energy. Optimism. Yes; all of it! That was the scene during the opening session at the third annual Library Marketing and Communications Conference on November 16, 2017, in Dallas.
Actually, I need to back up; I experienced the same animated atmosphere the night before—only with 390 or so fewer people. I found myself at dinner with strangers talking marketing, communication, social media, and outreach in academic and public libraries. My initial takeaway: common problems, goals and passion, and an eagerness to share. And this supportive and spirited vibe set the tone throughout the conference.
Helpful content—regardless of experience
Conference organizers worked hard—and presenters rose to the challenge—to provide content with value regardless of position or experience level. Yes, there was some repetition of the basics, but it was intermingled with "aha" moments. Industry vendors, library representatives and marketing experts delivered presentations from crisis communications to creating library ambassadors—all with hands-on advice and aspirational suggestions.
My favorite session was the second-day keynote. There's nothing like nearly being brought to tears, laughing so hard it hurts and wishing "you" worked in a library … all before your second cup of coffee! Topeka and Shawnee County Public Library Chief Executive Officer Gina Millsap told the story of how her team built buy-in for marketing.
Millsap's struggle to develop an understanding and appreciation of the value of marketing throughout her organization seemed familiar to many in the room. And her advice to establish a culture where all staff play an important role and the focus is on the community—not the library—was well received.
---
"It's about the experiences people have. It's not about us; it's about them… We want everyone in the community to have a relationship with the library."
Gina Millsap, Chief Executive Officer, Topeka and Shawnee County Public Library (KS)
---
Another theme, in presentations and conversations, was data. What data is important? What can you do with data? Big data versus small data? Data questions from every angle. What's clear? Well, the use of more data (whatever form it takes) to inform marketing and communications is definitely starting to take shape in libraries. I spoke to someone using patron borrowing info for targeted marketing efforts and to someone contemplating starting to ask for email addresses for the first time. What people are doing was across the board, and it was difficult to spot trends … except a general movement in the same data-driven direction.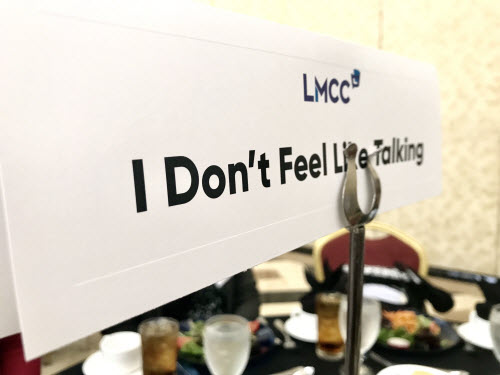 Sharing, inspiring, supporting
At lunch on the first day, there were a few tables labeled: "I don't feel like talking." Immediate chuckle. These marketing professionals wanted to talk. And they did. I don't recall a quiet moment anywhere. And while the conference sessions were well organized and executed, the sharing between the lines was likely the most valuable for participants.
Want more info? Here are some resources: