10 Year Challenge Book Display
WebJunction
/
12 December 2019
Kelsea Rowan is Young Adult Librarian at the Point Pleasant Borough Branch of the Ocean County Library in New Jersey. When we saw Kelsea Rowan post photos of her 10 Year Challenge book display to Library Think Tank - #ALATT, we had to reach out to learn more! She graciously agreed to share more about her fantastic display, including the display templates that she created using Canva.
Tell us a bit about your library, your role, and how you approach book displays. How often do you change things up and where your ideas come from?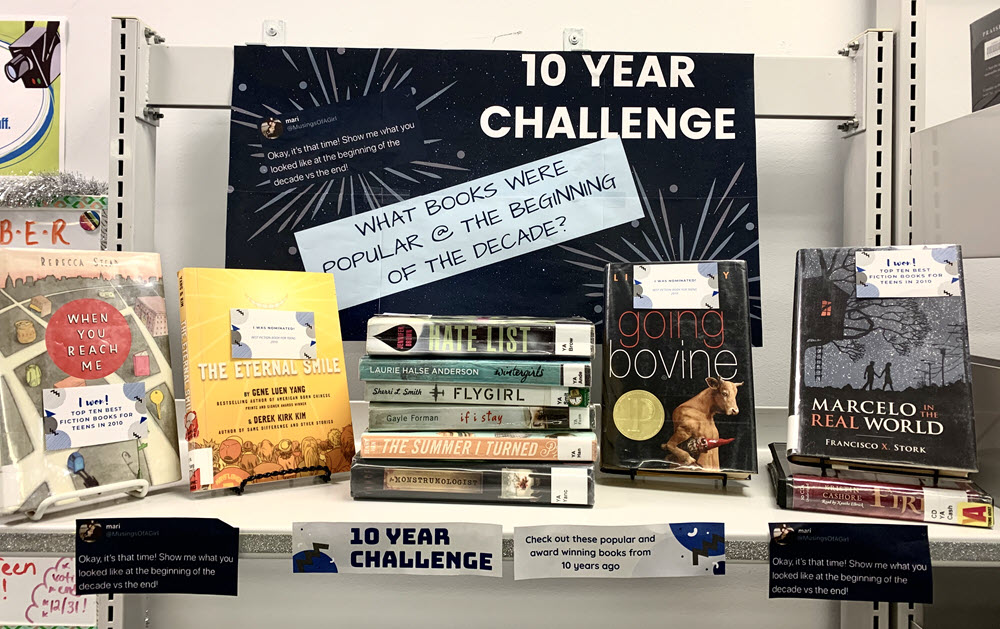 My library is the Point Pleasant Borough Library, a medium branch within the Ocean County Library system in New Jersey. We serve a large shore community and we're lucky enough to be located right across the way from our local high school and middle school. I just started working with our teen patrons as our Young Adult Librarian in October as I'm finishing up the last semester of my graduate program but I'm ecstatic to be here and I've hit the ground running.  
I previously worked in the system as a summer library assistant, managing our teen volunteer program where I loved focusing on creating book displays and other forms of readers advisory for young adults. Current events or trends always guide my book display decisions, and they usually focus on social justice. I try to create something aesthetically pleasing and trendy so that they will catch someone's eye, and look to include added elements (bookmarks, blurbs, pins) that a patron will be drawn in by or can even take away with them.
Most of my displays stay up for about a month but if I have a great idea I'm excited about, I'll switch them out early. The one-month time frame is mainly due to using collectionHQ to evaluate the circulation success of a display, and one month is usually the minimum to receive results. But I'm not afraid of a permanent display! I recently put up an on-going display "The Middle Ground" that features "just right" reads for older middle schoolers, who may feel too old for J books and aren't yet interested in young adult books that skew a little older, since a lot of my patrons fall into this category. This was inspired by Kylie Peters at FlashlightChronicles whose library has a display of the same name and theme; their site is an amazing resource for recommended reads for this age group. (See also Kylie's posts on YALSA's blog, Middle School Monday: Building a Middle School Public Library Collection, Part 1 and Part 2).
The Library Think Tank Facebook group and Pinterest provide a lot of inspiration, but I usually think up an idea myself and go to these sources to see if anyone else has done them yet to get suggestions about how to execute them.
How did you come to decide on the 10 Year Challenge display and how did you pick the books?
When it comes to social media, I consider myself an "active observer" and I don't usually participate - but I do check in often and love the Timehop app. For those who aren't familiar, Timehop will pull up your daily social media posts for as far back as your account goes. When I found the 10 Year Challenge on Facebook I thought it was an awesome idea and I even participated, it was fun seeing everyone's transformations (or even, lack thereof) from 2009 to 2019. I saw a few friends from high school doing it and then it began to snowball - popular media outlets began posting photos of celebrities from the beginning and end of the decade and then the memes started. One day it just hit me that it would make an awesome book display, especially since the books ten years ago that were popular would have been the books I was reading as a teen.  
The first place I turned to was YALSA to find books for the beginning of the decade, I started with their 2010 Top 10 Best Books for Young Adults list because all of the books on the list would have been published in 2009. After I checked most of the list and found that almost all of them had been weeded from my collection (except for two titles), I turned to their longer list of the 2010 Best Books for Young Adults, where I had more success finding titles for the display.
It was much easier to find books for the end of the decade because the New Jersey Library Association is currently holding their 25th Annual Garden State Teen Book Awards where readers of YA lit can vote for their favorite fiction and nonfiction books of the year from a list of nominated titles. I already had a display going to encourage my teens to vote in the awards so it ended up being an easy and perfect pair for this display. It highlights popular books at the end of the decade and helped me further promote the book awards to patrons.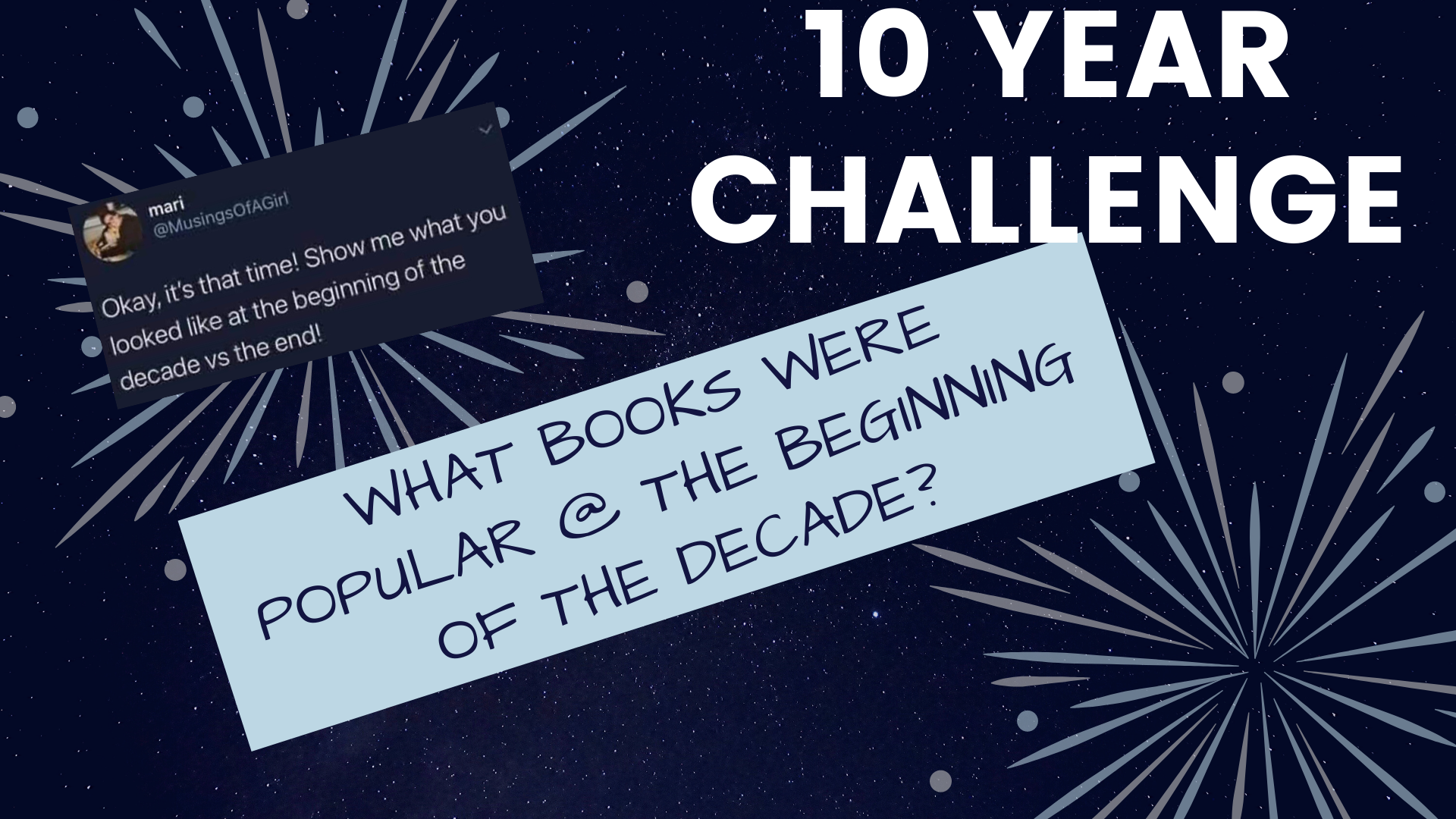 I should also mention that I created the 10 Year Challenge banner and the small  "I won" and "I was nominated" book cards for the display using templates in Canva, a free online graphic design tool we frequently use when creating displays. They have amazing templates for pretty much anything you can think of and they're very easy to edit and customize. Please feel free to use these for your own library's display or explore Canva to make your own!
What's the response been from your patrons?
The display is still so new and hasn't been up very long. We recently shared it on our system's Facebook page and I'm hoping it'll become more popular now that we've officially entered December and the new year will be on everyone's minds. I will say that my staff loves it and the response on Facebook was amazing!