Economic necessity is the mother of re-invention
Last Modified: 16 July 2012
Although Howell Carnegie District Library (HCDL) in Howell, Michigan consistently offered valuable resources for their business community, the staff found it difficult to get the attention of business people without misrepresenting themselves as business consultants. They tried several outreach strategies: creating business-related bookmarks and distributing flyers that directed traffic back to both their building and website. But the traffic never came.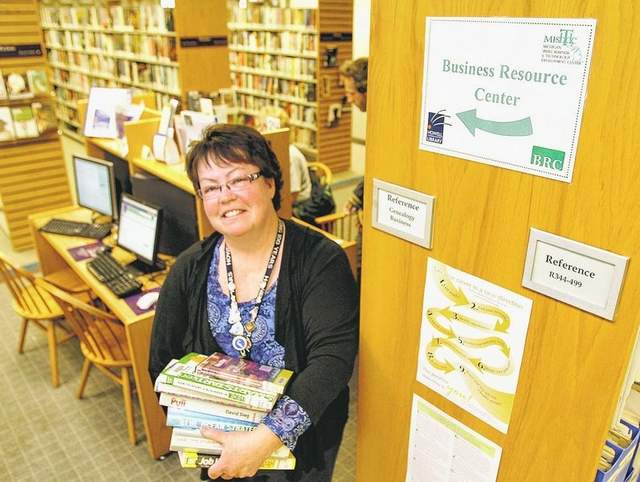 In an effort to learn more about supporting their business communities, a grassroots group of regional libraries and nonprofits formed "Library Biz Connect" to share best practices with one another and find creative ways to leverage their existing resources. The group found that the Project Compass curriculum triggered some of that creativity. More importantly, it gave them the confidence to take calculated risks to move their libraries forward, form new partnerships and meet the needs of their business community. Donna Olson, Information Specialist at HCDL outlined what they have learned:
Lesson #1: Dewey won't haunt you for making your business development resources convenient for people
At Howell Library, we consolidated all of our business-related library materials in one location—our Business Resource Center (BRC). Although contrary to our innate library organizational bent, this move gave these materials "bookstore browsability." In addition, our BRC bundles all types of resources with services. There is easy access to a copy machine, fax service, workspaces, public computers with Internet access and Microsoft Office products, wireless, Skype, electronic and print materials, expertise from other libraries and nonprofits, and the most important . . . reference librarians who live to research that elusive reference question.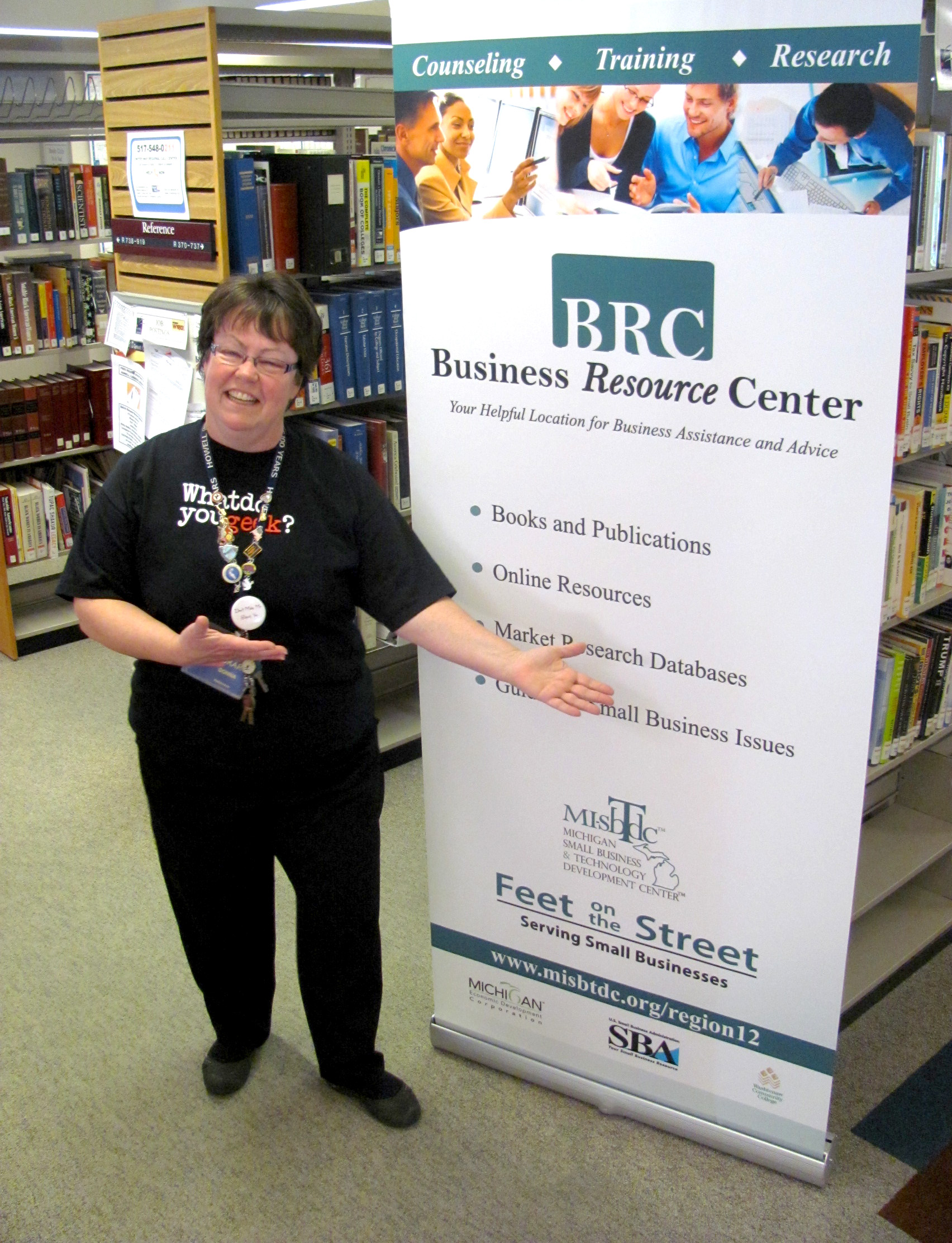 It's important to note that these were all existing resources and services. We simply made them easier to find and use. And HCDL isn't alone; our region now has six Business Resource Centers, as designated by the Michigan Small Business and Technology Development Center (MI-SBTDC).
Regional MI-SBTDC Director, Charlie Penner stated, "MI-SBTDC typically chooses libraries to partner with because of the role they play in the community. For a lot of people starting a business is intimidating. We really felt public libraries were a great place for people to feel comfortable."
Steve Feinman, Director of Michigan SCORE added, "No matter the size of the company or the number of employees, they all have common problems. The need for information isn't going anywhere, and the Business Resource Centers offer guidance."
Lesson #2: Businesses understand resources, not library-speak
After staff attended the Project Compass National Convening in April, HCDL held a "resource" night—what we would call a "program" or "event" in library-speak.
The night began with the launch of our Business Resource Center and a welcome from our library director, SBTDC regional and local directors, and SCORE's state director. Each spoke of the BRC's importance in the community and the value of their partnership with the library. "This cooperative venture is an example of government at its best," said Howell Carnegie District Library Director, Kathleen Zaenger.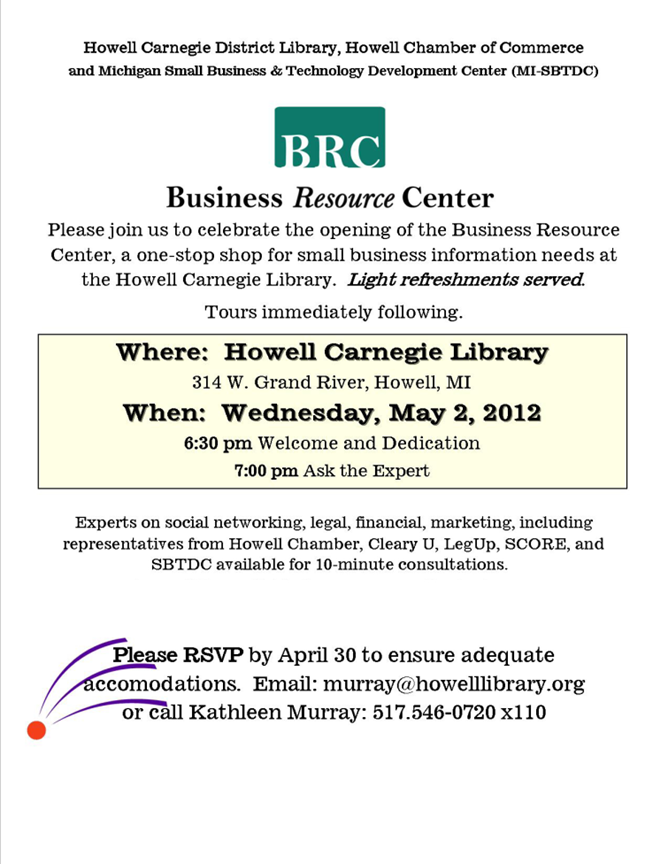 We offered tours and the opportunity to participate in "Ask the Expert." Ten local experts held court at the tables lining the perimeter of the room—a CPA, attorney, social media and marketing experts, and representatives from the Chamber of Commerce, local business college, Service Corps Of Retired Executives (SCORE), SBTDC, local economic development and the library. And because of our partnerships, we were able to guarantee ten minutes per person of free quality time with each expert.
A visual PowerPoint/DVD showcasing the BRC ran on a loop in the background, driving home all the resources the center has to offer. Samples of materials were displayed on a cart. The library table demonstrated business databases (ReferenceUSA "ruled") and issued library cards on the spot.
Lesson #3: You can meet your goals… and more
We were very pleased to know we had achieved our intended outcomes: the public received quality information about library resources and business contacts and the library processed library cards for our neighbors.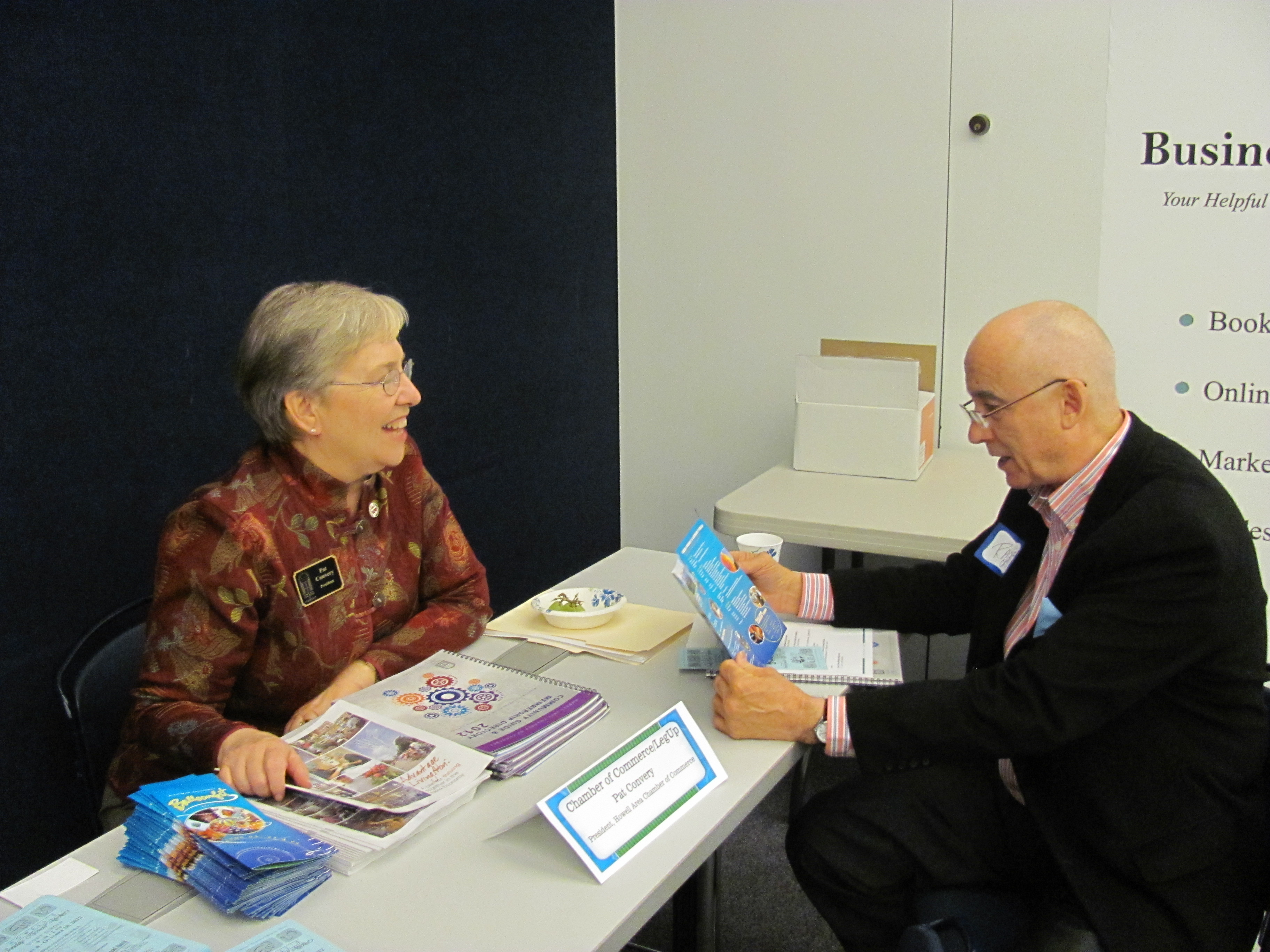 However, it was really exciting to realize we nailed some unintended outcomes. One local freelance writer, who came to speak with the CPA, walked out with an employment contract. A techie startup connected with our tech economic development rep, who attended at the spur of the moment. Most of our ten experts were surprised to see the resources available for startups and existing business at the local library, and they are now our public libraries' biggest cheerleaders!
Chelsea District Library and Ypsilanti District Library, part of the Library Biz Connect grassroots group, launched their resources around the same time as HCDL. They, too, are having a direct impact on improving business opportunities in their communities. Sara Wedell, Chelsea District Library's Head of Adult Services stated:
"From our point of view, providing a Business Resource Center is an important way for the library to show that serving our business community is a priority. Business owners and entrepreneurs have specific information needs, such as business planning, market research, industry profiles, and libraries have valuable resources that can help. The missing link is outreach and promotion--letting businesses know about our resources, demonstrating access and making our holdings relevant to their needs. Becoming a BRC and working with MI-SBTDC, the Chelsea Chamber of Commerce and our local SCORE chapter has helped us fill in that missing link and connect with our local businesses. Strong local businesses can bring economic strength and stability to a community so supporting businesses is an important way libraries can positively impact their local economy."
See Also Attached: Business Resource Center Launch Program and Slide Show from Business Resource Center Launch
This work is licensed under a &nbspCreative Commons Attribution 3.0 United States License