Digital Communities Leadership Summit in St. Paul
Last Modified: 12 July 2012
Background
The Framework for Building Digital Communities is a response to the National Broadband Plan call to action. Developed by IMLS (Institute of Museum & Library Services), ICMA, University of Washington iSchool researchers, and a cadre of advisors and experts, the policy document gives structure to the many facets of digital inclusion, defines goals for collective community effort, and suggests strategies for local action.
In November 2011, IMLS awarded a grant to the partnership of WebJunction, the International City/County Management Association (ICMA) and TechSoup Global, to explore the relevance and application of the Framework to the digital inclusion efforts of local communities. As one phase of the project, the partners convened a Digital Community Leadership Summit in St. Paul MN (June 12-13, 2012), inviting representatives from 9 selected communities from around the country. Each community sent a 3-person team—the public library director, a city/county administrator and a community-based organization representative.
[Photo: Jennifer Hubbard, research director at the Eastern Maine Medical Center, leads the Bangor (ME) team in discussion. Photo by Sarah Washburn, TechSoup Global]

Summit Objectives
The Framework for Building Digital Communities emphasizes the importance of taking collective action across community sectors in order to move the needle on digital inclusion efforts. A key intent of the summit was to provide an opportunity for leaders from 3 key community organizations to work together to integrate current activities and plan their next coordinated actions.
(For a summary of findings three months following this summit, see Nine Communities Pilot Digital Inclusion.)
Key objectives for the summit include:
Focus on community-level  engagement to increase digital inclusion locally;
Increase awareness of digital inclusion as a critical effort and of the IMLS Framework as a foundation;
Emphasize the importance of community-wide efforts and reinforce libraries, community-based organizations, and city/county managers as local leaders in facilitating digitally inclusive communities;
Equip participants to initiate or augment digital inclusion efforts in their communities.
The following criteria guided the selection of communities:
Strong community interest in initiating or augmenting digital inclusion efforts;
Demonstrated ability to form community partnerships;
Diversity in the communities convened at the summit:

Geographic distribution across the country;
A range of achievement along the continuum of digital inclusion efforts;
A range of community sizes (rural/small, mid-size, large urban);
A range of diverse populations, especially those at risk for digital exclusion.
Communities represented at the St. Paul summit:
AZ: Chandler
FL: Leon County
ID: Ada County
KS: Dodge City
ME: Bangor
MN: St. Paul
TX: El Paso
VA: King William County
WI: Milwaukee
Summit Program and Activities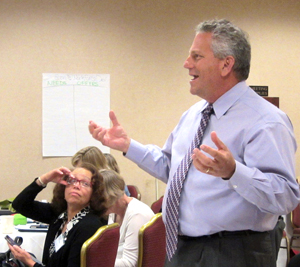 After developing a basic summit agenda, the project team had the opportunity to do a test run in May with a group of organizations working on digital inclusion efforts in Oklahoma City. Many of those at the summit table had been involved in a prior gathering to give feedback on the draft of the IMLS Framework; their familiarity with the structure and content made them good candidates for providing frank and constructive feedback on the summit agenda and on the broader issues associated with local digital inclusion efforts. The 14 OKC stakeholders included 1 from the city, 2 from public libraries, 2 from the state library, 2 from Iowa Nations tribe, and 7 from community-based organizations. Although this large group had a more diverse focus than the triads convened a month later in St. Paul, their insights and recommendations helped the project team make some important course corrections to the agenda. The Oklahoma City participants actively engaged in discussion, made important connections and reached some shared community priorities.
With input from the OKC test summit, the agenda was refined. The 1 ½-day workshop program is a mix of brief presentations, facilitated activities (aligned with the Building Digital Communities Worksheet) and lots of discussion. Participants were sorted into a variety of conversation groups to optimize the flow of fresh ideas.
[Photo: Frank Narducci, Director of Community Education and Program Development in Chandler (AZ), speaks eloquently about digital inclusion. Photo by Sarah Washburn.]
Outline of the Digital Community Leadership Summit agenda
Day One AM
Opening: connect the National Broadband Plan, the FCC call to action with the IMLS Building Digital Communities framework; emphasize the importance of collective community action.

Guest speaker Nancy Walton, State Librarian, Minnesota Department of Education, welcomes the group.
Guest speaker Mike Wassenaar, Executive Director, St. Paul Neighborhood Network, describes the success of his community technology center work.

Vision: community teams (triads) work together to create a "headline" vision of their future digitally connected community.
Current efforts: each participant records current activities, identifying which components of the framework are being addressed; triads compare activities, noting correlations, overlap, and areas not being addressed.
Shared community priorities: in cross-community groups, participants compare efforts, share and explore promising practices, building awareness of how each organization's actions relate to the shared community vision and priorities.
Day One PM
Guest subject matter expert Susan Walters, Senior Vice President, California Emerging Technology Fund, led the afternoon session.
Strategic planning and catalytic leadership: presentation and discussion on the principles, pitfalls and best practices to identify the critical process elements for a digital inclusion community initiative.
Stakeholder collaboration: triads identify additional community stakeholders to engage; cross-sector groups discuss getting stakeholder buy-in.
Day Two AM
Building toward action: triads define their next steps, commit to individual roles and set milestones to measure progress. Move to groups of like-sized communities (small rural, medium, large urban) to share ideas and solutions to potential obstacles.
Articulate the message: community teams develop talking points and a shared message to reinforce their ability to deliver a compelling case for digital inclusion to stakeholders back home.
Closing remarks by guest speaker Susan Hildreth, Director, IMLS (Institute of Museum & Library Services)
Project team facilitators at Oklahoma City summit:
Ron Carlee and Kira Hasbargen (ICMA), Betha Gutsche (WebJunction), and Ariel Gilbert-Knight (TechSoup Global)
Project team facilitators at St. Paul summit:
Ron Carlee and Kira Hasbargen (ICMA), Betha Gutsche and Jennifer Peterson (WebJunction), and Sarah Washburn (TechSoup Global)
Outcomes
Summit participants were asked to fill out a pre- and post-summit survey as part of an evaluation plan to measure the immediate outcomes of their participation.
Overall, findings indicate the summit participants:
Have an increased perception of the relevancy/usefulness of the Framework as a foundation for local efforts to increase digital inclusion;
Feel well prepared to undertake steps related to facilitating digital inclusion in their communities;
Developed new or increased understanding of strategies to collaborate with other organizations/sectors;
Have increased confidence in their ability to initiate and support digital inclusion efforts in their communities;
Found the program activities and experience very relevant, particularly the Building Digital Communities worksheet, the time to connect and plan in community triads, and the time to partner with and learn from other communities.
100% of respondents answered yes when asked "did you develop new or increased understanding of strategies for successfully collaborating with other organizations and/or sectors in your community regarding digital inclusion?"
Specific comments expand on the positive outcome:
"I learned that in this new economy, collaboration is important.  Everybody brings something to the table.  Together, we can design and implement projects, including digital inclusion that will benefit the community we serve.  For partnerships, it is important to think outside of the box."
"The inclusion of a multidisciplinary approach to digital inclusion is aligned with success."
"I have a broader understanding of who in the community is impacted by a lack of digital inclusion, and a broader understanding of who we might partner with in the future."
All of the 9 community teams committed to taking specific actions following the summit. The project team will follow up with them after 3 months to debrief on their progress and lessons learned.
This work is licensed under a &nbspCreative Commons Attribution 3.0 United States License