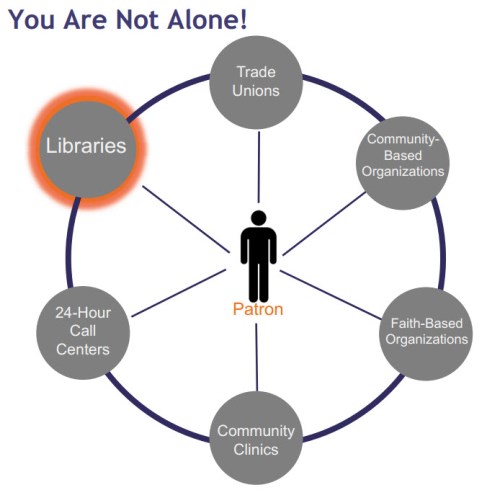 A panel of excellent presenters with diverse insights into the Affordable Care Act (ACA) shared their knowledge with over 1,300 attendees in WebJunction's recent webinar on Meaningful Use: Libraries connecting patrons to ACA resources. The webinar attendance was an all-time high for WebJunction. Beyond attendance, participants from across the country underscored their capacity for community leadership during the webinar by initiating collaborative and discerning dialogue on this very complex subject, using chat and social media. 
Libraries, as trusted community institutions and referral sources, are in a unique position to identify and share the Affordable Care Act resources most relevant to their patrons. While this may seem like a daunting task, given the sheer amount of ACA information and speculation circulating nationwide, panelists provided concrete steps for libraries to consider in developing a local approach.
Identify the Health Insurance Marketplace in your state and local community partners
Susan Hildreth, Director of the Institute of Museum and Library Services, launched the conversation by emphasizing the critical point that libraries may approach Affordable Care Act information needs with the same expert lens by which they approach other information needs: through being aware of and directing patrons to reliable resources, while operating within the parameters of local guidelines and priorities.
Susie Butler from the Centers for Medicare and Medicaid Services, and Evan Gallagher from ZeroDivide, both provided excellent information on how to identify reliable resources. A key first step is to determine the Health Insurance Marketplace operating in your state, in order to understand the most direct resource for local marketplace administration and support. Information on state-specific marketplace sites is available here.
Within every state, various types of trained consumer assisters will be available to provide application and enrollment support. The Centers for Medicare and Medicaid Services has compiled a search function to identify these local resources, available in both English and Spanish. Further details on state-specific resources are available here.

Define a Role That Best Suits Your Library and Resources
Libraries are uniquely attuned to the priorities and concerns of their communities and staff, and capable of making informed decisions about how to most effectively meet emerging patron information needs. Carmen Patlan and Tatiana Alonso from the Waukegan Public Library shared the story of their library's decision-making process and engagement strategy to enroll 1,000 local residents, as part of a robust collaboration of 27 community partners through Enroll Lake County.
Lissa Staley, a Health Information Librarian from Topeka and Shawnee County Public Library, emphasized the fundamental opportunity for libraries to approach the Affordable Care Act with the same mindset as any other basic reference request – with pride and confidence in their ability to point people in need in the right direction. Her efforts were recently featured in local news, bringing positive attention to the adaptable and responsive role of libraries.
Remember – Libraries are Part of a Network of Support!
The session ended with Q/A, supported by experts from the Centers for Medicare and Medicaid Services, who reiterated the many types of qualified consumer assistance support that will be available to support individuals in their application and enrollment nationwide by October 1.
WebJunction and partners at ZeroDivide, IMLS, CMS, and NN/LM are continuing to identify resources to share with the library community, and are always willing to hear your feedback about how these efforts can be strengthened to support the important work of libraries nationwide.