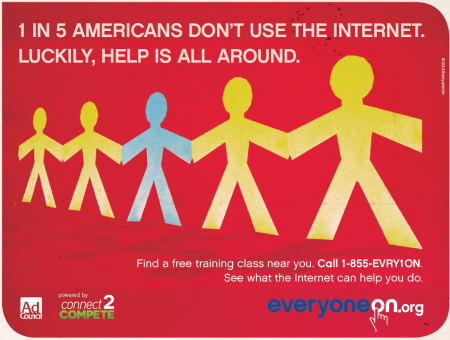 On March 21, 2013 a new 3-year national public service campaign called EveryoneOn was launched. This campaign is run by the non-profit Connect2Compete (C2C), and is designed to promote the importance and value of digital literacy. Today, over 60 million Americans don't use the Internet at all. This limits access to valuable job-searching opportunities, health care information, education resources.
One of the core messages of EveryoneOn is to encourage people who are limited or non-Internet users, to learn how to do "one thing better online". Public libraries are key to the success of this effort because of the demonstrated commitment to providing free access to the Internet as well as to improving people's skills (e.g. using a mouse, applying for jobs online, or creating email accounts).
For an overview of the campaign activities and more information about how libraries can be involved, please watch this recorded webinar (58 minutes). In addition to these details, you'll also hear from a library that has used the EveryoneOn campaign materials and how the campaign aligns with the digital literacy working they are already doing.
EveryoneOn is designed to raise awareness of the importance of digital literacy skills – which libraries have embraced for years. This is a great opportunity to promote public libraries as a trusted and valuable provider of free public access technology and training as we strive to build stronger communities.
Here are some Frequently Asked Questions about the EveryoneOn campaign and digital literacy:
1. How can my library get involved?
One of the best ways to become involved in this campaign is to update your library's "profile" in the EveryoneOn Training Locator Tool database. There is a record in this database for almost every public library location in the United States with basic information such as address and phone number. Other organizations such as Job Centers and Public Computer Centers are also part of the database. When someone is interested in finding digital literacy training or public access computers near them, they can enter their zip code into the Locator Tool to see a list of places that could help.
To update your library's profile, please visit the Tools & Resources section of the EveryoneOn site, and view the "Instructions for Training Locator Tool". Updating your profile will take about 5 minutes.
2. What is digital literacy?
There are many definitions of digital literacy, but the American Library Association Digital Literacy Task Force recently approved and released this definition:

"Digital Literacy is the ability to use information and communication technologies to find, evaluate, create, and communicate information, requiring both cognitive and technical skills."  http://connect.ala.org/node/181197
This includes basic skills such as typing and using a mouse on a computer, to evaluating the legitimacy of information on the Internet; skills that libraries help patrons build everyday!
3. Can you provide an example of what digital literacy training looks like?
Digital literacy training can take many different forms and deciding on what kind of training to make available is a local decision. There are many free resources that provide great ways for libraries to meet patron needs when there is limited staff capacity to offer in-person training.
One-on-one support:  When a library staff member helps with learning or improving an online or technology skill. This could be informal one-to-one assistance or through scheduled appointments.
Scheduled classes: Formal sessions with a trainer/facilitator using a curriculum. Often scheduled in training lab space.
Online self-paced learning: Many libraries provide access to online training through services such as Lynda.com or LearningExpress that allow users to take an online course to develop new skills, such as Microsoft Word or setting up an email account. The Goodwill Community Foundationalso offers free online courses.
DigitalLearn.org is a resource from the Public Library Association  and funded by IMLS which offers free, online basic training on topics such as "Basic Search", "Navigating a Website" and "Getting Started on the Computer". The site also has a section dedicated to trainer resources for people interested in offering live training. They are building a great community of practice that you are welcome to join!
4. What if my library doesn't offer digital literacy training?
Many libraries don't have enough staff or resources to offer training to their patrons, but there are great online resources that can help with teaching these skills even when staff aren't available to assist. See the options for self-paced learning in the question above.
5. What tools and resources are available to support the campaign?
An entire toolkit of support materials has been developed by C2C and the Ad Council to support this campaign. The Ad Council has worked with C2C on this project and is a great organization which produces, distributes and promotes public service campaigns on behalf of non-profit organizations and government agencies in issue areas such as improving the quality of life for children, preventive health, education, community well being and strengthening families.
The campaign materials include everything from customizable posters and signs, to television and radio public service announcements. Libraries are welcome to download these materials for free to help promote local digital literacy events.