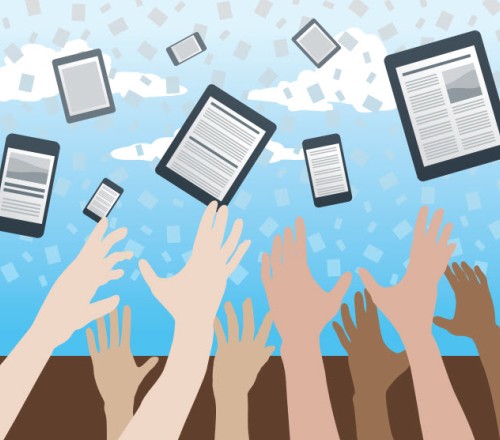 Over the past several years, demand for e-books in public libraries has been on the rise. As more library patrons purchase e-book readers and tablet devices, the demand will continue to grow.
But access hasn't grown along with demand. While publishers and distributors have been trying to figure out the best new business models for selling e-books, libraries have sometimes been caught in the middle of their business deliberations and have historically not fared well against the consumer when it comes to buying e-books.
In August of 2012, OCLC received a planning grant from the Institute of Museum and Library Services (IMLS) to work with public library leaders to research the e-book ecosystem, survey public libraries about e-book use and reach and work toward strategies to expand e-book access to public libraries. We worked with an advisory group made up of public library directors, ALA staff and IMLS to create a research report that we then used at convenings of public librarians as background to discuss possible strategies.
From this work came a set of strategies that groups of librarians are actively working now. These are:
Create NEW value in the e-book supply chain - Look at how libraries can work with emerging opportunities and technologies in order to be proactive in understanding what can be done to enhance the chain from author to reader; this may include developing a shared platform for e-book discovery and lending.
Use data to articulate library value in the e-book supply chain - Understand and mine the aggregate data that libraries have that will help publishers, distributors and retailers understand the behavior of library users in aggregate.
Educate about the public policy issues around e-book access - Work with local, state and federal legislators, within the confines of individual library policies, to understand how legislators and community citizens might influence access to e-books.
Develop a common narrative - Develop common voice and messages about the importance of public libraries' access to e-books that are influential with diverse set of players and influencers across the e-book ecosystem.
Work with additional partners - Continue to work with new partners to expand libraries' ability to collaborate around access to e-books.
Coordinate and administer these plans - Create an administrative/consultative owner and action plan around the above strategies to ensure that each can be advanced.
Over the last several months, access to e-books has changed for the better. All of the "Big Five" publishers (Penguin Random House, Hachette Book Group, HarperCollins, Simon & Schuster and Macmillan) now are selling to libraries or are in a pilot program to understand business models with libraries. While these are huge strides forward, it is still incumbent upon libraries to continue to work with publishers, distributors, retailers as well as elected officials to ensure that access only gets better from here.
To read the complete Big Shift report and to connect with the strategy work groups visit oc.lc/thebigshift.