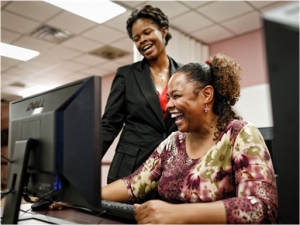 We all know that partnerships are often time-consuming, occasionally cumbersome, but sometimes bring rich rewards. The Freedom Rings Partnership, a digital inclusion initiative funded by Federal stimulus monies, is an example of a partnership that is truly more than the sum of its parts. Over the last 18 months, The Free Library of Philadelphia, People's Emergency Center, and 4 other city-selected agencies, have managed the implementation of 77 public computing centers, called "key spots", located across Philadelphia. In their recent webinar, Freedom Rings in Philadelphia, Jennifer Donsky, Public Services Technology Library Coordinator at The Free Library of Philadelphia and Lorelei Shingledecker, Program Manager, Broadband Technology Opportunities Program at People's Emergency Center, shared how these 6 partners are bringing Internet access, computer assistance and digital opportunities to Philadelphians with the least access to broadband.


Working with neighborhood-based nonprofits and community organizations, the Freedom Rings partnership develops infrastructure around technology, staffing and operations, and program development so that the key spots can serve as technology-enabled community hubs. The criteria for serving as a key spot included exhibiting success as an existing community anchor and an ability to easily integrate technology into the mission and daily program offerings. This allows a broad range of community organizations to become key spot locations, such as housing, workforce development and job readiness, community and economic development, services for youth, services for seniors, adult basic education and GED, public health and hospices, arts and multimedia, faith-based organizations, senior centers, public recreation centers, immigrant services, organizations serving people with different abilities, high schools, and YMCA's. Embedding the key spots into these neighborhood nonprofits means that each key spot location is unique and distinctive of the agency and the needs of the community it serves. In order to ensure that each location meets the digital needs of their community, there are five core competencies for key spots:
1) Basic Internet
2) Basic Computer
3) Social Media
4) MSOffice or related products (spreadsheet, word processing, database etc.)
5) Broadband Adoption

The value of the Freedom Rings partnership is that it allows each agency to leverage the influence of city leaders, institutions, and respected community organizations in taking a holistic approach towards digital inclusion in Philadelphia. The partners feel that without each other, the level of impact that they've had wouldn't be possible. They are able to share funding streams and refer organizations to one another in order to help community members gain access to a full suite of services. In addition, the partnership capitalizes on the expertise of each agency. From that expertise, they are able to provide quality technical assistance and capacity building services in key spot locations.


The combined efforts of the Freedom Rings partnership impact the community so much better than operating in institutional 'buckets'. These partners have embraced their work together to counter the potential of digital segregation, and redefine infrastructure. By making technology accessible to all, they are laying the foundation for a new kind of infrastructure—one that builds an educated, digitally literate, working, and civically engaged community.


To learn more about the Freedom Rings partnership, and how to adapt this model to meet your community technology needs, please view the webinar archive, slides, and related resources.

[Photos: Philadelphia OIC]