WebJunction's Rural Library Sustainability Online Course
Last Modified: 21 March 2012
Temporarily Unavailable!
We have temporarily pulled this course from the catalog to make some technical fixes. Please note that the course will not appear in your shopping cart if you try to add it. We apologize for any inconvenience this causes, and we hope to have it available soon.
With funding from the Bill & Melinda Gates Foundation, WebJunction's Rural Library Sustainability Program partnered with state libraries to provide workshops in 42 states, introducing seven areas key to sustaining public access computing. The curriculum and project follow-up enabled libraries to accomplish goals associated with these areas through a supportive action planning process. The course is designed for any library staff seeking strategies for sustainability or for those who wish to facilitate the action planning process with their staff, library boards, or others in their rural community.
Course Overview:
Visit each of the seven areas of interest critical to sustaining public access computing in your library.
View case studies of rural libraries that have developed and completed an action plan in each of the areas.
Create an action plan for your library by assessing your library's current state and selecting achievable six month goals.
Follow manageable steps from peer-recommended resources to accomplish your goals.
Explore each area of the course at your own pace and return to any lesson at your own convenience.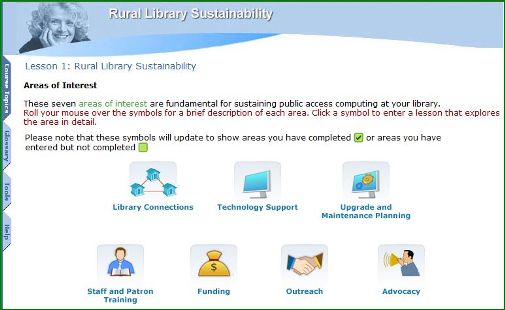 The Seven Areas of Sustainability explored in this self-paced, online course:
Library Connections: Rural libraries all across the continent are facing the same kinds of challenges to sustainability; find out how to connect to other library staff in your local, regional, and national community.
Technology Support: Public access computing leads to an increased staff workload and unexpected challenges; find ways to access additional technology support.
Upgrade and Maintenance Planning: As technology changes at a rapid pace it requires frequent hardware and software upgrades and ongoing maintenance; explore ways to maintain your library's technology and plan for improvements.
Staff and Patron Training: Continued learning is central to the mission of our libraries; focus on ways to expand training opportunities for your staff and patrons.
Funding: Adequate funding for technology is critical to sustaining library services; explore innovative funding for your library's technology.
Outreach: Outreach is a continuous process of learning about what your community needs; develop strategies to meet those needs and market your services.
Advocacy: Advocacy is demonstrating and convincing decision makers of the value of your library and the services you provide; focus on best practices and new ways for making your case.