Getting Out to Get In(clusive)
Last Modified: 04 December 2012
What is outreach and why do it
"We know our libraries offer great programs and services – we plan them, after all. The people who use our libraries know how awesome we are." (Outreach For the Non-User)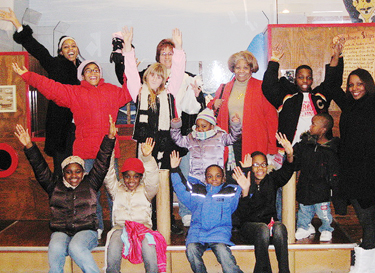 For libraries, outreach is about reaching out to those who don't know how awesome the library is—to non-users and people with special needs that could be addressed by library services. That means getting out of the library and reaching potential users where they are. The list of the underserved includes immigrant populations, older adults, the home-bound and the homeless, the institutionalized, and people with disabilities. For digital literacy efforts, the challenge involves reaching non-users in all of those communities. In the March 2012 Digital Inclusion Community Needs Assessment, public library respondents indicated that the populations most vulnerable to digital exclusion are: 1. low income households; 2. people with a low level of education; and 3. people with limited English language skills.
[Photo: Members of this Mother-Daughter Book Club know how awesome their library is. Photo courtesy of the Glenwood-Lynwood Public Library District on Flickr.]
"We need to lay rest to the word 'outreach'," says Emily Ford in a much cited post Outreach is (un)dead. "Instead of integrating library promotion, advocacy, and community-specific targeted services, we have left 'outreach' outside of the inclusive library whole to be an afterthought, a department more likely to get cut, or work function of only a few, such as your subject librarians."  Although outreach entails getting outside of the building, the efforts will be stronger if we think of outreach more inclusively within the norm of library service.
Delineating the benefits to the library clarifies why outreach makes sense as an integral part of planning, communication and advocacy. The following list from the Queens (NY) Public Library describes the positive results of their Successful Partnerships to Serve Immigrant Communities program. The general beneficial impacts for the library argue persuasively for the suffusion of outreach strategies throughout library planning.
Increased awareness of library services among [underserved communities].
Increased library use by [underserved communities].
The library is seen as a community center open to ALL.
Expanded scope of library services.
Both library and community partners are perceived as key service providers.
The library facilitates acculturation and develops lifelong library habit among newcomers.
The library celebrates diversity.
Who to target and how to reach them
"The 'hard to reach' are hard to reach."
While that sounds like a "doh" statement, it hits the stubborn nail of outreach on the head. First, the "hard to reach" are not a homogenous group. Even within a target category, such as recent immigrants, the variations of needs, cultural norms, and communication channels can be huge. Second, the library's regular marketing efforts are not getting the message to them. Many populations are not aware of what the library could do for them. They're not online or using social media; they may have a language barrier; or there may be a stigma about seeking help or divulging sensitive needs.
"Trust is not automatic: it must be earned and it can easily be lost."
Third, and most problematic, is the splash of reality that not everyone sees the library as a trusted institution.  In Reaching, Supporting, & Empowering Immigrant Families, program staff realized two essential elements to successful outreach: "(1) the ability to establish and maintain trust; and (2) the capacity to devote sufficient time to build a meaningful relationship between the provider and the family." There may be distrust of any government agency, fear of disclosing personal information, or the resistance to connecting outside of a known circle of comfort.
Although approaches to different communities will vary, there are some basic strategies and steps to guide a library outreach effort. In a webinar Engaging Your Whole Community, spokespersons from AmericaSpeaks (no longer active) shared their field-tested recommendations for getting through to the hard to reach.
1. Begin with clarity of purpose.
Identify the target communities, being as specific as possible. Whom the library is targeting will determine much of the how. It helps to have a diverse outreach committee in order to broaden the outlook. Identify organizations and groups related to the target community, thinking beyond "the usual suspects." Consider partnering with one or more of these organizations.
Set clear goals for outreach. Articulate before reaching out what's in it for the community and why it's important for the library.
2. Observe key principles.
To tackle the trust issue, connect with and seek buy-in from the organizations that the target group might routinely visit and trust. Try to connect with the "gatekeepers" of the community. If possible, recruit someone from within the community to promote to their circles of influence.
Anticipate and remove barriers to participation. The community gatekeeper can help reveal the physical and psychological barriers, from transportation and accessibility to all the components of fear.
3. Communicate strategically.
Make invitations as personal as possible, appropriate to each specific community. Avoid a one-size-fits-all approach.
Emphasize what community members will get out of participating. Accentuate the positive, especially when addressing sensitive issues. Good advice from the Queens Public Library outreach staff is to pay careful attention to wording and language. For example:

"To talk to women about domestic violence, have an event to celebrate women;
Talk about skin cancer, talk about keeping or maintaining beauty
Get women together to do an activity (sewing) and give information about health, etc."

AmericaSpeaks suggests these tactics for getting invitations out into the community:

Distribute flyers where they shop;
Canvass areas where they live;
Promote on radio stations they listen to;
Contact churches where they worship;
Run ads in local papers they read;
Post information on websites they visit;
"Follow up, follow up, and follow up!"
The ALA Office for Literacy and Outreach Services (OLOS) provides links to resources for outreach to a variety of traditionally underrepresented groups.
Out of the box outreach
A. Library Live & On Tour (LiLi), Fraser Valley (BC) Regional Library
The bookmobile is the classic vehicle for library outreach. The Fraser Valley (BC) Regional Library (FVRL) has reinvented the classic and created a high tech, gadgetized, gaming-ready, souped-up Nissan Cube for digital literacy outreach—LiLi. It has a 37" TV screen, laptops, a gadget bar, Xbox, and Internet connections (see more equipment details). Even the mission redefines tradition: "Unlike 'bookmobiles,' Library Live & On Tour stresses service through community development, access to information, adult literacy advocacy and awareness, rather than being exclusively about library materials." Smitty Miller, FVRL Community Development Librarian, is the force behind the project, as well as the main driver (literally). Library Journal describes the evolution of the project from wish to reality in Meet the Bookless Mobile.
[Photo: Gaming Break on LiLi's 37" monitor in the Library Live & Online mobile unit from FVRL; courtesy of FVRL.]
A six-month report of this unique experiment summarizes some of the goals and accomplishments:
"To raise awareness about FVRL and shatter stereotypes about libraries, library services and library customers." The van itself shatters library stereotypes with its hot-rod paint job and tech toys. It parks and opens its doors at food banks, soup kitchens, shelters and transitional housing. Smitty Miller injects fun into events with costumes, music (Lady Gaga blasting at a BBQ at a women's shelter) and lots of personal interaction. Their photos on Flickr tells a colorful story.
"To reach the underserved who do not know about the library or have some obstacles to visiting the library." LiLi's mobility brings the library to people on their own turf, which opens possibilities for personal engagement to let non-users know how much more than books the library has to offer. A primary object of the outreach is the homeless, creating a conduit to people who don't have a stable community with a library at its hub. "An unexpected outcome was the deep emotional impact these acts had on underserved people."
B. Smart Communities, Chicago Digital Excellence Initiative
The Smart Communities program shares a mission with libraries—to increase digital literacy for Chicagoans who are not onboard with digital technologies and are losing competitive edge in our technology-infused society. The program offers public computers at neighborhood centers, tech training, community portals, and an after-school program to engage youth in multimedia and the arts.
It's not enough to offer the resources if the non-using community doesn't see any relevance to their lives, resists the perceived complexity of digital technologies, or fears the unknown. Recognizing these major blockers, the initiative launched a public outreach campaign that employs many of the communication strategies outlined earlier.
They emphasized the positive of how going online can improve a person's life.
They simplified the message, using variations of "I [do something] online": "I'm keeping my kids safe online;" "I'm learning Hindi online;" "I pay my bills online."
They put community faces on the messages, such as "I'm empowering the disabled online," and engaged those community members to talk to groups at the technology centers.
They broadcast the message at bus stops, on buses, in subways, and on TV to be highly visible across the communities they intended to reach.
C. The Uni Project, Street Lab, New York City
Progressing from their successful 2010 Storefront Library project—a temporary library for the underserved in Boston's Chinatown, Street Lab is pushing the boundaries of public space and experience further out. With Kickstarter funding, the group designed the Uni, which they describe as a portable reading room and a "walk-up learning experience that opens a new front in the effort to educate, support and inspire urban kids." Unlike the LiLi project, the Uni is all about books, and operates without Internet or (for the most part) electricity. But it is portable; wherever it unfolds around the city, it creates a space for community engagement, interaction, and learning.
[Photo: A special installation of Uni in partnership with the Brooklyn Public Library. Books contributed by BPL could be checked out on the spot, a variation from the usually browsable-only displays. Photo courtesy of the Uni project.]
Taking a library-like environment to the streets raises its visibility and promotes the learning experience as a valid and enticing alternative for urban neighborhoods devoid of such opportunities. The Uni invokes a past social simplicity where people gathered to share news and tell stories, before the public space was full of people rushing around gazing into smartphones.
Each cube of the Uni structure has a theme, with related books and mini-exhibits. For example, the Street Math Investigations cube houses a recreation of Robert Berkman's forays into "walk-up, self-guided learning in public space." There are science and technology cubes, language cubes (The Chinese in America), and local knowledge cubes (Books about New York, Writing by Young New Yorkers). There are activity cubes (Origami, Chess, Tangrams). The single exception to no-electricity is the Louis Armstrong House Museum cube, which adds audio to the books and photos.
This work is licensed under a &nbspCreative Commons Attribution 3.0 United States License